So, you are looking for cool dog names to match your equally awesome canine?!
We know that finding the paw-fect title for your pooch can be hard, but we are here to lend a helping paw.
So look no further as we have come up with a long list of the funniest, trendiest and best dog names out there.
Any of these monikers in the dog park will be sure to show other owners and pups alike that your four-legged friend is the top dawg!
Whether your canine companion is a dashing Dalmatian or a hip Hound-Dog, we are paw-sitive that there's a word in our list that will suit your pooch.
List Of Cool Dog Names
Top 18 Cool Dog Names
Our Favorite Cool Dog Names
Ace
Bane
Elektra
Flynn
Gatsby
Indigo
Jarvis
Knox
Kiara
Loki
Mystic
Phoenix
Picasso
Storm
Tyson
Xena
Zelda
Zeus
These cool dog names are sure to get everyone's tails wagging.
So, put your shades on and zip up your leather jacket because these names will blow you and your pooch away.
35 Cool Dog Names & Meanings
Aspen – This would be a brilliant choice for a girl! Aspen is an English title and its meaning can be traced back to a tree with heart shaped leaves. We think that this would make an awesome choice because it is both strong yet still very feminine.
Ace – This one has a Latin origin and means "one" or "Unitied." It's also a great choice for any fan of cards! Ace has become a popular choice for a male pup in the last few years… and we think that's ace! – Oh, did we mention that "Ace" is also used colloquially to mean 'great' or 'cool'? – How could you resist this?
Bane – This dog's name means "glorious defender" and derives from Slavic origin. It would be a fantastic choice for a big and brave beast; we think it would especially suit a German Shepherd! This title is as badass as you can get, and it's bound to have everyone thinking what a cool dog you have.
Blaire – This word has Scottish origins, so this would be great for a female Scottish Terrier! It's a really chic choice, with some strong and spooky connotations because of the film 'The Blair Witch Project.' A great and hip choice and it'd sound even cooler if you invested in a tartan bandana.
Chai – Yup, just like the tea! Do you think you're hipster enough to handle this hot title? This would make a brilliant name for a black lab as their coat is the same color as the spicy beverage. You'd be barking mad not to think Chai isn't cool.
Cersei – Just like the Game of Thrones Queen, this is fitting for a sassy pooch with a lot of swagger! Cersei is a fictional character created by George R.R. Martin, author of Game of Thrones. This makes a cool dog name for any fan of the series.
Diesel – Great for a pup with lots of fun fuel! This word really says 'tough'. We think that Diesel would be a great choice for a Great Dane. Did you know that 'Diesel' is a pretty popular title for male mutts? It has to be cool if so many other people think it makes an awesome moniker.
Dior – This dog name is inspired by the designer brand 'Dior'. This word would make a cool choice for your four-legged female friend as it's chic and modern – and what says "I'm cool" more than one of the most famous designer brands in the world? A perfect choice for a fab-fur-lous pup.
Elektra – From Greek origin, meaning "shining bright" or "the fiery sun." It also sounds really bad ass! 'Elektra' would make a great choice for a female dog with a bright and bouncy personality, but it still conveys that cool canine look that you're going for.
Flynn – This would make a paw-some choice for your male pooch. This is an Irish name and has lots of meanings like "red-haired"- perfect for a furry-friend with a red coat! Flynn is also a great choice because of the famous Disney heart throb from Rapunzel – it's bound to have everyone swooning.
Gatsby – This is inspired by the character created by F. Scott Fitzgerald. Gatsby is a brilliant moniker for a dog who is really too cool for his own good! That was certainly the case for the character who was a true party boy. An awesome choice if your pup is the life of the party.
Harley – This is a namesake for a boy or a girl. This means 'hare's meadow' in old English, but even cooler than that, Harley is associated with the motorbike company Harley-Davidson! This word gives us seriously rad biker-vibes and would only suit the coolest of canines. Don't you just woof it?
Indigo – Here's a pretty unique choice. Indigo comes from Greek origin and means 'Indian dye' but has since come to describe various shades of blue. We think this would make a really hip choice for a blue merle female Collie – let's face it, the title is pretty on point when describing their coat.
Jarvis – This one's for all you superhero fans out there. Jarvis in old German and in Celtic means 'servant spear' so it's already one of the best cool dog names… what makes it even better is that Jarvis is Iron Man's digital sidekick! This would make a perfect choice for your own furry side-kick – marvellous.
Jet – Again, a great dog name for a boy or a girl! 'Jet' is the name of a black gemstone, so it would make a brilliant moniker for a dog with a jet-black coat.
Knox – A Scottish word which, in Old English, means 'top of a hill.' This is a really strong title, as it can be linked to hero Henry Knox, famous for his contributions in the American Revolutionary War! More recently, Knox is the child of Angelina Jolie.
Kiara – Irish meaning 'black-haired one.' We love this option because it sounds really beautiful, whilst also being a bit edgy.
Loki – Another awesome choice. Loki is the name of the Norse trickster god and has become popular since Marvel cast Tom Hiddleston in their movies. However, we think that Loki would be a terrific title for your own little playful pup! We can just imagine a cheeky Chihuahua being called Loki.
Luna – This word originates from Italy and is of Latin origin – it means 'moon.' This is a really cool dog name for any female furry friend, but we think it'd be an especially great choice for a Siberian Husky! It reminds us of our pup's wolfy ancestors, who love howling at the moon.
Mystic – Does your hound have everyone under their spell? Then this could be the one for them! This word gives us hippy vibes, paw-fect for a girl or boy dog who really knows how to chillax. 'Mystic' means something magic and supernatural.
Nova – Have you just bought a new pup? Well, here's a name that sounds awesome, but is also pretty literal! Nova means 'new' in Latin, however we think its meaning in Native American sounds better: "one who chases butterflies." Nova is a brilliant choice for any female pup who loves doing this.
Phoenix – This one is pretty self-explanatory – Phoenix is both a place and a bird. A phoenix is a bird well-known in myths to rise from the ashes. This is a moniker that's sure to get wags of approval from dog-kind and human-kind alike! We think this would especially suit a boisterous Bull-dog.
Picasso – Picasso means 'magpie' in Italian, however, it's definitely more well-known as the name of the famous painter and sculptor, Pablo Picasso. We think that this would make a perfectly edgy choice for a pup! – It's definitely one of our fav-fur-ite cool dog names.
Quinn – Another unisex choice! Quinn is a Gaelic word meaning 'wisdom and knowledge.' It's started to become a more popular because of the comic book anti-hero Harley Quinn. This is a really cool dog name for any owner to choose, especially if they are an Irish dog breed or even if they just love comics.
Queen – Perfectly fitting for your very own Queen of the couch! does your four-legged friend think they are top dog? Well, this would be a fantastic choice for any female pup who thinks she can bark orders! Not only is this a royal title, but it is also the title of one of the most world-famous bands.
Rex – A classic 'bad-boy' title, fitting for any cool canine! Rex comes from Latin origin, and actually has royal connotations – it means 'King'. This would be a pawsome name choice for an alpha dog.
Roxie – Here's a name that may certainly rock the boat! Lots of people think that Roxie is just a nickname for 'Roxanne,' but that is not the case! Roxie actually has Persian and Greek origins, and means 'star,' 'bright' or 'dawn'.
Storm – Great for a dog whose bark is as loud as thunder in a storm! We think that this would be a great choice of name for a puppy as bold and loud as a storm.
Stella – "Oh, Stella for star!" is a line any literature nerd should have heard. Not only is Stella one of the protagonists from 'A Streetcar Named Desire', it quite literally means 'star' in Latin. This is a great dog name for any fan of plays or literature and is also super cool and cute.
Tyson – Here's a title great for a 'high-spirited' pup. Why? We hear you ask… because that's exactly what 'Tyson' means – 'High spirited!' This is an amazing choice because it sounds so tough. We can just imagine a Bulldog being called Tyson.
Trixie – Is your furry-friend your very own fluffy bundle of joy? Then we have the pawfect one for you. Trixie means "she who brings happiness" in Latin. We think this is one of the best cool dog names which would really suit a Pomeranian because it's super cute, yet still, super sassy. We woof this one.
Valentine – This one's another great option for a girl or boy. Valentine is the name of many saints of the Church, hence why it can be traced back to Latin origins. Does your hound melt your heart? Then Valentine is the perfect choice for them, after all, 'Valentine's Day' is known as the day of love.
Xena – After the Warrior Princess but, in Greek, Xena means 'welcoming' and 'hospitable.' This name would really suit a hunting dog, like a Weimaraner.
Zelda – Quite paw-sibly one of our favorites on the list! Zelda is a nickname for both the Griselda and Selig. Griselda means 'dark battle,' where as Selig means 'blessed' or 'happy.' Both meanings are pretty cool, but we think this would be an even better choice for a Nintendo fan who loves the 'Legend of Zelda' games.
Zeus – How could we not finish with the name of one of the coolest Greek gods? 'Zeus' was the King of Gods, who in Greek mythology ruled over Earth and humankind. He was also known as the 'God of Thunder'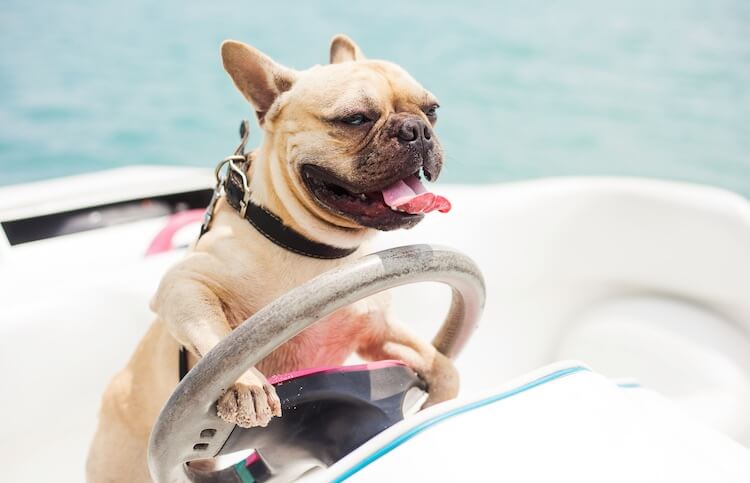 Summary
We hope this list helps you pick one of the best cool dog names for your canine.
Even if you are struggling, remember that there is a moniker out there for every pup.
Did you know, that often-pet names are affected by what is popular right now? Choosing a name based on a TV character can be a great way to pick an awesome pet title.
In fact, one of our favorite cool dog names from this list is Cersei, a character from Game of Thrones!
However, there are so many other ways to pick a unique pet moniker for your four-legged friend; inspiration is all around you.
What was your favorite? Leave us a comment and let us know below.