Is your dog a little bit goofy? Or perhaps you are?
Whatever the case, you are obviously trying to find funny dog names to suit your four-legged, smile giving and face licking best friend.
Lucky for you, you've come to the right place with our fun-filled collection of funny dog names.
From female to male, foreign to cute, and even a few names to suit your dark-furred canine, we have got you covered!
Whether you're looking for: a funny sounding name, a pun-intended name, or just something a little unique, then take a look at our amazing collection of over 200 names below.
We hope these names will make you howl and bark with laughter!
The Best Funny Dog Names
For a puppy who is a little more petite, or even a little more on the tubby side, you could definitely try an adorable name which will still make you giggle on a regular basis.
Female or male, as long as they are cute (which to be honest, is all dogs) then these funny dog names may be the perfect fit!
50 Scent – As in 50 Cent. Dogs have amazing noses, you really can't go wrong with this one
Cannoli
Chew Barka – As in Chewbacca. Perfect for a furry dog breed with light brown fur
Cookie Monster – For the puppy who is the King of stealing treats!
Cornelius
Corona – Just add a lime sweater!
Cujo
Dogzilla
Droolius Caesar
Fresh Prints – of Bel Hair
Hotdog – Perfect for a Dachshund breed!
Indiana Bones
Jimmy Chew
Macaroni
Mary Puppins
McTummy – This name definitely suits a food-orientated breed such as a Lab
Mittens
Noodle
Notorious D.O.G
Ozzy Pawsborne
Patrick and Spongebob – Your two trouble making pups!
Paw-casso
Pawter
Peanut
Pee Wee
Prince of Barkness
Princess of Barkness
Pupsqueak
Pupzilla – A name made for a little destructor
Santa Paws
Scrappy Doo
T-Bone
Winne the Poodle (for Poodles only)
Woofie Goldberg
Funny Dog Names for Girls
Some furry ladies aren't just beautiful to look at, some are filled with oodles of laughter and love.
Does this sound like your female best fur-end?
Why not try one of these names:
Auntie Flo
Bamba
Catherine Zeta-Bones
CinderSmeller
El Nina
Felicia – Byeeee Felicia
Fifi
Francine
Frida
Gigi
Helga
Janice
Janine
Katy Hairy
Lala
Lulu
Mariah Hairy – A classic punny name for Mariah Carey
Mary Puppins
Miss Piggy – Perfect for your wee glutton
Neveah- Heaven spelt backwards, a little clever humour here for your mischevious fur lady
Olga
Pam
Papaya – This one just sounds silly
Pawdrey
Peggy
Pupalina – Doesn't this sound adorable? Suitable for a tiny friend, just like Thumbalina!
Pupita
Queen Elizabark
Queen Elizawoof
Sarah Jessica Barker
Sasha Fierce
Señorita
Sharon
Tinkerbell
Tortilla – Just wrap your pup up in her favorite blanket
Vera Fang
Virgina Woof
Funny Dog Names for Boys
If your pup is a comedian, adores being the centre of attention, and has a wicked personality then you should definitely consider giving him one of these funny names to match.
Have a look at our list dedicated to those more masculine little comics and choose one of these funny dog names:
Alvin
Bambino
Brian
Buster
Chistropher Walkies
Chupito
Clive
Darth Woofer
Dee-Oh-Gee
Donald
Dwayne
El Puppo
Fabio
Felix
Gavin
Hiccup – This just sounds cute
Houdini
Jude Paw
Larry
Bean
Nigel
Pablo Escobark
Peso
Potato
Pup Daddy
Pupstein – This name could suit an intelligent breed
Ralph
Scooby Doo – For a pup who just loves to snack
Scooter
Señor
Sheldon
Sir Licks-a-lot
Snoop – We think this one will suit a pug
Stumpy
Tankerbell – perhaps well-suited to a Pitbull?
Funny Black Dog Names
Trying to find a name for your dark haired fur baby?
Perhaps you just want to be a little ironic for your light haired angel?
We have a list of our favorite and funny dog names for black dogs which are sure to make anyone laugh or smile, even those with the darkest of hearts:
Barkness – Punny for Darkness
Black Jack
Black Knight
Blackie – No description needed
Diesel
Dog Vader – Punny for Darth Vader
Dusk
Eightball
Fudge
Gizmo – Great for your own little Gremlin
Goth
Inky
Ivory – This one is funny because its ironic
Licorice
Morticia
Olive
Pengu
Phantom
Pitch
Poppy Seed
Raven
Shadow – A name designed for a loyal pup who is always by your side
Shady
Smoky
Stormy
Thunder
Velvet
Vlad
Voodoo
Vortex
Wednesday
Zorro – A name perfect for your brave and loyal best friend
Funny Spanish Dog Names
English funny dog names might not be your thing.
If your little perrito is as gracioso as you think then why not get a name to match!?
These names are a little more exotic; so are probably ideal for exotic dogs.
When they're said with the proper accent, they add a little extra something.
Have a look below and find your perrito a spicy little name:
Amiga
Amor
Angela
Besos – Meaning kisses in Spanish
Bonita
Bueno
Chato – Meaning short in Spanish
Chica
Chico
Cholo
Churro – A favorite dessert food
Culo
Descarado
Diez
Dinero
Empanada
Esé – Slang for home boy in Spanish
Gordito
Grande
Ibiza
Jefe
Linda
Loca
Loco – Loco means crazy in Spanish
Mama
Nora
Pedro
Pepe
Pequeño
Perrito – This literally means puppy in Spanish
Perro
Pypy (Paella)
Rico
Sofia
Tonta
Tonto
Torpe
Uno
Vega
Italian Funny Dog Names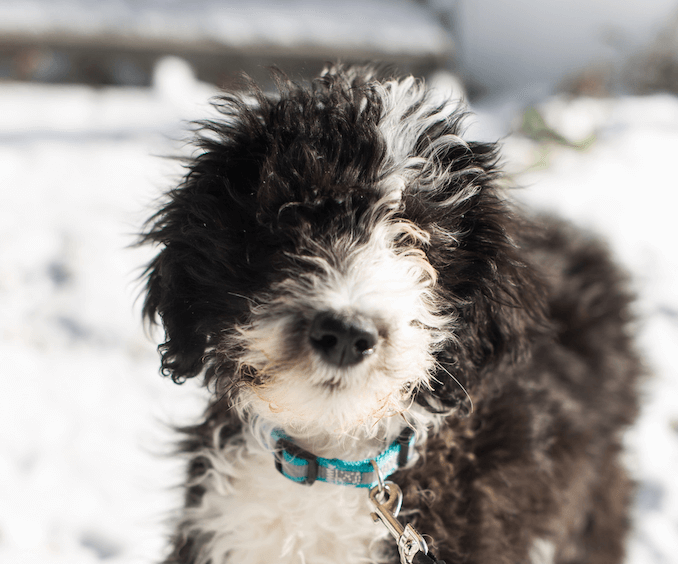 Spanish isn't your thing?
Everyone loves an exotic, yet loveable, puppy.
Why not try a name which emphasizes the combo of romance and comedy!
An Italian dog name may just be the right fit for your foreign and loving little pooch.
Affamato
Aldo
Alredo
Alto
Ambramo
Amrbosi
Angelo
Arturo
Avido – Meaning greedy
Bacio
Bambi – A Disney favorite which is actually an Italian name too
Bianca
Brutto
Canaloni
Caramello
Corto
Dolce
Donatella – Is your puppy sassy and full of style?
Elmo
Espresso
Gabbana
Gelato – This name is perfect for a loveable and sweet-hearted breed
Giuliano
Grasso
Leona
Linguine – A beloved pasta by all
Lupo
Matador
Mozzerella – Too cheesy?
Nutella
Pelo – Meaning hair in Italian
Pestp
Puzzolente (Puzzo for short)
Salvatore
Valentino
Vespa – Perhaps a name well-suited for a speedy puppy
Zitto
Choosing The Perfect Funny Name for Your Dog
Didn't find what you're looking for?
Why not create your own perfect funny name for your four-legged friend.
Let us show you how to create your own just by using these two easy-to-follow tips.
Tip 1: Names based on your dog's personality
When trying to find funny dog names for your puppy, try to think of a hilarious personality trait of theirs.
Try think outside of the box, are they a little mischievous? Goofy? Or maybe even Clumsy?
Try think of a trait that bests describe them and try associate a name with that!
For example: A naughty dog named Rascal, or a greedy pooch named Sir-eats-a-lot.
Tip 2: Names based on your dog's appearance
Perhaps you could base a funny name inspired by their looks?
Whether your dog is big, small, fat, skinny – this can be done.
These names can be based on something or someone your dog closely resembles, or even an ironic name will do!
For example: A petite little fluffball named.. BRUCE. I'm sure you see the humor.
There you have it, a complete collection of over 200 funny dog names.
We hope we covered every area you were hoping for! If we didn't, we hope our funny naming guide, helped you come up with your own funny name.
So, what did you pick? Let us know below.