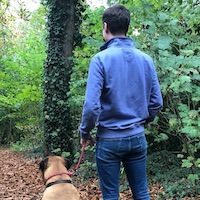 John Woods
Founder & Editor-in-Chief
John is the Founder of All Things Dogs and leads our editorial team as our Editor in Chief. A member of the Association of Professional Dog Trainers, he has been a dog lover since he was 13 years old. John is the parent to Nala, a working lab retriever. John has also volunteered at multiple animal shelters, where he gained firsthand experience of rehabilitation and force-free positive reinforcement training methods.
Carlin Eswarakumar
Copy & Features Editor
Carlin is the copy editor at All Things Dogs, she is currently double-majoring in Animal Science and Environmental Science for her undergraduate degree at UConn. She's a huge animal lover and currently is parent to a bearded dragon, fish, and a jubilant Labrador. Carlin interns at several veterinary clinics, and is in the pre-vet program to pursue her life-long dream.
Hannah Burton
Training & Breeds Author
Hannah has a BSc in Animal Behavior and Welfare and MSc Clinical Animal Behavior and is All Things Dogs' authority on dog breeds. She has dedicated her life to learning about dogs and has worked at canine cognition research centers to analyze the way dogs think and behave on various research projects. Hannah has worked as a dog walker, trainer, and has even done pet sitting work!
Lou Roman
Dog Breeds Author
Lou is a writer at All Things Dogs, has a BSc in Animal Science and Biological Science and a MSc in Animal Science. She grew up with a loving German Shepherd and is now a parent to two Labradors. Lou volunteers for mulitple animal based charities such as the SPCA and works at a Veterinary Pathology Lab.
Lauren Cheetham-Birmingham
Dog Breeds Author
Lauren is an undergraduate student with a love of writing and dogs in equal measure. She enjoys volunteering for the Dogs Trust for which she will often be joined by one of her two German Shorthaired Pointers, Teddy and Raisin.
Kate Golding
Dog Training Author
Kate has a varied background from history and human psychology undergraduate degrees to an MSc in Clinical Animal Behavior. Kate's passion for dogs led to her working in three dog shelters where she honed her training and behavior assessment skills for over seven years! She is All Things Dogs' authority on dog training. Kate is an accredited dog trainer, and currently competes in Agility with a 'borrowed' rescued Springer Spaniel. Kate has an English Cocker Spaniel called Indie, and an American Bulldog cross called Jenson. She also owns and runs her own training and behavior business.
Tabitha Albrecht
Grooming Author
Tabitha has been in love with dogs for as long as she can remember. She grew up with a number of Cocker Spaniels and Labradors. She is a graduate from Plymouth University where she received a BSc in Animal Behavior and Welfare. Tabitha has volunteered in Israel volunteering in a rescue center for dogs.