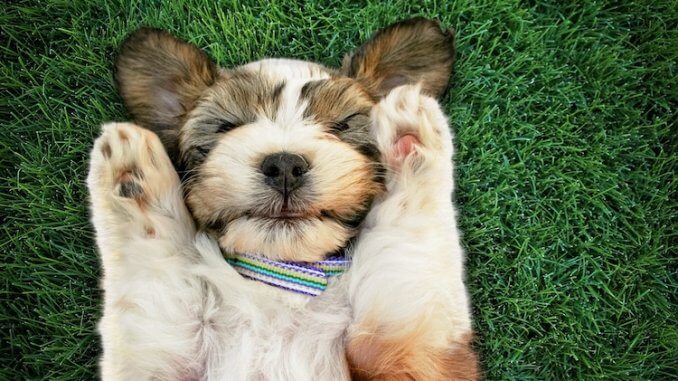 Recently adopted a puppy and want to find the best name?
First, let us congratulate you on becoming a puppy parent… Now, let us help you find the best boy dog name!
We understand how difficult picking a name for your new fur member is.
Finding a male dog name that matches his personality and appearance can be super tricky. There seems to be endless lists of boy dog names to choose from.
Before we share our list, let us share a few tips and tricks to help you select the perfect name.
Try and stick with one or two syllable names. Names which are short tend to grab your dog's attention. This is a great rule to follow.
Calling "Ben" at the dog park is a lot easier than calling "Benjamin Franklin the Fourth".
Staying clear of names that sound like commands is also a good idea. Trying to teach "Shay" to "stay" is not going to be very fun! It isn't his fault… these two words sound super similar!
Finally, do not be afraid to read a few baby boy name books to get some inspiration.
Luckily we are here to lend you a helping paw.
We have done the digging for you and have come up with an extensive list of 1000 boy dog names.
These names include everything from male and famous names to ideas based upon their personality, appearance or breed. We also have some funny names for a goofy pooch.
We hope we help you find the best male dog name for your puppy.
Dive into our A to Z list of 1000 names below…
Male Dog Names
Abe
Abel
Abu
Ace
Achilles
Aero
Aether
Agouti
Aiden
AJ
Alex
Alexandro
Alexei
Alf
Alfie
Alfredo
Ali
Alife
Almond
Alto
Alvin
Ames
Amigo
Amir
Amor
Amos
Andre
Angus
Ant
Antonio
Apache
Apollo
Apple
Archer
Archie
Ares
Argo
Aries
Arkin
Arlo
Arnold
Arrow
Art
Arthur
Ash
Asher
Astro
Atlas
Atom
Atticus
Aubin
Auburn
Augie
Austin
Avi
Axe
Axel
Axl
Axton
Ayr
Baby
Baby Bo
Baco
Baguette
Bailey
Baloo
Balto
Banana
Bandar
Bandit
Bane
Banjo
Bari
Barkley
Barky
Barney
Baron
Barry
Bart
Basil
Batman
Baxter
Bayer
Baylor
Beamer
Bean
Bear
Beast
Beau
Beauty
Beckham
Beer
Beethoven
Beetle
Beige
Belto
Ben
Bene
Benedict
Benji
Bennett
Benny
Benson
Bentley
Benz
Berlin
Bernard
Bertrand
Beto
Biggie
Billy
Bingo
Bix
Blade
Blake
Blanc
Blanche
Blanco
Blaze
Bleu
Blue
Bo
Bob
Bobby
Bodhi
Bogart
Bolt
Bond
Bone
Boo
Boom
Boomer
Bordeuz
Boris
Bosco
Boss
Boston
Bowie
Bowser
Boyd
Brad
Bradley
Brady
Braveheart
Brax
Brian
Brick
Bristol
Brock
Broderick
Brodie
Brody
Brogan
Bronson
Bronx
Brownie
Bruce
Bruce Lee
Bruce Wayne
Bruiser
Bruno
Brutus
Bryce
Bubba
Bubbito
Buck
Buddy
Bull
Buster
Butch
Butterball
Butters
Button
Buzz
Caesar
Caiden
Cairo
Cal
Caleb
Cali
Callipso
Calvin
Cannoli
Cappuccino
Captain
Caramello
Carson
Carter
Cartwirhgt
Casey
Cash
Cashew
Casper
Caspien
Caviar
Cawdor
Cedric
Champ
Chance
Chaos
Charlie
Chase
Chester
Chew-bark-a
Chewy
Chico
Chief
Chien
Chillie
Chip
Chrome
Chuck
Chunky
Cisco
CJ
Clark
Clifford
Clint
Clive
Clyde
Cob
Coby
Coco
Cody
Colby
Cole
Coleman
Colt
Colton
Comet
Conrad
Cookie
Cooper
Copper
Corbin
Cosmo
Cray
Croissant
Cruz
Cubby
Cudi
Cupcake
Custard
Czar
Dak
Dakota
Dakshi
Dale
Dallas
Damien
Damon
Dane
Danny
Dante
Darby
Dargo
Darius
Darth
Darth Vader
Dash
Davie
Dax
Dean
Denver
Denzel
Dexter
Diego
Diesel
Digger
Digmy
Dino
Dior
Disney
Dixon
Django
Dobby
Doc
Dodge
Dodger
Dom
Dome
Donald
Doug
Doughnut
Dozer
Dracula
Drake
Drew
Dudley
Duffy
Duke
Dumbo
Dustin
Dusty
Dylan
Dynamo
Echo
Eddie
Edgar
Edward
Edwin
Egg
Eli
Elmer
Elmo
Elvis
Emmett
Emory
Enzo
Ernie
Escobar
Eugene
Evan
Everest
Ewok
Ezra
Fabio
Falcon
Fang
Felix
Fenton
Feta
Fiddy
Fido
Fifi
Fin
Finley
Finn
Fisher
Flash
Fletcher
Floyd
Flynn
Fonzi
Fonzie
Ford
Forrest
Foster
Fox
Foxy
Franc
Francis
Frank
Fred
Freddie
Frederick
Frisco
Fritz
Frodo
Frost
Frosty
Fudge
Fury
Fuzz
Gabe
Gabriel
Gage
Gato
Gatsby
Genghis
George
Gerald
Gerry
Geyser
Ghost
Gibson
Gigi
Gilbert
Gill
Ginger
Gizmo
Godzilla
Goldie
Goliath
Goofy
Gopher
Gordo
Gordon
Goth
Grady
Griffin
Gris
Groot
Grover
Gula
Gunner
Gus
Gustaf
Guy
Han Solo
Hank
Hans
Harley
Harlym
Harold
Harris
Harrison
Harrold
Harry
Harry Pawter
Hart
Harvard
Harvey
Hash Brown
Hashbrown
Heath
Heathrow
Hector
Hedwig
Heinz
Helios
Henry
Herbert
Herbie
Hercules
Herman
Hero
Hershey
Hetz
Hilo
Hilton
Hindu
Hobbs
Holmes
Homer
Hooch
Hoover
Horton
Howie
Huck
Hudson
Hugh
Hugo
Hunter
Hutch
Huxley
Hyatt
Ice
Iggy
Igor
Ike
Indiana
Indigo
Indio
Indy
Ink
Issac
Itty
Ivan
Ivory
Iziah
Jack
Jackson
Jacob
Jag
Jagger
Jairo
Jake
James
Jase
Jason
Jasper
Java
Jaws
Jax
Jazz
Jeeves
Jensen
Jerry
Jesper
Jesse
Jett
Jimmy
Jinky
Jinx
Joe
Joey
John
Jon Snow
Jonah
Jonas
Jones
Jonny
Jose
Juan
Judah
Jude
Judge
Juke
Jumbo
Junior
Juno
Jupiter
Kado
Kaelyn
Kai
Kaiser
Kale
Kaleb
Kane
Keanu
Kendrick
Kennedy
Kent
Khalid
Khan
Kian
Kim
King
Kingston
Kip
Kirby
Kit
Klien
Knight
Knox
Kobe
Koby
Koda
Kodak
Kole
Kona
Kong
Konya
Kumar
Kurt
Ky
Kylan
Kyle
Kyro
Lager
Lait
Lance
Larkin
Larry
Lars
Laser
Lassie
Lee
Legend
Leland
Lemuel
Lenin
Lennox
Lenny
Leo
Leon
Leopold
Levi
Lewis
Lex
Liam
Lieutenant
Lincoln
Liquorice
Logan
Loki
Lorenzo
Lou
Louie
Louis
Luc
Luca
Lucas
Lucifer
Lucky
Lui
Luigi
Luiz
Luke
Luther
Lutz
Lyle
Lynx
Mac
Mack
Madden
Maddox
Magnar
Magnus
Major
Makai
Malfoy
Malo
Mandela
Manny
Manson
Maple
Marco
Mario
Marley
Mars
Marshmellow
Marvin
Mason
Mateo
Matt
Maui
Maverick
Max
Maxim
Maximus
Mayo
Mayweather
McDuff
McRUFF
Meatball
Meatloaf
Merc
Merlin
Merlot
Micky
Midnight
Miguel
Mike
Miko
Milan
Miles
Miller
Milo
Minion
Mister
Mo
Mojo
Monroe
Monty
Moon
Moose
Moscow
Mozart
Muffin
Murphy
Mustard
Napoleon
Nash
Ned
Nelson
Nemo
Neo
Nero
Nick
Nico
Nigel
Nikau
Niko
Nile
Niles
Ninja
Nitro
Nix
Nixon
Noah
Noir
Norman
Norris
North
Notorious D.O.G
Nova
Novo
Nugget
Nutmeg
Oakley
Oats
Obama
Obi
Obi-Wan
Odie
Odin
Olaf
Olive
Oliver
Ollie
Omar
Ombre
Omega
Onyx
Optimus
Oreo
Oro
Orson
Oscar
Oskie
Otis
Otto
Owen
Oz
Ozzy
Pablo
Pablo Esco-bark
Pacino
Paco
Paddington
Paddy
Pal
Papa
Parka
Parker
Pascal
Patch
Paul
Pavlov
Paw-casso
Paxton
Peanut
Pebble
Pebbles
PeeWee
Pepe
Pepito
Pepper
Pequeno
Percival
Percy
Perro
Perry
Peru
Pete
Peter
Petey
Phoenix
Picasso
Piccolo
Pickle
Pierce
Pierre
Piglet
Pika
Pinot
Pint
Pip Squeak
Piper
Pluto
Poacher
Pogo
Pokey
Polo
Pomroy
Pongo
Poochie
Poof
Pooh Bear
Pookie
Popcorn
Poppa
Pops
Porkchip
Porkchop
Porkie
Porter
Poseidon
Prancer
Presley
Pretzel
Prince
Puffbal
Puffin
Puma
Quatro
Quinton
Radar
Ragar
Raiden
Ralph
Rambo
Ranger
Rascal
Raven
Ravioli
Ray
Raymond
Rayzr
Rebel
Reese
Reg
Reggie
Reid
Remi
Remington
Remy
Rene
Reuben
Rex
Rhino
Rick
Ricky
Rico
Rigby
Riley
Ringo
Rio
Rioja
River
Rob
Robbie
Roberto
Robin
Rocco
Rocky
Rojo
Rolly
Roman
Romeo
Ron
Ronnie
Rover
Rox
Ruben
Rudolph
Rudy
Rufus
Ruger
Runner
Runt
Rupert
Russell
Rusty
Ryder
Ryker
Sable
Sage
Salvatore
Sam
Sammy
Samson
Sanford
Sarge
Saul
Sawyer
Scooby Doo
Scooter
Scotch
Scout
Scrabble
Scrappy
Seal
Seb
Sebastian
Sedrick
Sergio
Seth
Shadow
Shakur
Shelton
Sherlock
Shiloh
Shortie
Shrek
Shwayze
Sian
Silo
Simba
Simon
Sirius
Skip
Smith
Smokey
Snickers
Snoop
Snoopy
Snow
Snowball
Socks
Sol
Soleil
Soot
Sootie
Soul
South
Spark
Sparky
Sparrow
Spence
Spencer
Spike
Sprout
Spud
Squirt
Stan
Stanford
Stanley
Stark
Starsky
Steve
Stewie
Stitch
Striling
Stuart
Sunny
Sylas
Taco
Tahoe
Tango
Tank
Tanner
Tasmanx
Tatum
Taz
Ted
Teddy
Teensy
Terminator
Tesla
Thaddeus
Theo
Theodore
Thor
Tiger
Tiller
Tim
Tino
Tiny
Titan
Titch
Titus
TJ
Toast
Tobias
Toby
Todd
Toffee
Tom
Tommy
Tony
Tootle
Toro
Toshi
Toto
Trip
Troy
Trumbone
Trump
Tucker
Tupca
Turbo
Turner
Twinkles
Ty
Tyler
Tyson
Ugo
Usher
Vader
Van Gogh
Venom
Victor
Vida
Vince
Vincent
Vino
Virtus
Vito
Vodka
Waffles
Wagner
Wally
Walnut
Walt
Watson
Wesley
Whiskey
Whiz
Whizzer
Whopper
Wilbur
Wilder
Willie
Wilson
Winston
Winter
Wolf
Wolfgang
Woody
Wyatt
Xander
Xavier
Xax
Xox
XXX
Yale
Yang
Yeti
Yian
Yoda
Yoghurt
Yogi
Yolk
Yoshi
Yukon
Zack
Zane
Zavier
Zeb
Zeiss
Zeke
Zeus
Ziggy
Zion
Zoar
Zorro
Zulu
Zuma