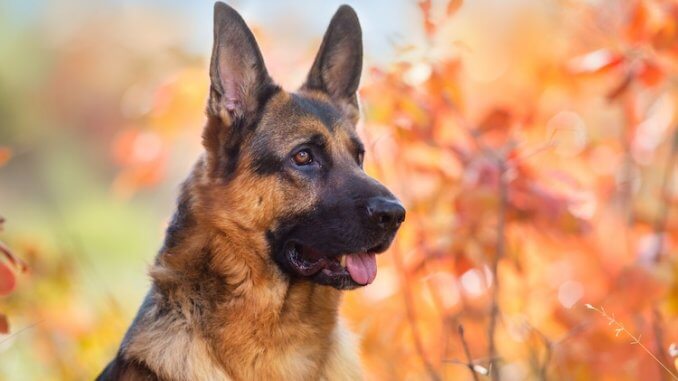 The German Shepherd is a large and loyal breed who stands up to 26 inches and can weigh up to 95 pounds.
Protective and courageous by nature, this dog's undeniable loyalty makes them very popular with dog lovers and families.
Their natural athletic capabilities and intelligence means that they are extremely capable in working roles too (e.g. military and and police forces).
But, if you have adopted this breed as a family dog, what else is there to know?
In our breed guide we cover everything you need to know about the German Shepherd from training, feeding and grooming to their history, personality and temperament.
History Of The German Shepherd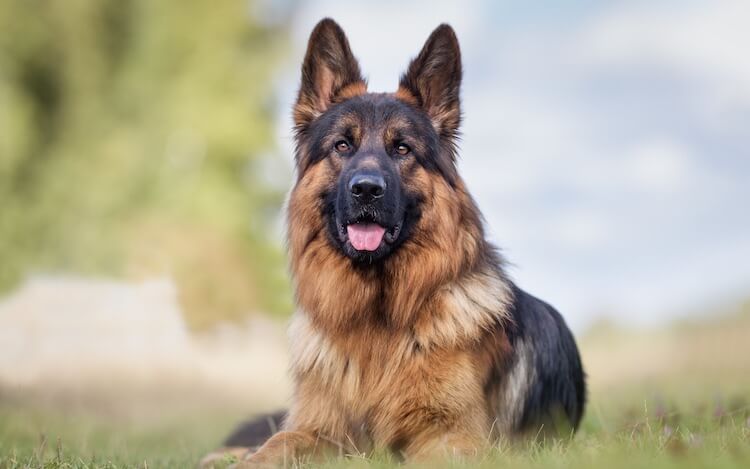 In 1899, a man named Von Stephanitz came across a dog named Hektor. He was instantly impressed and believed that Hektor had the perfect characteristics for a working dog breed. Stephanitz quickly purchased Hektor and changed his name to Horand Von Stephanitz.
Horand Von Stephanitz became the center of a breeding program for similar working dogs and fathered a total of 84 puppies.
Whilst German Shepherds today come from Von Stephanitz's bloodline, over decades they have slowly been bred away from the original bloodline; this may have occurred due to the increased demand.
Today, the breed continues to be used as a working dog for the military and police. It is believed that there are over 3.5 million German Shepherds in the United States alone!
This dog was made famous on the big screen through characters such as Rin Tin Tin, Strongheart, Maximillian, and Bullet the Wonder Dog.
Real-life German Shepherd heroes also exist, these include Chips the Military Dog and Buddy the world's first guide dog.
Despite their difference in appearance, modern Shepherds are still known for their hard-work ethic, intelligence, loyalty and stamina.
Which Kennel Clubs Recognize The German Shepherd?
The German Shepherd was officially recognized by the American Kennel Club in 1908 as a part of the Herding group. The UK Kennel Club is another major kennel club that officially recognized this breed as a part of the Herding dog group in 1919.
Breed Overview
Size
24 to 26 inches (male) and 22 to 24 inches (female)
Weight
77 to 95 pounds (male) and 55 to 73 pounds (female)
Lifespan
9 – 13 years
Breed Type
Herding Group
Purpose
Working and Companion
Suitable For
All Families
Color
Black, Black and Tan, Black and Cream, Silver, Liver, Steel Blue, Gray, Red and Black, Black and Silver, Sable, Red Sable, Bi-Color, Panda or White.
Temperament
Intelligent, Protective, Loyal, Loving and Active.
German Shepherd Temperament
| Characteristic | Rating |
| --- | --- |
| Friendliness | |
| Confidence | |
| Protectiveness | |
| Prey Drive | |
| Social Tendencies | |
A true companion, the German Shepherd loves to be by their owner's side after a long working day. In fact, one of the reasons they are so popular is because they are known to be extremely affectionate and loving towards family members.
The German Shepherd's playful demeanor means they are great with children. However, all play should be closely supervised between children and dogs.
This breed instinctually has a high prey drive and therefore it is very common for them to chase small animals (e.g. chasing the neighborhood cat).
However, their high prey drive can be reducued through early introductions and on-going socialization with smaller animals and pets.
Unfortunately, the German Shepherd has occasionally been labelled as "dangerous" and "aggressive". However, this reputation is ill-formed.
With the right nurturing, socialization and training, they should not show any forms of aggressive behaviors.
This dog stands tall with confidence, but is not a naturally aggressive or dangerous dog.
Rather, they are protective of their loved ones. They may be quite wary of strangers and are quick to let their owners know when an unfamiliar face is entering their home.
As the German Shepherd is easily trained, and known for their guarding behaviors, they are often used as guard dogs.
When training your dog you will need to ensure introductions to strangers are handled correctly. This breed is protective, however, no aggressive traits should be displayed without reason.
Are German Shepherds Good Family Dogs?
| Family Member | Compatible |
| --- | --- |
| Young Children | Yes |
| Teenagers | Yes |
| Seniors | No |
| Other Pets | Yes |
Definitely a great family dog, we believe that this puppy is a little more hands-on and therefore should be left to experienced owners with a family (rather than a first-family dog).
The German Shepherd thrives in a household with older children due to their large size.
Because of their high activity levels, they are not recommended for senior parents due to their huge need for exercise. With correct socialization and training they can easily be compatible with other pets and dogs.
Caring For A German Shepherd
This dog has a very high exercise need and requires lots of grooming (especially long haired German Shepherds). Being a large and active breed, they also need a lot of food.
However, this dog is very intelligent so training can be easier when compared to other breeds.
They are typically reserved for active families, who have plenty of time to provide them with the stimulation and physical activity they need.
How Much Should You Feed A German Shepherd
Daily Food Consumption
Guide
~1,800 calories
Cups of Kibble
It is important to meet your dog's nutritional needs. This breed is a large and active dog which means they love to burn heaps of calories.
German Shepherds thrive on a high quality dry kibble diet formulated for working dogs. This will ensure the correct blend of protein and fats as well as vitamin and minerals.
Another popular dietary choice is a raw-meat based diet. This diet is high in protein and is increasing in popularity amongst the canine community.
Remember, as a puppy your German Shepherd will have a higher protein requirement as they are very fast growing puppy!
It is best to divide feeding into two or three times per day whilst your dog is less than 12 months old. However, as an adult a German Shepherd can be fed once a day.
How Much Exercise Do German Shepherds Need?
Daily Exercise Requirements
Minutes
60+ minutes
Activity Level
Favorite Exercise
Running
This breed was designed to be a working dog and loves keeping active. The best energy outlet for a dog with a high activity level is running.
The German Shepherd has a fairly high exercise requirement when compared to other dog breeds. On average, they requires approximately 120 minutes of exercise per day.
Exercising your German Shepherd can occur through: walking, running and playing.
As they are an active breed they need large areas for running and free play and they cannot simply adapt to an apartment lifestyle or a home with no such section.
If your dog isn't exercised appropriately, their body will lose muscle mass and they may develop unwanted behaviors such as excessive chewing, barking and restless traits.
We recommend walking you German Shepherd twice a day followed by some one-on-one games such as fetch and tug-of-war.
Games not only provide your dog with extra physical activity but they also increase bonding time between you and your puppy.
How To Train German Shepherds
Coming from a working breed, they love to learn and to be kept busy. Training provides them with not only one-on-one time with you, but also appeases their need for mental stimulation.
Positive reinforcement methods and reward-based training are the perfect matches. Patience and persistence are key!
German Shepherds quickly learn to "sit", "stay" and "down" in no time at all so they should progress to more complicated tricks.
Training your puppy should begin from an early age and should not only incorporate commands and puppy etiquette but it should also include socialization with new people, environments and even other animals.
As an intelligent dog, you can teach them some fun party-tricks. These include teaching your dog to wait as you balance food on either paw, and of course the favorite "spin".
How To Groom A German Shepherd Dog
German Shepherds requires regular brushing. Regular brushing prevents the unwanted shedding of excess fur all over your house and ensures their coat is kept in great condition.
We recommend brushing your dog a couple of times per week. The need for brushing your pup may increase near the of spring and autumn while they shed their double-coats in preparation for the warmer or cooler months ahead.
This dog does not need to be bathed regularly. In fact, bathing your dog may strip their fur from natural oils so only bath as needed.
Regular maintenance of their nails and teeth are important.
Brushing ytheir teeth or providing your pup with other forms of dental treats is essential for adequate dental care.
The German Shepherd's nails are quite easy to maintain; as a working dog, they naturally wear down their nails (however, you may trim your pup's nails if needed).
Known Health Issues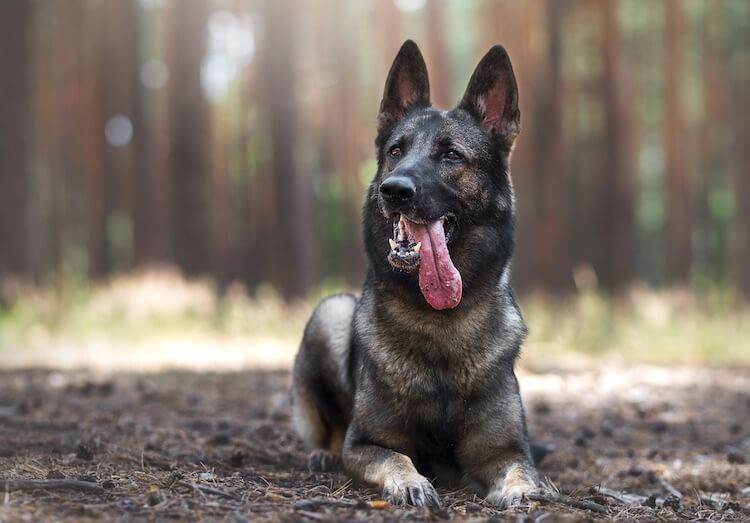 The German Shepherd breed is prone to hip dysplasia which is a hereditary musculoskeletal disease.
Hip dysplasia is caused due to a malformation of the hip and socket joint. This causes movement to be rigid and "rub" which may cause pain, lameness and on-going discomfort. It commonly leads to arthritis in large dog breeds and should be addressed by your local veterinarian immediately.
Additionally, a good breeder will only breed from healthy stock and should inform you if any severe forms of hip dysplasia or health problems run in your puppy's bloodline.
Breed Appearance: Size, Color and Coat
Because of a German Shepherd's dominating characteristics, it can sometimes be hard to determine from a mix.
The German Shepherd has a graceful and athletic appearance with a muscular build. If bred correctly then they will have a straight back and a strong posture.
Longer in length than in height their body alignment follows a slight S curve from their head to their tail; which is quite bushy and hangs down to the floor.
How Big Do German Shepherds Get?
German Shepherds are classified as a medium to large-sized breed:
Males can grow to become 77 to 95lb and reach a height of 24 to 26 inches to their tethers
Females are slightly smaller and may grow to reach 55 to 73lb while reaching a height of 22 to 24 inches.
Coat and Colors
The German Shepherd has 13 recognized coat colors:
| | | | |
| --- | --- | --- | --- |
| Black | Liver | Black And Silver | Panda |
| Black And Tan | Steel Blue | Sable | White |
| Black And Cream | Gray | Red Sable | |
| Silver | Red And Black | Bi-Color | |
Typically, German Shepherds have a black saddle and black face markings which appear in the shape of a mas covering their muzzle.
The German Shepherd is a double-coated dog which means that they have a thicker coat and are able to tolerate colder weather conditions. However, it also means that they shed more frequently than other dog breeds.
German Shepherd Puppies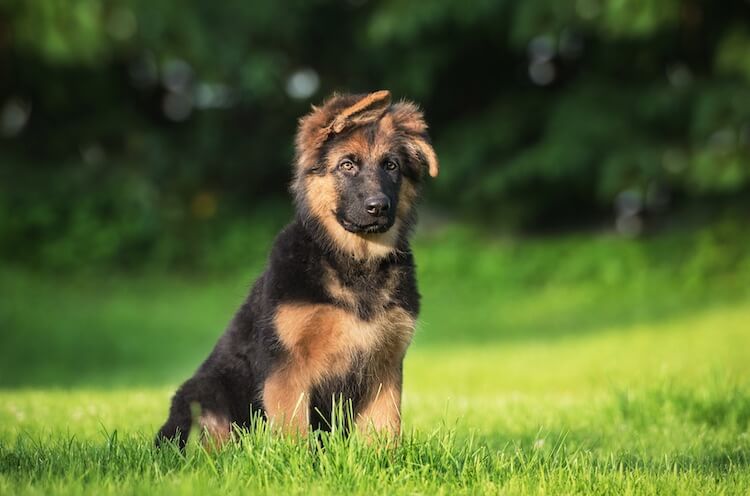 The German Shepherd puppy is often compared to a small bear with their fluffy and soft coat. As a puppy, their ears are not yet erect and instead droop down by the side of their head.
As puppies, this breed usually has large paws that are somewhat unproportioned to their body. A puppy's paws are usually a great indicator of their adult size.
Known to grow very quickly, at just two months of age they reached 25% of their adult size. By the time they are four months, they have already reached over 50% of their adult size. However, they should reach their maximum size at 12 months of age.
How Much Do German Shepherd Puppies Cost?
If you source your puppy from a reputable breeder you should expect to pay anywhere from $600 to $1,000 USD. However, this is completely dependent on their lineage and the quality of the litter.
Purchasing a pup from a show dog or working dog lineage will cost you significantly more.
A reputable breeder will also not allow you to bring your puppy home until they are 8 weeks of age and will provide you with the appropriate health check certificates. Puppies should have had their first veterinarian visit before they are re-homed.
Where To Adopt
Choosing the right breeder is one of the most important steps when it comes to adopting a puppy.
Finding a reputable breeder will help to ensure the puppy has healthy parents (reducing the chance of hereditary illnesses). This is especially important when it comes to genetic predispositions such as Hip Dysplasia.
They will also ensure the puppy is kennel club registered giving you a pedigree dog.
Four Reasons Why We Love German Shepherds
1. They Are Excellent Protectors
German Shepherds are natural guard dogs making them excellent protectors for our homes and family. Being a confident and intelligent breed, they know danger when they see it.
2. They Are Easy To Train
Their high level of intelligence is definitely a plus for all potential parents. They learn commands very quickly and love to impress.
3. They Can Be Very Affectionate
They have an extremely large heart and are known to be super affectionate and cuddly with their owners.
4. They Have A Strong Sense Of Loyalty
Loyalty is a distinct characteristic of all our canines. However, this breed's loyalty runs deep within.
German Shepherd FAQs
Summary
The German Shepherd is an active breed who is now known for more than their working dog characteristics.
Defined as being protective, loyal, loving and affectionate, there is more than meets the eye to this classic dog breed.
German Shepherds make fantastic family pets, especially for active families with older children.
Due to their high exercise demands, they require a more experienced owner with plenty of time to provide them with both mental and physical stimulation.
Strong, impressive but warm at heart, the German Shepherd is treasured by dog lovers, military and police personnel all over the world.