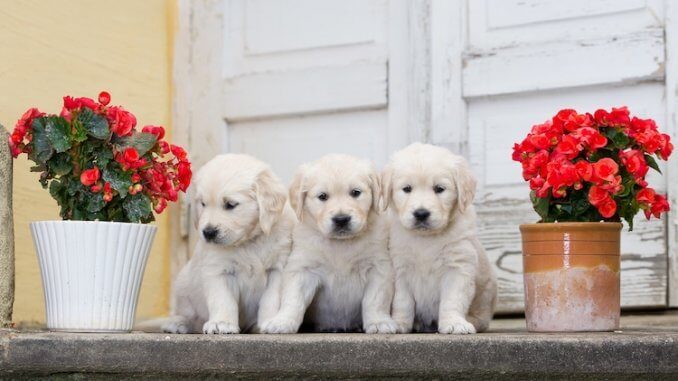 Congratulations on the newest addition to your family. A new puppy has arrived in the form of a white bundle of fluff, and now for the hardest challenge of all, choosing the name for a white dog.
White dogs come in all shapes and sizes, yet all equally cute, from the Pomeranian to the Samoyed and Dalmatian.
When choosing a name for your dog, remember that you're going to spend many years shouting this in your local park, therefore it is important to choose a name you like and that is easy to pronounce (ideally one or two one syllables).
Here is a list of 300 white dog names to help you in that all-important quest for finding the perfect name for your white puppy. Big or small, male or female, let's get started.
Best White Dog Names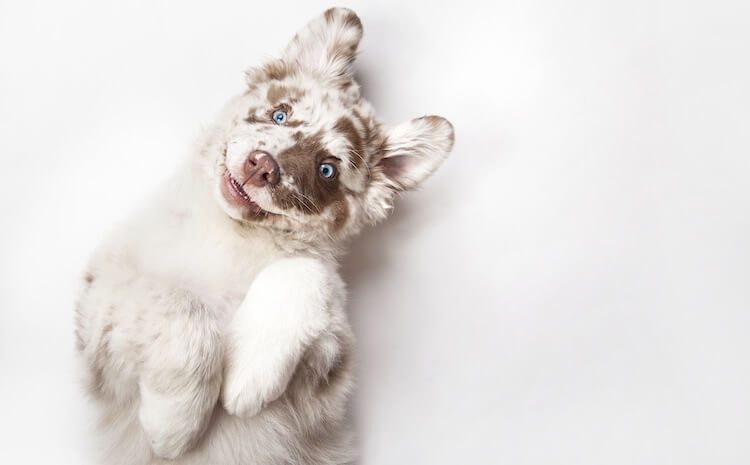 Looking for the best names for your adorable white puppy? Here are our top 20 picks for white dog names.
Cloud – Perfect for a fluffy white dog
Igloo – Shortens to Iggy
Ghost – Like Jon's Direwolf in Game of Thrones
Allegra – An Italian name meaning "joyful"
Rex – Latin for "king". Perfect for a noble white dog
Button – As cute as a button
Scrappy – Scrappy dappy doo
Cassiopeia – A queen in Greek mythology
Dianna – Roman Goddess of the hunt and the moon
Endellion
Lady – For the most royal of dogs
Badar – meaning "Full Moon" in Arabic
Nari – "Lily" in Korean
Saturn – The Roman God of wealth
Albus – Suitable for a dog as white Dumbledore's beard
Shy – "Joyous gift" in Hebrew
Sprite
Stella – A celestial name
Apricot – A good name if you have a dog that is the rare apricot coloring
Sugar
White Female Dog Names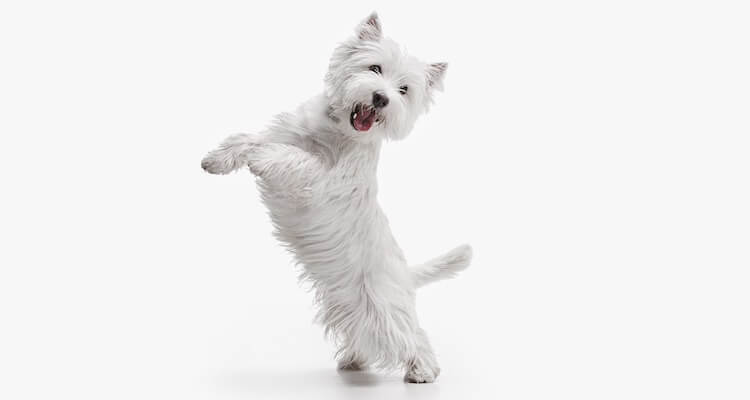 Have your heart set on a female dog? If she happens to be white, here are some names to consider for your new puppy:
Angel
Angelina
Ariadne
Arianna
Aries
Artemis – Greek Goddess of the moon
Aurora
Bella
Belle- "beautiful" in French
Bianca – "white" in Italian
Blanca – meaning "white" in Spanish
Boo
Buttercup
Caitlin
Cassandra
Celeste
Chardonnay – The regalest white wine for the regalest of dogs
Christina
Daisy
Diamond – As diamonds are a girl's best friend!
Dove
Elle
Elsie
Fina
Fiona
Flo
Glimmer
Haiku
Hermione
Iris
Ivy
Lily
Lola – Her name was Lola…
Luna
Mia
Misty – a great name for a husky type dog.
Molly
Noelle
Olive
Olivia
Orchid
Orla
Pandora
Pearl
Periwinkle
Pippa
Rhubarb
Rosalba – Latin meaning "white rose"
Rose
Sandra
Snowflake
Sydney
Tabitha
Tahani – "best wishes" in Arabic
Wren
White Male Dog Names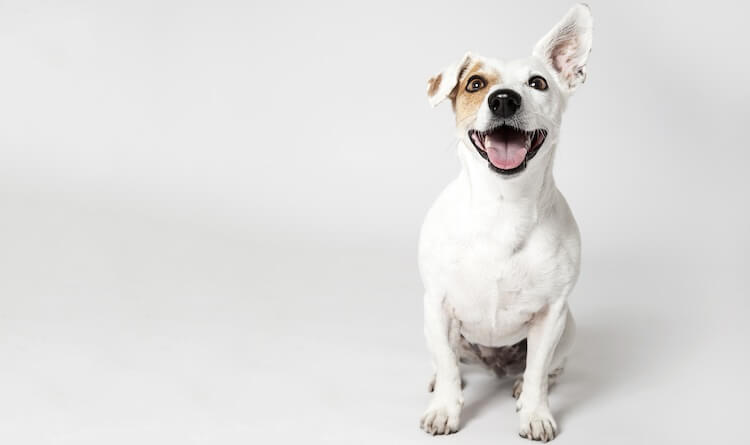 Did you purchase a powerful and athletic Dalmatian or maybe a fluffy herding Samoyed? Either way, you decided to buy a boy dog.
Here are over 50 of our favorite white male dog names for you to mull over:
Adonis – A Greek name meaning "Lord"
Alfie
Anjo – Angel in Portuguese
Auberon
Axel
Bailey
Bandit
Benny
Bernard
Bertie
Blake
Bo
Buddy
Caesar
Casper – Like the Ghost
Charles
Chico – "Boy" in Spanish
Cliff
Comet
Connor
Diesel
Donald
Dude
Duke
Falcon
Fergus
Flash – Saviour of the universe
Francis
Freddie
George
Hector
Hermes
Hugo
Jack
Jasper
Jonah
Ludo
Marn
Merlin
Milo
Miran
Noah
Otis
Pablo
Remus
Romeo
Roscoe
Scout
Sebastian
Sirius – After the dog star
Stanley
Timmy
Titus – Greek meaning "Defender"
Toby
Walter
Wesley
Wilbur
Winston
Zeus – Perfect for bigger dogs
Funny White Dog Names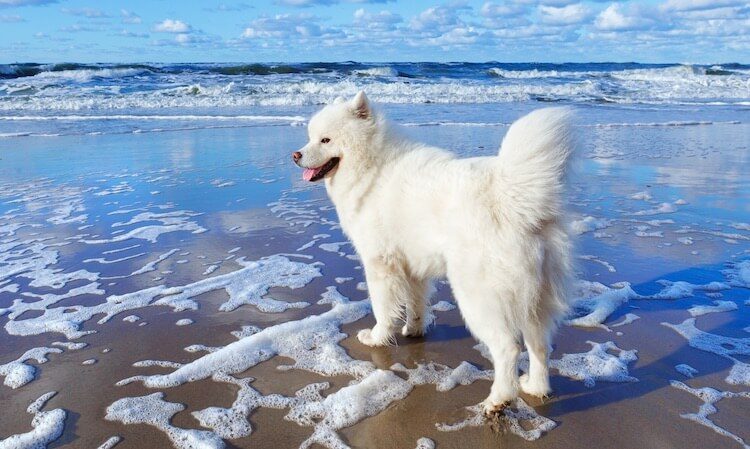 Prefer a humorous name for your companion? Here our some of our picks for funny white names for dogs and some shout outs to famous dogs in the media.
These funny names will have you howling:
Bambi
Bear
Ben (and/or Jerry)
Blizzard – Perfect for a bouncy dog
Bolt
Bubblegum
Cabana
Captain Pugsley
Catnip
Chewie
Cleopatra
Edna
Elsa
Ewok
Fenton
Fido
Frodo – Like from Lord of the Rings
Jabba
Jackson
Kermit
Lolita
Lucky
Marshmallow
Mary Puppins
Peabody
Noodles
Nugget
Pavlov
Peanut
Pluto – Channel your inner Disney nerd
Pongo
Prince Phillip
Rover
Salt
Schnee – "Snow" in German
Lady Rover
Snoopy
Snowball
Snowy
Taco
Toto
Waffles
Winnie the Poodle – Perfect for a Ppuoodle
Yeti
Yoko
Yoshi
Zebedee
Cute White Dog Names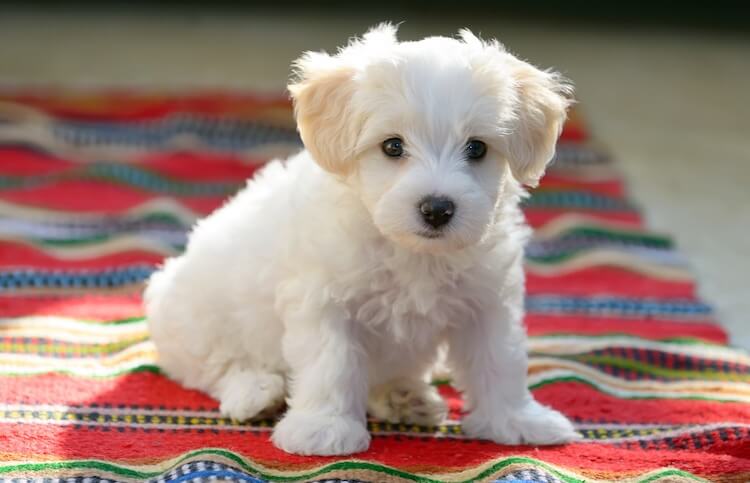 Did you manage to find the perfect white puppy? These tiny, tea-cup sized, pooches are fluffy, furry and full of fun!
Prefer something a little sweeter for your perfect new pooch? Here are our suggestions for cute white dog names – perfect for your puppy.
Ace
Albie
Amber
Ava
Blue
Brooklyn
Bubba
Bubbles
Buttermilk – Suits a small, cuddly white dog
Candy
Caterina – Italian meaning "pure"
Coco
Cotton
Fairy
Faye
Ferne
Fluffy
Freckles – Adorable if your dog has some freckles
Giant
Gidget – the Pomeranian from The Secret Life of Pets
Gracie
Gypsy
Harper
Ivy
Kisses
Koda
Lakshmi – A Hindi name meaning a good omen
Lumière – "Light" in French
Marbles
Martha
Moana – A Disney princess
Monty
Moonshine
Nala
Nana
Oreo
Patch
Peaches
Pepper
Percy
Perdita
Pip
Popcorn
Prince or Princess
Puffball
Quincy
Ren – A Unisex Japanese name
Robin
Rosa
Sierra
Smidge
Smudge
Sprinkles
Sweetie
Tallulah
Tilly
Truffles
Tulip
Usha – French meaning Little Bear
Whisper
Willow
Yuki
Small White Dog Names
If you had your heart set on a name for a big dog, check out our list of big dog names.
Prefer a smaller dog to a big one? They can pack lots of attitude into that small body, and make the perfect lap dogs.
Here some of our recommendations for small white dog names.
Acorn
Adah – Hebrew meaning "beautiful"
Alfie
Autumn
Baby
Bluebell
Bootsy
Carlin – An Irish name meaning "little champion"
Danny
Darcey
Dill
Dinky
Dobby – Harry Potter anyone?
Dolly
Doodle
Dot
Echo
Elf (or Elfie)
Hans
Hermes
Hobbit
Honey
Hovis
Imp
Jellybean – But shortened to Beanie!
Joy
Little One
Max
Meatball
Mija – pronounced MI-ha
Milky
Minnie
Napoleon
Paddington
Papillion – French for "butterfly"
Peppermint
Pickle
Pixel
Pixie
Poppy
Queenie
Roxy
Ryan – Irish name meaning "little king"
Scorpio
Snowbell
Squiddly
Teacup
Ted (or Teddy)
Thea
Thumbelina
Tinkerbell
Tiny – Another great name for a little white dog
Twinkle
Summary
And there you have it, 300 of our favourite white dog names suitable for any white puppy.
If you think you have found a name, be sure to give it a few test runs. Try saying things like "Rex, time for dinner!" or "Caitlin? Do you want to go for a walk?" to an empty house to see how much you like the sound of it – it will also help you practice making your dog's new name a reality.
Which name do you think is the best on the lists above? Or is there a name you like that we missed out? Be sure to leave us a comment letting us know.