Historically a working dog, the Black Mouth Cur isn't for first time dog owners.
High in energy and tenacity, he is super intelligent and trainable.
When loved by the right owners, he is the perfect family dog, but only for those who understand what he needs and know how to give it to him.
A medium sized dog breed, who sometimes has webbed feet, he is perfect for an active family who love spending time outside.
The Black Mouth Cur has everything a working dog should.
Interested in getting this loyal dog? Read on to find out more.
Black Mouth Cur Dog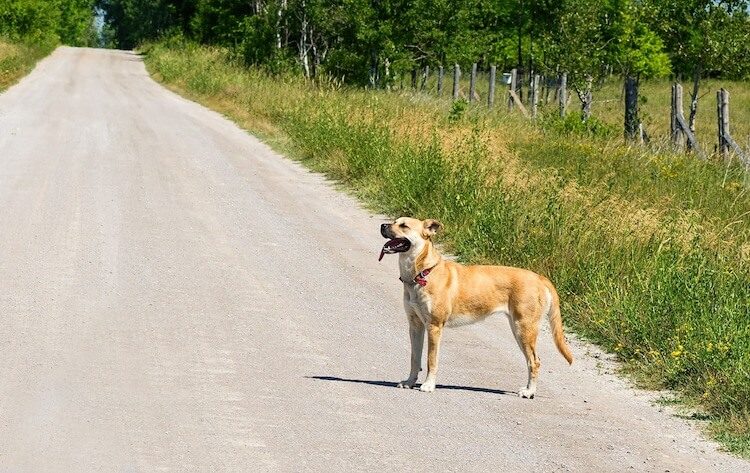 The Black Mouth Cur is a powerful and muscular dog with a body which is usually square or at least longer than tall.
They are tenacious dogs with an innate desire to work.
Known for being hunters, this dog is built to move efficiently over harsh terrain for long periods of time.
It is thought that the original Curs were found across Europe and Asia. But, the Black Mouth Cur has its history in Southern United States hence its nickname as the "Southern Cur Dog".
It's unclear which state this dog first appeared in, there is some confusion whether it was Tennessee or Mississippi.
What seems more likely is there is a slight differentiation within the breed depending on region they originate from. We know there are Black Mouth Curs from three different parts of the states:
Foundation Black Mouth Curs (Texas)
Ladner Yellow Black Mouth Cur (Mississippi)
Black Mouth Cur (Florida)
Cur is a general term meaning a dog with a short coat and drop ears, with working heritage.
Farmers bred and kept the Black Mouth Cur dog to protect their home, hunt and herd cattle and sheep ready for slaughter (they are an incredibly versatile dog).
Kennel Club Recognition and Pedigree
The Black Mouth Cur (BMC) was recognized as an official dog breed in 1998 by the United Kennel Club.
Their successful breed registration resulted in a breed standard which can help to identify BMCs and maintain the quality and consistency of the breed with appearance and temperament.
Black Mouth Cur Dog Breed Info
Size
16-25 inches in height (for males and females)
Weight
35-40 lb (for males and females)
Lifespan
12-18 years
Breed Type
Scent Hound
Purpose
Working Dog
Suitable For
Active Families
Color Variations
Red, Yellow And Fawn, Brindle, Buckskin With Or Without A Black Muzzle Or Mask
Temperament
Intelligent, Fearless, Courageous, Energetic And Loyal
Other Names
Southern Cur, Yellow Black Mouth
Black Mouth Cur Puppies
Litters of this dog are often quite large, ranging from between 3 to 12 Black Mouth Cur puppies.
For one of these super-smart working dogs you should expect to pay between $300-500 USD.
If you are looking for a puppy, you may notice these dogs are commonly labelled as hunting or herding bloodlines.
Whilst Black Mouth Curs are generally able to do both (herding and hunting), you will find that certain lines will have been bred over generations, and consequently refined, to do a particular task.
Males and females can also differ greatly with their ability to perform a certain role:
Males are generally better at hunting, they are larger so therefore more intimidating. They are also more easy-going.
Females are thought to be better house dogs as they mature sooner and are an overall smaller size.
Being a medium sized dog, they are likely to mature around 12-18 months of age.
Fully grown, a male should be no shorter than 18″ at the shoulders and a female should be no shorter than 16″.
Black Mouth Cur Temperament
| Characteristic | Rating |
| --- | --- |
| Friendliness | |
| Ease of Care | |
| Trainability | |
| Exercise Requirements | |
| Social Tendencies | |
Being a working dog, it should be no surprise that the Black Mouth Cur is high in energy.
He would have needed stamina and endurance to wander on harsh terrain, hunting and herding with his farmer. Bringing him to the modern-day home, you can be sure he needs plenty of exercise and he loves being busy!
Not only that, but he was bred to protect his home.
He loves his people! They don't tolerate being left alone, so he's best suited to homes where someone can be with him most of the day.
Destruction and despair lay in wait if you make the mistake of leaving him home alone for extended periods of time.
If he gets bored, he will give Huskies a run for their money.
Black Mouth Curs are renowned for being escape artists if their daily exercise needs aren't met. Over, under or through fences, they will find a way.
They will dig if they are bored, but they will also dig a hole to sit in and cool down.
Not renowned barkers, they will only alert you to something out of place. But some hunting lines of Black Mouth Cur do bark more than others.
They also have a particular talent for opening doors!
Do They Make A Good Family Dog?
When raised with them, this dog can be super-sociable with people and other animals.
Again, it's worth discussing with any potential breeder what you are looking for.
If he's just going to be a pet, tell them that. Their working lines of Black Mouth Cur may not be suitable for you.
They can be the perfect family pet, but they need an experienced handler who understands their heritage.
Care Guide
Not for first time dog owners, the Black Mouth Cur keeps even the best dog handlers on their toes.
They thrive in an active home, where his owners have the time to exercise and train.
Let us see if you've got what it takes to care for him on a daily basis.
Food and Dietary Requirements
Daily Food Consumption
Guide
1,000 calories
Cups of Kibble
When feeding your Black Mouth Cur, ensure you invest in a high-quality food.
Check it meets his nutritional requirements, especially protein and fat:
Protein is the building blocks of your dog's body – cells need it to function, develop and repair.
Fat is crucial for energy and we know this dog will use a lot of that!
Between 4-14 weeks of age, your Black Mouth Cur puppy will need a minimum of 4.4g of protein per kg of bodyweight.
At 14 weeks onwards he will need 5.69g, and once fully matured, this will reduce to 1.20g of protein per pound of bodyweight.
Your puppy will need 8% of his diet in fat form, this will reduce to 5% when he is fully grown.
As a puppy split his meals into three per day. once fully grown, most owners reduce this to two.
Be mindful not to overfeed, though not prone to weight gain, high calorie treats should be used sparingly.
Exercise Requirements
Daily Exercise Requirements
Minutes
120 minutes
Activity Level
As we mentioned, the Black Mouth Cur was a historic herding dog.
They love being active and need a high level of exercise.
Two 60-minute walks per day, when fully matured, should get you on the right track to meeting his needs.
They also thrive in sports like agility and flyball, being super trainable means they can turn their paw to anything!
Their webbed feet make them excellent swimmers too, so this is also an option if the weather is a little too warm to be out trekking all the time.
If you do decide to take them swimming, remember to stay safe and consider investing in a life jacket for your dog!
While being highly trainable, be mindful that they were bred to be hunters. Although you may have trained recall to within an inch of their life, if they spot something more interesting than you, they will follow their nose (or ears or eyes).
Keep them on leash in busy or non-secured areas.
Training Requirements
Not only do you need to keep their bodies active, but you need to keep their minds active too.
Black Mouth Curs are highly intelligent and super-trainable.
It can take a few weeks for them to bond with their owners as puppies so ensure you focus on play to build that relationship initially.
They thrive with positive reinforcement and reward-based training. Despite their heritage, they can actually be quite sensitive so it's even more crucial to avoid aversive training techniques.
Understand if your puppy is a food or toy dog and use it to your advantage.
Spend time working through brain games to keep him out of mischief.
Playing to his hunting heritage, you could set up a treasure hunt in your home and around the yard. Hide toys or high value treats and encourage him to seek them out.
Known Health Problems
Because they were bred for hunting, the Black Mouth Cur is typically a very healthy dog.
The normal lifespan for a Black Mouth Cur is between 12 to 16 years.
Typically healthy, however, they can still suffer with certain health issues relating to their ears.
Because of their dropped ears, they can be prone to ear infections, especially if they spend time swimming.
Check his ears regularly and clean them when necessary. The flat lay of their ears keeps the humidity in the ear canal which is a perfect environment for bacteria to survive.
Black Mouth Cur Size, Appearance, Coat and Grooming
The Black Mouth Cur is a medium sized dog, powerful and agile.
Their body is usually square or at least longer than it is tall and they can move quickly and efficiently.
They have a large, broad head and their ears are dropped of medium length (set quite high on the head).
Despite the name, the breed standard accepts Black Mouth Curs with, or without, a black muzzle or mask.
They have a short, dense coat, which can be coarse, rough or fine.
You will find Black Mouth Curs in a range of colors including:
Red
Yellow
Fawn
Black
Bronw
Buckskin
Brindle
Relatively low with their grooming requirements, two or three brushes per week should be ample to keep on top of his coat.
Being a short coat, you won't notice too much hair around your home.
Introduce brushing from a young age and make it part of your routine. Not only does it make your life easier moving forward, but it means that a Veterinarian can check him over whenever the need should arise.
Get into the habit of brushing his teeth multiple times a week, and whilst you're at it, check his eyes and ears.
If he has webbed feet, keep an eye on them too! Just ensure nothing has gotten stuck in between his pads.
Summary
A historic worker with oodles of energy, this dog is not for the first-time owner.
If you are seeking a Black Mouth Cur puppy, research your breeder and speak with them about the differing bloodlines.
Also consider whether a male or female may be more suitable for your home.
When raised with them, Black Mouth Curs are super-sociable with other people, children and animals, but again it is down to the experience of the handler and their understanding of early and continued training and socialization.
These dogs are sensitive, so reward-based training is a must.
Their sensitive side will also show if they are left for long periods of time, they are much happier in homes where someone will be with them for most of the day.
Known escape artists, and diggers if their needs are not met, make a mistake with a Black Mouth Cur at your peril.
They make incredible family dogs, who just love their family. They are intelligent and courageous, you just need to be one step ahead of them!