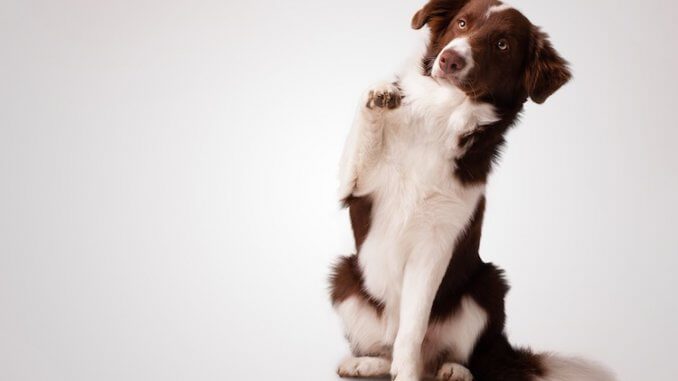 Border Collies are known for their gorgeous coats and their attentive, loyal nature.
If you are bringing a Border Collie into your family soon, you are probably looking for the best Border Collie names!
There are plenty of places to find inspiration, such as nature, space, and even your favorite TV shows and movies.
Why not take a look at this extensive list of over 350 names to find something that is perfect for your Collie.
Female Border Collie Names
If you are bringing a female Border Collie home soon, it is a good idea to choose something really feminine to show off your princess' dainty and loving personality.
We love floral names, or names with soft and gentle meanings.
If your female Border Collie is anything but dainty, then why not go for a space-themed name?
Take a look at this list of names for female Border Collies to find a name that is right for your dog.
Top Name
Agatha – This is a gorgeous name of Ancient Greek origin. This gentle name simply means 'good', which is perfect for a well-behaved Border Collie.
Names
Rosa
Lara
Windy
Katherine
Hope
Tide
Lily
Iris
Olive
Abby
Gina
Clemence
Galaxy
Clementine
Heaven
Aida
Stella
Clara
Autumn
Delphine
Season
Poppy
Daffodil
Petal
Spring
Fleur
Gaia
Epona
Selina
Jasmine
Lilac
Acacia
Anemone
Astra
Amaryllis
Johanna
Violet
Sunny
Shimmer
Medley
Winter
Sandy
Heaven
Alessa
Rosemary
Chun-Li
Harper
Sparrow
Gardenia
Kayla
Conch
Lavender
Flower
Blossom
Victoria
Daisy
Miranda
Neveah
Cynthia
Samus
Sunflower
Azalea
Briar
Zelda
Ida
Venus
Jolene
Holly
Dalia
Amanda
Jupiter
Malinda
Meegan
Zinnia
Juniper
Jill
Begonia
Rosie
Dahlia
Lara
Wan
Summer
Marguerite
Nariko
Star
Cascade
Pansy
Peach
Precious
Posy
Male Border Collie Names
There are plenty of places to find great inspiration when naming your male Border Collie.
We like the idea of using traditionally masculine names to reflect your dog's strength and courage.
It is also a great idea to use names inspired by nature, as the Border Collie loves to be outdoors – they were originally (and still are) used for herding sheep.
Why not use names of male celebrities favorite men from stage and screen, and even video games? Use this list of suggestions to find the perfect male Border Collie name.
Top Name
Kenzo – This is a unique and masculine Japanese name, meaning 'strong and healthy.' We think this name is fitting for an energetic Border Collie.
Names
Hawk
Maximus
Pistol
Lincoln
Ember
Phoenix
Cliff
Bute
Thunder
Curio
Link
Cedar
Ninad
Hendrix
Jedrek
Grove
Keanu
Owen
Theo
Morgan
Jerry
Bracken
Luigi
Forest
Justice
Nettle
Lennon
Sonic
Hammer
Clay
Bark
Magnar
Loki
Freddie
Mercury
Russell
Shepherd
Nathan
Tiger
Oswald
Kirby
Boris
Cobain
Edward
Desert
Wick
Elton
Duke
Mario
Ricky
Odin
Pikachu
Napoleon
Jaguar
Coal
Winston
Steel
Prince
Gunner
Guy
Elvis
Dusty
Kratos
Flint
Ozzy
Wolf
Milan
Burdock
Leonard
Franklin
Jagger
Ridge
Bowie
Thor
Crash
Oscar
Jasper
Liam
Kalmin
Linden
Ratchet
Griffin
Emmett
Rocky
Eagle
Everest
Border Collie Dog Names
Border Collies are one of the most popular breeds of dog in America.
They are the 35th most popular dog listed with the American Kennel Club.
If you want to choose a name that reflects the popularity of the Border Collie, you could use a classic or unique dog name.
You can also choose a name that echoes the traits of the Border Collie, such as their intelligence, energy and friendly nature.
We also like the idea of using names that bring to mind companionship and love. Use this list of great suggestions to find a perfect name for your dog.
Top Name
Doctor – This quirky name pays homage to your dog's superior intellect. It also is a great choice for those who are fans of BBC's Doctor Who.
Names
Charlie
Geeky
Apex
Sara
Maggie
Mattie
Lola
Marley
Mega
Frankie
Scruff
Dash
Buddy
Odie
Butch
Jessie
Fido
Baron
Pepper
Rex
Yip
Archie
Volt
Jigsaw
Tetris
Allie
Bear
Nerdy
Sassy
Captain
Biff
Abby
Nola
Ollie
Hyper
Cooper
Brainy
Norma
Holly
Bouncer
Metal
Quirky
Goggles
Kayla
Barker
Einstein
Bandit
Gage
Teddy
Pixel
Yapper
Toby
Betty
Fritz
Lulu
Bertie
Boomer
Max
Hattie
Jax
Lightning
Lady
Johnny
Bolt
Flash
Calla
Socrates
Barney
Bella
Sadie
Jenny
Bailey
Traditional Border Collie Names
Other than for companionship, Border Collies are primarily used as a type of herding dog – they herd livestock like sheep.
The breed was developed in the Scottish borders, which is why they are called 'Border' Collies!
A really traditional name would be one of Scottish origin that goes back to the breed's roots.
You can also choose a name associated with farming and herding in order to make the name really traditional.
We have made a list of traditional Border Collie Names to spark some inspiration for you.
Top Name
Cailean – We love this unique name of Scottish origin. It means 'whelp, young dog', which would be very apt for your Scottish Border Collie.
Names
Agnes
Rory
Harris
Flora
Dionysus
Gavina
Owen
Gregor
Dougal
Archibald
Lyall
Alpin
Boyd
Davina
Alison
Calum
Iain
Graham
Ann
Hecate
Rhona
Bryce
Una
Arabel
Elsie
Persephone
Levi
Fingal
Duncan
Jean
Demeter
Cinead
Angus
Baldwin
Cabiri
Mairi
Annis
Craig
Chaser
Brodie
Raibert
Finlay
Horae
Tamhas
Gordon
Fergus
Margaret
Emse
Lewis
Innis
Adamina
Hades
Aileen
Morag
Fiona
Gunner
Hamilton
Zeus
Diarmid
Eachann
Ross
Greer
Ewan
Ione
Stuart
Rider
Hunter
Plutus
Hew
Cadmilus
Alana
Murdina
Grant
William
Barbara
Malcolm
Ethan
Best Border Collie Names
The very best names for Border Collies are ones that have already been used on stage and screen.
Why not use a name that a celebrity has also used for their Border Collie? This way you know it is superstar approved.
We think names that reflect the classic black and white coats of the Border Collie are the very best!
Have a look at our list of the best names, and you might find something perfect.
Top Name
Ruswarp – This name comes with a beautiful story. It is the name of a Border Collie that stayed by his dead master's side for 11 weeks. What a great way to honor this heroic puppy.
Names
Coconut
Ruswarp
Socks
Inky
Crystal
Avocado
Onyx
Devon
Puffy
Jet
Snowball
Frost
Rico
Puffin
Badger
Lucky
Sapphire
Plugger
Fly
Matisse
Penguin
Old Hemp
Rembrandt
Tuxedo
Maui
Salt
Zebra
Angelo
Dice
Dove
Timmy
Shep
Coal
New Brian
Scorpion
Vanilla
Milky
Dolly
Crow
Clarinet
8-Ball
Mogley
Haiku
Panda
Pearl
Cotton
Hubble
Licorice
Sooty
Stan
Miner
Chomp
Baillie
Snowy
Border Collie Puppy Names
If you are bringing a Border Collie puppy into your home, then you are probably looking for an adorable name to match the cuteness of a new puppy!
We recommend names that reflect your puppy's size and personality.
Why not use a soft name that matches your puppy's fur?
Another great choice for puppies is food names as they can often be both comical and really adorable! If you are still struggling, take a look at our list of suggestions for Border Collie puppy names.
Top Name
Cupcake – If you have a Border Collie with a sweet and lovable personality, then this adorable name might be a great choice for your puppy.
Names
Queso
Queenie
Clown
Nacho
Chocolate
Blue
Snuggles
Tiny
Doll
Sausage
Darling
Crumpet
Lasagne
Chunky
Blondie
Floof
Honey
Cheddar
Popsicle
Brandy
Peanut
Bunny
Mickey
Nugget
Kiss
Chubs
Diddy
Parsnip
Linen
Citrus
Lover
Sugar
Brownie
Buttons
Joker
Donut
Waffle
Shorty
Jelly Bean
Wool
Minnie
Biscuit
Lolly
Silky
Pickles
Fluffy
Salsa
Dearie
Pancake
Bitsy
Tot
Sequin
Sweetie
Bambino
Weenie
Pookums
Cutie
Lovely
Meatball
Angel
Syrup
Blueberry
Chip
Pizza
Taco
Fritter
Feather
Caramello
Cheesecake
Furball
Baby
Glitter
Mozzarella
Cookie
Candy
Bestie
Chef
Dashing
Jello
Dreamy
Summary
Although naming your Border Collie can seem like a daunting challenge, hopefully these suggestions have sparked some inspiration.
Whether you choose a traditional Scottish name, or a funny food name, we are sure that your choice will be perfect for your new four-legged friend.
We would love to hear from you if you use any of the names suggested in these lists for your Border Collie.
Make sure to leave a comment if you have any ideas for awesome and amazing names for Border Collies.