Welcome to All Things Dogs' A-Z list of the best German Shepherd Names with over 150 fun, unique and cute names for your German Shepherd Dog (GSD).
So you have decided to adopt or buy a German Shepherd, one of your first tasks, as a pet-parent, will be to give him his name.
Much like choosing a name for your child, pet-parents can mull over dog names for what feels like an eternity!
When considering German Shepherd Names, you will want to think about your dog's personality and temperament; you want a name that suits his demeanor and attitude toward life.
German Shepherds are loved for their confidence and courage.
German Shepherd Names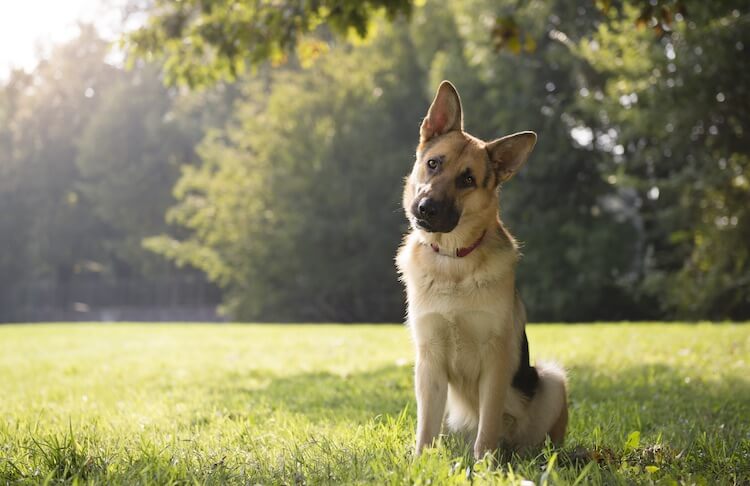 Whilst there are some unwritten rules of names for German Shepherd dogs, like make sure you choose a name you won't be embarrassed shouting across the dog park, or avoiding names which sound like common commands. Generally, with German Shepherd names, anything goes.
Top 10 German Shepherd Names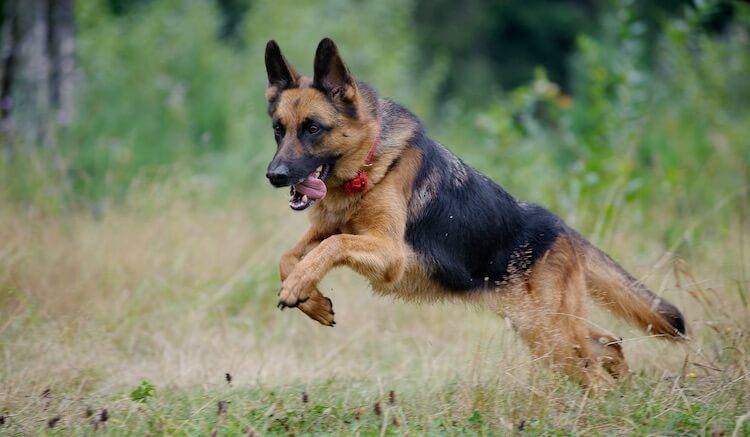 A recent study found the most popular ten names for German Shepherd Dogs:
Darcy
Dodger
Earl
Izzy
Jasper
Nelly
Pip
Sergio
Sheba
Vegas
German Shepherd Dog Names
If you are looking for a name that is a little bit more unique, to match your dog's personality, rather than the most popular German Shepherd Names, then try our list below:
Archie
Bertie
Clyde
Ernie
Faith
George
Henry
Hope
Poppy
Reggie
Remus
Ronnie
Tess
Tilly
Toby
Male German Shepherd Names
Looking for male German Shepherd names that will be a perfect fit for this breed's courageousness, strength and intelligence? Any name on this list will be a perfect fit:
Adolph
Arlo
Arnold – you could name them after Schwarzenegger, but, it actually means "eagle power!"
Axel – father of peace
Bernard – perfect for the Shepherd in your life, this name means strong and brave
Bruno – For the courageous dog, this name means shield or armor
Dedrick – gifted ruler
Dirk
Ernie
Franz – Perfect for the sociable and happy-go-lucky GSD in your life, this name means "free!"
Finn
Frank
Gunther
Hans
Heinrich
Heiko
Klaus – someone who serves his community; ideal for the loyal and loving GSD!
Leonard – lion-hearted
Max – "the greatest!" Need we say more?
Manfred – "strength and peace!"
Otto – meaning "prosperity"
Rolf
Sigmund – victorious defender
Stein
Ulf
Wilhelm – resolute protector
Walter
Wolfgang – Mozart anyone?
Female German Shepherd Names
Are you the proud owner of a strong and independent female German Shepherd Dog? These names will keep her strong female temperament whilst reflecting her femininity:
Ada – noble
Anja – ideal for the quiet and courageous comrade
Anka
Ava
Birgit
Christa – "the chosen one" appropriate for the adopted dog you just rescued?
Ella
Erna – From all of these German Shepherd Names, this name is for a fearless and confident dog
Elsa
Edith – A fitting name for any working military dogs, meaning "prosperous in war"
Elke
Frida – peace
Fritzi – Appropriate in a multi-pet household where your GSD ensures everyone is safe
Gertrud
Heidi – Do you have a stoic and fearless pup? Heidi means "nobility"
Helga
Heike
Ilse
Ida
Petra
Trudy – Courageous and bold, this German Shepherd Dog has universal strength!"
Ute – fortune
Ursula – little bear
Wanda – wanderer
Zelda – blessed and happy
German Shepherd Puppy Names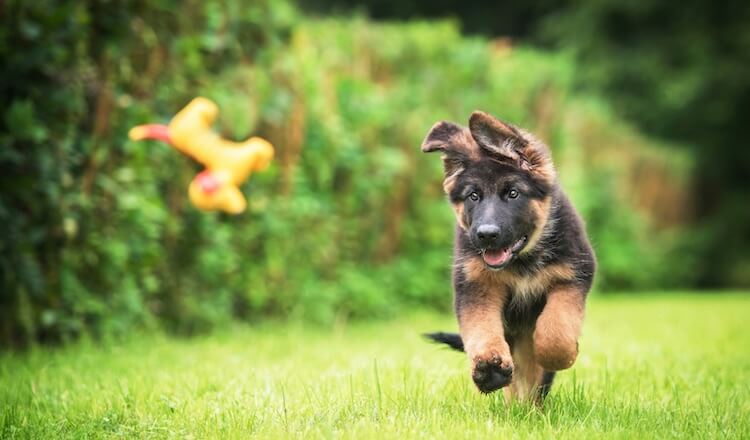 We know the German Shepherd is loved for its loyalty to its owner. Puppies are no different. Below are our favorite German Shepherd names for your newborn puppy:
Bruiser – yes, we know Bruiser was a Chihuahua in Legally Blonde, but, we still think the name elicits ideas of a bold and fearless warrior!
Bravo – Bold in Spanish
Bear
Chief
Duke
Elektra
Fonse – Bold
Goliath – a person or thing of enormous size or strength!
Hercules – in classical mythology, Hercules is famous for his strength and adventures
Leia – the Star Wars Princess was a 1980's icon
Mack
Olga
Rambo
Rex
Rocky
Sheba
Shrek
Tank
Titan
Thor – mostly based on the superhero comic books; Thor was known for his superhuman strength, speed and durability
Vixen
Wolf
Zena
Zeus – King of the Gods
German Shepherd Boy Names
Augustus – majestic
Apollo – The Greek God and one of the twelve Olympians
Atticus
Ace
Boris
Caesar – after Julius Caesar?
Comet
Dino
Dakota
Elroy – a French dog's name
Ernie
Flash
Hawk
Kip
Marshall
Milo
Oscar
Pluto
Ringo – the meaning of Ringo is actually Apple, but the name became popular after the musician and drummer from The Beatles, Ringo Starr!
Rusty
Roofus
Zorro
German Shepherd Girl Names
Amber
Asia
Bella
Bonnie
Cassie
Cleo – short for Cleopatra, the Egyptian Ruler
Coco
Duchess
Elle
Faith
Hermoine – the fictional Harry Potter character!
Lady
Mia
Missy
Olive
Queen
River
Roxy
Ruby
Cute German Shepherd Names
You may even be tempted to name your Shepherd after celebrities who have owned, or still own this magnificent breed, try these cute celebrity inspired German Shepherd Names:
"Jake" Gyllenhaal
"Reese" Witherspoon
"Miley" Cyrus
"Bella" Thorne or "Taylor" Lautner
"Shania" Twain
"Ben" Affleck
"Bo" Derek
Or you could just name your Comrade after a famous predecessor:
Rin-Tin-Tin
Horand – named after the first ever GSD!
Strongheart – one of the first dog film stars
Buddy
Chips – the most decorated war dog from WWII!
Black German Shepherd Names
"Jet" as in a jet-black German Shepherd
Amber
Autumn
Biscuit
Cookie
Copper
Fudge
Goldie
Hazel
Hershey
Nutmeg
Rolo
Rusty
Saffron (more yellow coloring)
Skippy (peanut butter)
Snickers
Taffy
White German Shepherd Names
Conclusion
When choosing from these German Shepherd Names, remember, he will have it for the rest of his life.
Keep it simple, choose one that suits his character and demeanor.
Whether you choose a name from his German heritage or even one based on his appearance, be confident that you will be able to shout it across the dog park and that you don't feel the need to explain the reasoning when signing him in at the vets.