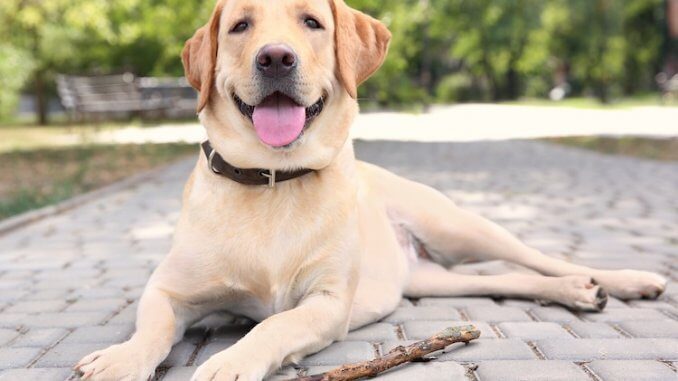 So, you are looking for a perfect name for your Lab?
Well, you have come to the right place, we have a list of over 500 unique, cool and best Labrador names.
Labs make one of the greatest canine companions because of their loyal and gentle nature.
It also helps that they're super cute too!
So, it comes as no surprise that Labradors are the #1 most popular dog breed in America.
Your furry friend deserves the best Lab name, that is why we are pawsitive that you'll find the right title for your pup's name tag below.
How to Pick a Name for your Lab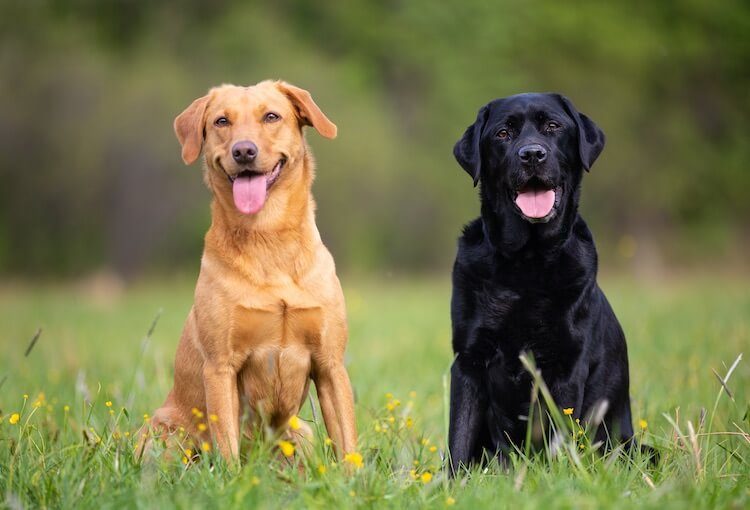 Picking a name for your dog is a ruff job.
But, if you follow our suggestions below, and use our list of Labrador names below, we are sure it will make your search for a name a howl of a lot easier…
Choose A Name To Match Your Labrador's Personality
For example, if your Lab is super energetic, why not call them Zippy?
Pick A Title Based On Their Color
If you have a Black Labrador, why not call them Coal?
Keep It Short (And Sweet)
'Bellatrix' can be shortened to 'Bella.'
Best Labrador Names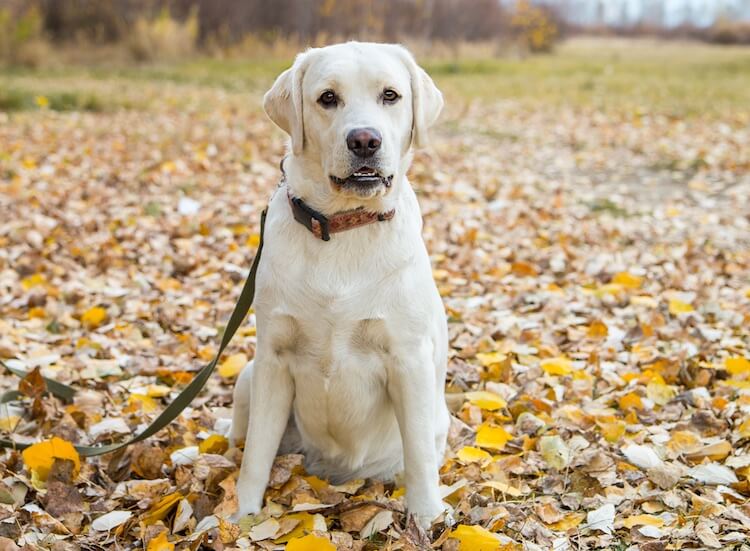 Did you know that Labs were originally bred to be working dogs? In fact, they make fantastic hunting companions and are still used to retrieve game today.
Whether your Lab favors the hunting field or the couch, they deserve the best Labrador name out there.
We think that some of the best monikers can be the simplest; one of our favorites has to be Bailey – it's perfect for a girl or a boy.
Marley – This is a classic choice for a Lab. Marley is the name of the famous Labrador, owned by John Grogan, who wrote about Marley's awesome adventures.
Check out our list below to find a name you'll woof:
Best Lab Names
Arlo
Finn
Kai
Rosie
Archie
Fido
Lucky
Remi
Annie
Gromit
Lucie
Rupert
Annabelle
Grace
Luna
Ruby
Andy
Gus
Lilly
Riley
Bella
Greta
Louis
Scotty
Brody
Henry
Lewis
Stella
Bruno
Hollie
Maddie
Sophie
Belle
Hank
Marvin
Sam
Bailey
Harley
Max
Suzie
Cooper
Hattie
Moose
Sydney
Charlie
Ivo
Molly
Tucker
Coco
Izzy
Nick
Tillie
Chloe
Imogen
Nala
Verity
Chico
Ingrid
Nero
Vince
Dixie
Jack
Nova
Winnie
Diesel
Josie
Otis
Wilson
Dexter
Justin
Oliver
Willow
Dandy
Jackson
Olivia
Wally
Ella
Jolly
Oakley
Yeller
Emma
Josie
Pippa
Yogi
Eddie
Jax
Penny
Zak
Eric
Kit
Percy
Zoey
Freya
Koda
Pepper
Zeke
Felix
Kira
Quintin
Male Labrador Names
Are you looking for a marvellous title for your male Lab?
A fantastic way to choose a Labrador name is to use words which really reflect their unique personality.
Another brilliant way to choose a moniker is to look for a title based on your loveable Lab's coat color – we love the name Hershey for a chocolate Lab!
Whatever you are looking for, we have a range of paw-some names that are bound to get your tail wagging… there's bound to be one that's a great fit for your very own 'good boy'!
Hershey – Named after the global chocolate brand we all know and love, this would make a perfect choice for a male chocolate lab!
Augie
Amigo
Alvin
Aero
Barney
Boots
Baxter
Buddy
Barret
Benson
Boris
Champ
Clancy
Carson
Carter
Calvin
Corky
Dylan
Dustin
Danny
Diego
Emmet
Ernie
Espresso
Francis
Flynn
Fargo
Garret
Greyson
Gunner
Gabe
Gizmo
Harvey
Harry
Herbie
Harrison
Homer
Isiah
Isaac
Ike
Irwin
Jerry
Jasper
Jimmy
Juno
Joel
Jakey
Kiko
Kyle
Kaleb
Khan
Kingston
Leo
Loki
Lotus
Leon
Maxwell
Merlot
Milo
Mason
Mickey
Noah
Nixon
Nash
Nate
Nelson
Ollie
Oreo
Ozzy
Owen
Pablo
Phillip
Preston
Pace
Rascal
Rosco
Rico
Ruben
Ralph
Sampson
Sonny
Silas
Stanley
Sawyer
Timothy
Tommy
Trent
Todd
Victor
Vann
Vito
Wade
Watson
Wylie
Warren
Xavier
Zayn
Zeus
Zaki
Female Labrador Names
Finding a name for your fab-fur-lous female lab is easy, there are so many fantastic names you can choose from.
Labradors are known for their robust build, however they still keep their adorable looks as they grow older.
Some of our favorite choices for Labs names are based on famous characters from pop culture (e.g. Zelda from the Nintendo franchise).
Whether your dog is sassy and fearless, or sleepy and laid-back, there's bound to be a name for her in the list below, why not take a look?
Sansa – A great choice for a sassy dog. Sansa is the name of one of the strong female characters on Game of Thrones.
Female Lab2 Names
Addie
Emily
Layla
Rain
Ariel
Emilia
Lexi
Raven
Angel
Elsie
Laura
Ruthie
Amber
Ferne
Lana
Rose
Arabella
Francesca
Lou
Scarlet
Babe
Flossy
Mercy
Sadie
Betsy
Faith
Maisy
Sable
Bonnie
Gracie
Moana
Skylar
Brooklyn
Gia
Mocha
Summer
Bree
Gwen
Margo
Talia
Bellatrix
Goldie
Mia
Thea
Connie
Gisele
Nia
Tallulah
Carly
Harmony
Nancy
Tasha
Carrie
Hailie
Nikita
Trixie
Cora
Hannah
Naomi
Tiffany
Chica
Isla
Olympia
Taylor
Dottie
Iris
Olga
Violetta
Daisy
India
Omega
Venus
Devon
Jasmine
Opal
Wilma
Daphne
Jolie
Olive
Winona
Delila
Jade
Phoebe
Wren
Dakota
Kiara
Primrose
Xyla
Demi
Kimber
Priya
Zelda
Ember
Leia
Poppy
Zara
Eve
Lola
Pearl
Unique Labrador Names
Because Labradors are one of the most popular dog breeds to own, sometimes it feels like all the names out there are taken.
So, why not consider naming your Lab something a bit more unique?
After all, they deserve a moniker that is just as special as they are.
Choosing a quirky label for your newest pet is a great way to make your pup stand out from the rest of the four-legged furry crowd – it's also sure to get you lots of compliments from fellow dog owners!
Beano – Here's a great example of a unique Lab name for a pup who loves to party! Beano literally means 'party' or 'celebration.'
Abba
Apricot
Acorn
Aristotle
Arizona
Aries
Bones
Baron
Beanie
Bliss
Busby
Buzz
Cha-Cha
Chai
Chops
Clue
Chalky
Cheddar
Cashew
Deeds
Duck
Disco
Esker
Eureka
Eclipse
Easton
Flame
Frazzle
Fluke
Fry
Gator
Guinness
Gidget
Goose
Haribo
Happy
Hermione
Harlow
Hardy
Ike
Inka
Indigo
Inez
Jumbo
Jeeves
Jorah
Jello
Jaguar
Jadie
Jazzy
Jury
Karma
Kenobi
Killian
Khaleesi
Khal
Lilo
Lemon
Lala
Maggiemae
Magnus
Marble
Mascot
Meeko
Merry
Momo
Nougat
Napoleon
Otter
Ouija
Orion
P-Nut
Panda
Pascal
Perry
Plato
Purdy
Rajah
Ringo
Ripley
Sage
Satin
Shea
Snickers
Socks
Teagan
Tequila
Taco
Tova
Tuba
Tweetie
Valentino
Wesley
Woodrow
Woody
Wanda
Zeb
Zulu
Zazu
Cool Labrador Names
Is your pet the coolest canine around?
Then your Lab certainly deserve a title that gives them the respect they deserve.
Choosing a cool dog name with tonnes of swagger is the key to making your Lab sound totally badass.
The names in our list below are sure to blow your mind because they are just that cool.
Banksy – Why not give your Labrador a name that is both cool and unique? Banksy is the name of the famous and anonymous street artist.
Cool Lab Names
Astrid
Elektra
Legend
Puzzle
Aaron
Elvis
Lenny
Razor
Axel
Eros
Maverick
Reuben
Avard
Flash
Mosaic
Rocky
Astro
Fraiser
Master
Revel
Bandit
Fang
Montague
Rebel
Bear
Frisket
Murphy
Seeker
Beckett
Gino
Mac
Scout
Blitzen
Gremlin
Mozart
Sherlock
Bono
Grouse
Miles
Shadow
Bruiser
Garth
Minnie
Shamrock
Buffy
Gabby
Mufasa
Skip
Cherokee
Hercules
Nectar
Scorpio
Cheyenne
Hinckley
Nitro
Tarzan
Chaos
Howler
Nymeria
Titan
Chopper
Jenson
Nikki
Thor
Cinder
Jewel
Noir
Trouble
Cosmo
Java
Odin
Twilight
Demon
Kirby
Orla
Twinkle
Dodger
Kenya
Omen
Taz
Daario
Kaspian
Pandora
Whisper
Dyson
Kendall
Paris
Winter
Derby
Lacoste
Phantom
Xena
Dream
Levi
Pepsi
Zeppelin
Erin
Lynx
Pixie
Funny Labrador Names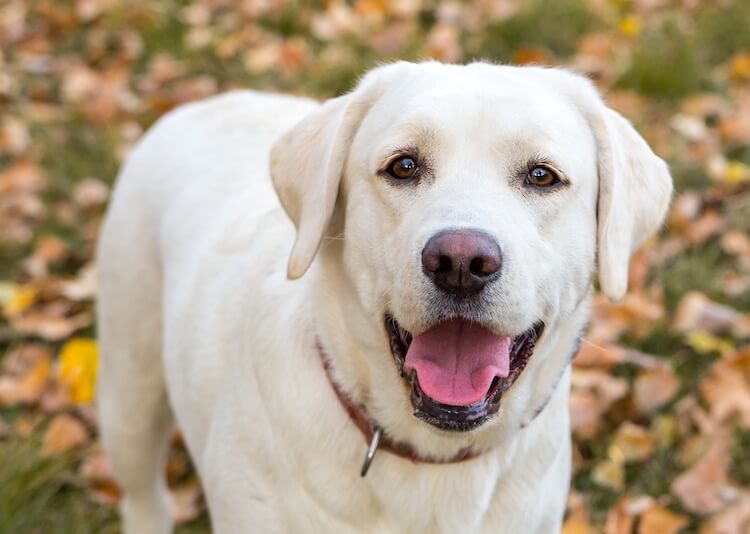 Still struggling to find a name for your Labrador?
One of the best ways for you, and the rest of your family, to decide on a name together is to choose one that gets everyone's tail wagging!
Dogs bring joy where ever they go, and often through the silly things that they do!
A great way to bring a smile to everyone's face is to choose a funny dog name for your furry goofball.
Our list of funny Labrador names is sure to have your family laughing, check out our list below:
R-2 DOG-2 – This is our favorite funny Labrador name and we are sure it will go down a treat with Star Wars fans.
Armidillo
Apple
Boney
Bottom
Boo
Bubble
Bustamove
Clown
Chewbacca
Coffee
Chickpea
Chicken
Dog
Doodles
Droolius Ceaeser
Dobby
Elephant
Ewok
Edgar
Earwig
Enchallada
Eeore
Frazzle
Fabio
French frie
Frodo
Fuzzy
Gorrilla
Guacemole
Gonzo
Gummy bear
HatS
Hashbrown
Hobbit
Horton
Hashtag
Iggy
Isembard
Inky
Indiana Bones
Igloo
Jellybean
Jenga
Juicy Poochure
Jimmy Chew
Kanga
Kelp
Kitty
King Kong
Labradore
Lilo
Langston
Mary Pawpins
Meatloaf
Mcdoggins
Mushroom
Mango
Mozarella
Nemo
Noodle
Napster
Nutella
Noddy
Octopus
Ozzie
Poopsymeow
Poochkins
Patchy
Pusheen
Quack
Quiz
Rusty
Ratster
Rufus
Ron Weasley
Snake
Sniffy
Scary spice
Scrabble
Toad
Tootsie
Tattle
Umbrella
Virginia Woof
Weasel
Wiz Bam
Wizard
Yoyo
Zebadee
Summary
We hope our list of Labrador names has lent you a helping paw in the search for finding the pawfect name for your Lab.
If you are still struggling, why not try re-reading of top three naming tips?
These dogs make loyal and loveable family members, so they truly do deserve a name as great as they are.
We know how difficult it can be to find a name that suits a dog, but remember, there is a moniker out there for every Lab!
Our favorite names have to be Beano and Banksy – what are yours?