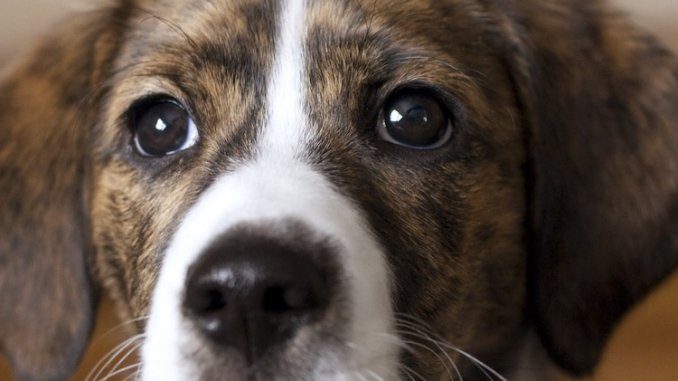 The Mountain Feist is a true all-American dog!
Often mistaken for a Jack Russell Terrier mix, these dogs were first bred from Terriers in the United States.
At the start of the century this dog was exceedingly rare, and yet this decade these dogs are starting to make a comeback due to their popularity as a family pet.
Not to be confused with the larger Mountain Cur, this active dog is a great pet for active families and homesteads.
Let us have a better look at this unique working dog in more detail with our complete breed guide.
Mountain Feist Breed Summary

Size
14 to 18 inches in height

Weight
12 to 30lb

Lifespan
13–18 years

Breed Type
Hunting and Treeing Dog

Purpose
Ratter / Terrier

Suitable For
Active Families, Singles, Or Couples

Color Variations
Light Brown, Black, Brindle, Silver, Cream, Sable, Blue, Red, Fawn, Gray, White

Temperament
Curious, Intelligent, Active, Noisy

Known Health issues
American Feist, Mountain Terrier

Mountain Feist: Dog Breed Guide
The Mountain Feist has a very unknown history; the word "feist" meaning a small, noisy dog of any breed style.
Overtime, the Feist breed classification has been refined to include a handful of breeds, including the Mountain Feist dog.
Like the Mountain Cur, these dogs are known as treeing dogs.
This means their style of hunting is pursuing animals on the ground as opposed to digging them up like a Dachshund.
Consequently, the Mountain Feist has an extreme drive to chase: squirrels, rabbits and rodents.
This is something to be mindful of when considering one of these dogs as a family pet, once they are off the lead, it is very difficult to encourage them to come back.
Recognized by the United Kennel Club (UKC) and American Kennel Club (as a Foundation Stock Service) this dog is a small hunting dog with low maintenance requirements.
Mountain Feist Origin
The Mountain Feist is indigenous to the Ozark Mountains in Missouri, Arkansas, Kansas and Oklahoma.
It is generally accepted that the Mountain Feist has been around since the early American pioneers (in the 17th to 18th century).
Feist dogs were originally bred to chase down smaller animals such as squirrels.
These dogs have been around since the 17th and 18th Century and have been seen by some famous faces, including Abraham Lincoln and George Washington.
Mountain Feist Puppies
Mountain Feist puppies cost between $300 and $500 USD each.
A dam (puppy's mother) will usually have five to eight puppies in each litter.
Mountain Feist dogs are incredibly rare, and when in shelters they are commonly mistaken for other breeds.
You may struggle to find a reputable breeder, or even find one of these dogs in a shelter.
There are national wide rescue groups such as Feist Rescue USA, however, these associations shelter all types of Feist for adoption (not just Mountain Feist).
There is a list of UKC affiliated breeders too, however these breeders are not checked before they are registered so be wary of any puppy-farm breeders.
Mountain Feist Temperament
The Mountain Feist is often referred to as "one of the last true hunting dogs" by fans and owners of the breed.
They are loving and devoted dogs, bonding strongly with their owner and family.
Aggression is incredibly out of character for this breed type.
As long as their exercise needs are met, Mountain Feist dogs are incredibly adaptable and can thrive in pretty much any environment.
It is very important to keep your Mountain Feist busy.
While they will enjoy some downtime and a snooze in the sun, these dogs are bred to work, and this drive means they do not enjoy being idle for long.
Boredom can very quickly develop into problem behaviors with this breed type. Keep your Mountain Feist busy at all times, be it games, play, a walk or training.
Mountain Feists, unlike other terrier dogs, are not known to be aggressive or aloof with other dogs.
These dogs are very social, and can even thrive in pack situations getting on well with dogs of all shapes, sizes and breed groups.
Are They Good Family Dogs?
One of the reasons the Mountain Feist is brilliant with children is their playful nature.
These dogs love a good game, be it tug of war, chase, fetch or hide and seek.
This makes them a hit with kids, especially those who love to play too!
While Mountain Feist dogs are a very kid-friendly breed and can get on very well with children, their instinct to chase things up trees means they are not so great with cats. Therefore, if you have a feline friend at home, this may not be a great choice of canine companion.
Care Guide: Feeding, Exercising and Grooming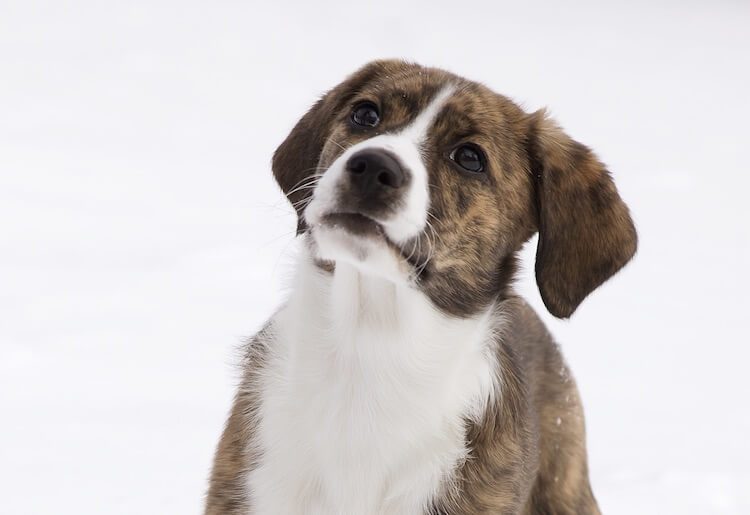 The Mountain Feist is not a good dog for first time owners, or owners who are away from home a lot.
These dogs are tenacious puppies, and they love to be busy or working. Even if they are a family pet, and don't have an active job, they should be:
Out on a walk,
Training,
Playing.
Consequently, they do not do well with being idle, and if you are inexperienced with managing a dog or are away a lot you should consider another dog breed.
Food and Diet Requirements
Daily Food Consumption
Guide
400 calories
Cups of Kibble
They are very active dogs and as a result they need a diet which gives them the energy for their activity levels.
When choosing a dog food, regardless of type, be sure to understand the type of diet you are feeding.
Regulations state the all ingredients (as well as the intended age group of the dog) must be present on the labels of dog feed to make it easier for the consumer to understand what they are feeding their dog.
Depending on the activity level of your dog, they will need around 1 to 1.5 cups of food throughout the day (or equivalent).
As result of their origin (working dogs in Southern United States) Mountain Feists are not fussy eaters, as they traditionally would have been raised on table scraps.
Consequently, it may be best to feed the Mountain Feist a BARF diet ("bones and raw feed"). If you do decide to feed raw, make sure you understand feeding guidelines.
Whatever you decide to feed your Feist, it is important to make sure it is grain free as dogs cannot digest carbohydrates in the same way that people can, and consequently it should not be found in their diet.
Exercising Your Dog
Daily Exercise Requirements
Minutes
60 minutes
Activity Level
This dog breed was bred for hunting and chasing squirrels, as a result they love to be outdoors and active.
Though they thrive as a working dog, they do very well as companion and family pets too, as long as they get 60 minutes of exercise each day.
When walking your Mountain Feist, it is recommended that he is kept on leash (except in fenced in areas such as dog parks), due to his tendency to chase things and perhaps not come back! You will need to work hard with his re-call.
If you are a fan of jogging, you may enjoy taking your dog on a run with you.
Mountain Feists may do well to have a small outdoor area they can self-exercise in. However, this is not a requirement of the breed, as long as they get their 60 minutes of exercise daily, they can be perfectly content.
These dogs are both physically and mentally active, constantly needing to be entertained.
Owners of Mountain Feists report high levels of success with canine sports such as agility or flyball. If you are looking for a new hobby, it could be a good idea to look up a local league.
Training Advice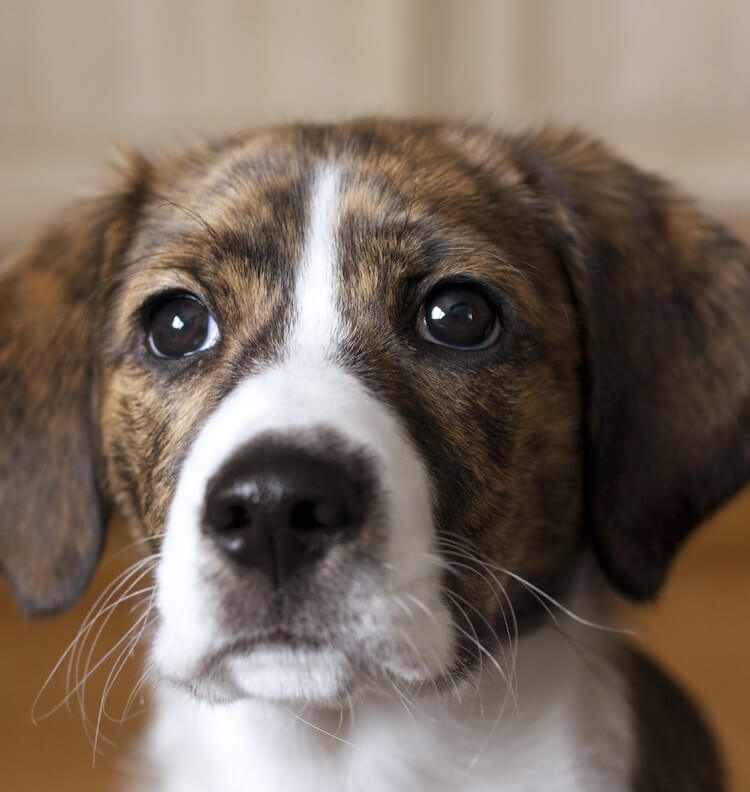 Mountain Feists are known to be clever dogs.
Quick as a whip, their origin as hunting dogs allows them to learn quickly and on the go.
You may struggle to train outside due to their hunting instincts, they may be distracted by a good smell or a passing cat!
Patience whilst training your dog will be paramount as this will define your working relationship with your dog.
If you can feel yourself getting frustrated at your dog's short attention span, then take a break and come back later.
At the start of training, be sure to heavily positively reinforce your dog for behaving outside, especially for behaviors such as recall.
Using a whistle and a clicker may be beneficial as it is louder and clearer than shouting.
The whistle can be used as a cue to indicate when you want your dog to come back, and lots of reinforcement on return will result in a happy, attentive dog.
Keep training sessions short, no more than five minutes, four or five times each day.
Health Problems
Known to be a very healthy dog, the Mountain Feist, same as Russian Bear Dog and all large dog breeds, has few inherited conditions or predispositions towards health issues.
The biggest issue for Feist dogs is hip and elbow dysplasia. This condition is a developmental condition where the cartilage grows incorrectly in the joint, causing pain when moving.
Mild cases of hip or elbow dysplasia can be treated with anti-inflammatory medication, however, more extreme cases will require corrective surgery, potentially from a specialist veterinarian.
On occasion these dogs have been known to have allergic reactions to environmental stimuli, such as skin reactions (better known as allergic dermatitis).
Mountain Feists may also develop allergies to other substances like pollen, or even food allergies causing anaphylaxis.
It is a good idea to get an allergy test from a veterinarian to rule out any serious allergies.
As a result of their minimal health issues, on average a Mountain Feist has a lifespan of between 13 and 18 years!
Mountain Feist Appearance (Color, Coat and Grooming)
As previously mentioned, Mountain Feists are often mistaken for a Jack Russell Terrier.
It is relatively easy to tell the difference between the two, if you know how. Mountain Feists have a softer coat, longer legs and a shorter tail than a Jack Russell Terrier.
The Mountain Feist has a mesocephalic head, a well-muscled body, triangular ears and a strong tail. Their movement is often described as "effortless", moving with the grace and prowess of a hunting dog.
Tail docking is a common practice in the Mountain Feist, but when left undocked, the tail is long and muscular.
One of the unique features of the Mountain Feist is their ability to move almost silently. Their natural ability to stalk prey almost silently means they will be very good at sneaking up on you!
The Mountain Feist is available in many colors including:
Black
Gray
Brindle
Sable
White
Fawn
Blue
Silver
Red
Cream
It is important to note that the Mountain Feist's ears are one of its defining features; they must be erect and pointed.
If they are upright and round, they are a different (but distinct) breed known as the treeing fast.
Folded and floppy ears suggests that it is a small Mountain Cur, as opposed to a Mountain Feist, or a mix (you can see some pictures of mixes in this article).
Grooming
Mountain Feists shed year-round. Although not exclusively, their hair tends to be lighter colors and consequently is much more noticeable.
The upside is that the hair is shorter, and therefore much less hair is shed, when compared to larger dog breeds.
Another upside of a short coat is that clipping is not essential with these dogs. Brushing should be done weekly for two reasons:
Brushing helps to remove dead skin, stimulate hair follicles and make the fur shiny
Grooming is a bonding experience for you and your dog, and provides an opportunity for your relationship with your dog to grow
Like their Cur relatives, these dogs have sensitive skin and so bathing should be kept to a minimum, every few months or when your dog is heavily soiled.
When bathing is unavoidable, use medicated shampoo and make sure the coat is dried thoroughly.
Summary
If you are looking for an energetic and friendly working dog who is great with children then you might be sold on the Mountain Feist.
They need lots of stimulation, both physical and mental.
Owning a Mountain Feist requires a lot of time dedicated to exercising your dog, both on walks and with games and training.
You might discover that finding a Mountain Feist is very difficult as they are often confused with other dog breeds and have a very small breeding pool.
A true Mountain Feist will have pointed, upright ears, a stocky, square face and body and a soft coat. They are taller than Jack Russells, with longer legs and short tails.
Unlike other terrier breeds, they gel very well with new people and dogs.
They are also highly adaptable in environment, as long as they are occupied, they do very well in both urban and country landscapes.
Due to their chasing instincts, they do not do so well in homes with cats, rabbits, or any sort of rodent.
Do you have a Mountain Feist at home? Leave as a comment telling us about your Fantastic Feist below.