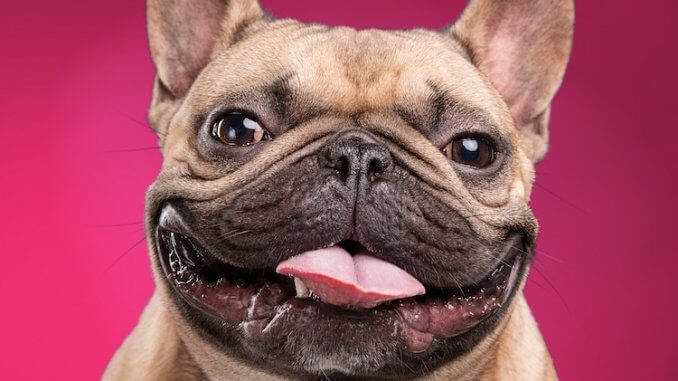 With their adorable wrinkled face, and small stature, it is no wonder that the French Bulldog is such a popular dog breed.
If you have recently purchased a French Bulldog then you are going to need to find a perfect French Bulldog name.
There are plenty of places to find great inspiration!
You could look at the natural world and beyond for some unique choices, or even use names that are popular with pets and humans alike.
Take a look at our lists to find a name that is perfect for your French Bulldog.
Male French Bulldog Names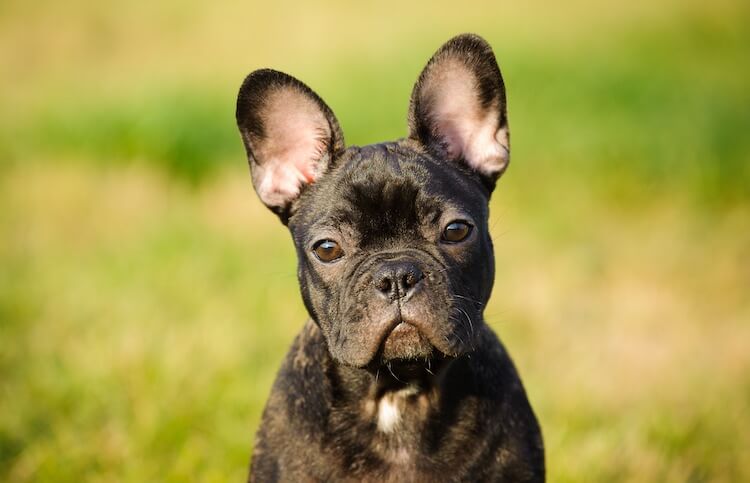 If you are bringing home a male French Bulldog, there are so many amazing names to choose from!
We love the idea of naming your French Bulldog something very classic, a name that might work well on a child as much as a dog.
Why not choose a gorgeous vintage boys name, as these names are becoming more fashionable, just like the beautiful French Bulldog.
We also like the idea of choosing a name that is popular with royals, as this reflects how in vogue and respected the breed is today.
Use this list to find a French Bulldog name that is perfect for your puppy:
Edmund- Vintage name meaning 'fortunate protector'
Rupert- Means 'bright fame', popular for dogs
Benjamin- Hebrew name meaning 'son of the right hand'
Ernest- Popular name for German royalty
Wyatt- Vintage and beautiful boys name of English origin
Jared- Male name of Hebrew origin
Charles- Name of the current heir to the English throne
Rufus- Gorgeous vintage name of Latin origin
Leopold- Rare male name meaning 'brave people'
Darius- Interesting male name of Persian origin
Lucas- Very popular male name, of Latin origin
Albert – This name is extremely regal sounding, and is of German origin. It means 'noble, bright', and would work really well for a princely French Bulldog.
Jasper- Gorgeous Persian name meaning 'bringer of treasure'
Aurelius- Meaning 'the golden one', of Latin origin
Wilson- Adorable boys name of English origin
Maximus- Unusual male name meaning 'greatest'
Noah- Hebrew name meaning 'rest; wandering'
Arthur- Regal name of a king of medieval legend
Barnaby- Adorable English name meaning 'son of consolation'
Levi- A name becoming more popular, meaning 'attached'
Jack- Beloved English name, very popular for humans and pets
Byron- English name meaning 'barn for cows'
Magnus- Popular regal name meaning 'greatest'
Lazarus- Vintage rare name meaning 'God is my helper'
Duke- A powerful name with great magnitude
Graham- Popular male name meaning 'gravelly homestead'
Henry- Christian name of Prince Harry
Adam- Biblical name meaning 'son of the red earth'
Julian- English name meaning 'youthful, downy'
Female French Bulldog Names
Naming a female French Bulldog might seem like a huge challenge, but there are actually so many places to find amazing inspiration.
Why not use names that have been used for queens and princesses, past and present?
This will reflect the French Bulldog's regal and beautiful looks.
We love names that are vintage and have an adorably feminine tone to them. We also think it's a great idea to use classic names that are popular for female humans too!
If you're still stuck, have a look at this list of French Bulldogs names that would be perfect for a Frenchie:
Daphne- We adore this vintage and beautiful girls name. It is of Greek origin and means 'laurel tree, bay tree'
Cecilia- Gorgeous vintage name meaning 'blind'
Diana- Name of Britain's late Princess, means 'divine'
Olga- Popular Russian name meaning 'holy'
Alma- Soft, feminine name meaning 'nurturing'
Lilith- A vintage name with an unusual meaning: 'night monster'
Beatrice- Means 'she who brings happiness'
Maisie- Lovely name for girl dogs, of Scottish origin
Lumi- Popular in Finland, means 'snow'
Doris- Charming vintage name of Greek origin
Everly- Fashionable and popular girls name
Elizabeth- The name of the currant reigning monarch
Eugenie- Means 'wellborn', great for a regal pup
Ophelia- Greek name meaning 'help'
Astrid- Popular Scandinavian name meaning 'divinely beautiful'
Alice- A German name meaning 'noble'
Mabel- Unusual vintage choice meaning 'lovable'
Bertha- Meaning 'bright and glorious', of German origin
Matilda- Popular and jolly sounding girl's name
Edith- A name increasing in popularity, of English origin
Victoria- Queen Victoria was Queen Elizabeth's great great grandmother
Julia- Meaning 'youthful', of Latin origin
Phoebe- Gorgeous name meaning 'shining one'
Cleo- Short for Cleopatra, one of the most powerful women of all time
Belinda- Unusual vintage choice meaning 'pretty one, serpent'
Leila- Popular girls name meaning 'night'
Beryl- Greek name meaning 'sea green jewel'
Vera- Exotic choice of Russian origin
Harriet- Vintage name meaning 'estate ruler'
Unique French Bulldog Names
Some people want their pet's name to really stand out from the crowd and sound very different.
If this sounds like you, then there are so many places to find creative inspiration. You can come up with something really rare by looking to outer space for some zany and original ideas.
Planet names and interstellar ideas are aplenty!
We also think it is a great idea to use names inspired by rocks, gemstones and precious metals.
This way the name you choose is unique and very special.
Take a look through this list for some original and awesome options for your French Bulldog.
Neptune- Not only is this the name of the farthest known planet from the Sun, it is also the name of the Roman god of the sea.
Silver- A beautifully shiny grey metal
Granite- A popular type of igneous rock
Mimas- A moon of Saturn
Venus- Name of the second planet from the Sun
Ruby- Good for dogs with reddish fur
Titan- The largest moon of Saturn
Styx- A natural satellite orbiting Pluto
Deneb- The brightest star in the Cygnus constellation
Scorpio- The star sign represented by a scorpion
Pearl- A Precious French Bulldog name for dogs that love water
Vega- The brightest star in the northern constellation of Lyra
Onyx- A black and white popular crystal
Rigel- The seventh brightest star in the night sky
Ganymede- The largest moon in the Solar System
Marble- A cute name for white and gray dogs
Basalt- A gorgeous rock formed by lava
Sapphire- A really good name for blue-eyed dogs
Charon- The name of a natural satellite of Pluto
Peridot- A beautifully mystical green gemstone
Taurus- Good puppy name
Mercury- Name of the smallest and innermost planet in our Solar System
Carnelian- A gemstone with an orange tone
Jupiter- The largest planet in our Solar System
Cute French Bulldog Names
If you are looking for a name that is really adorable and reflects the cuteness of your French Bulldog, there's plenty of places to find inspiration.
We love the idea of using soft names, or names with soft gentle meanings.
Why not use names of other cute things and animals, for an adorable touch?
We also think it's a cute idea to look to features of nature that are beautiful and would make good names for a dog.
Look though our list of cute names to find a great choice for your French Bulldog.
Summer- This bright and adorable nature name is a great choice for a French Bulldog, especially if they have a sunny personality.
Cotton- Great name for a soft, white French Bulldog
Bunny- Cute name for a bouncy dog
Tulip- Colorful and adorable flower name
Snow- A weather name for a white dog
Raven- Animal inspired name for dark French Bulldogs
Rose- A really gorgeous flower name
Winnie- Adorable name meaning 'fair and pure'
Cloud- Ethereal and soft name for French Bulldogs
Storm- A gorgeous and cute weather name
Kit- A short and sweet name meaning 'pure'
Sierra- Name of Spanish origin meaning 'mountain'
Birdy- For a dog that thinks they can fly
Poppy- A very cute floral name
Jenna- Popular English name meaning 'white shadow'
Yarn- Really cute and soft name
Catalina- Cute Spanish name meaning 'pure'
Suede- A famously soft material
Kathy- Adorable nickname meaning 'pure'
Saba- Gorgeous name meaning 'a soft breeze'
Tiger- A cute French Bulldog name for any dog
Marshmallow- Sweet and soft name for a small dog
Milani- Rare and adorable name meaning 'soft and gentle touch'
Blankie- Very cute name for a soft French Bulldog
Cashmere- Very soft and precious wool
Lamis- Arabic name meaning 'soft to touch'
Clementia- Rare and cute name meaning 'one who is soft'
Moss- Cute and soft nature name
Lark- A small and cute songbird
Leaf- Adorable name inspired by nature
Kitten- An ironic but adorable name
Tiny French Bulldog Names
French Bulldogs are known for their compact size and their sweet personality, so it is natural that many people want to name their dogs to reflect these traits.
There is also a mini French bulldog that these names would be perfect for.
There are plenty of options for names that show off your dog's adorably small size.
One idea is to choose a name of a small thing, this way you can really make a point about how small your pooch really is!
We also think it is a super cute idea to name your French Bulldog after things that are sweet and delightful.
Choose from this list of tiny names to find a great pick for your French Bulldog:
Honey- This sugary sweet name is a great option for a small dog as it is just so adorable.
Cookie- Everyone loves a sweet chocolate cookie
Teacup- For small dogs that could fit in a teacup
Elf- Elves are small and sweet, like a French Bulldog
Pip- A short and sweet name
Bobbin- Name of a small spindle, makes a great name
Lolly- A name that is a sweet, small treat
Bean- A cute and funny name for a small dog
Pebble- A natural and tiny choice
Shorty- A cute nickname for a tiny dog
Peach- The juiciest and sweetest fruit
Button- This name is both adorable and miniature
Teeny- A name that reflects small sizes
Raspberry- A cute, tiny berry treat
Bubble- Small and childlike name for a French Bulldog
Mimi- A cute name for tiny dogs
Nugget- A comical but cute small name
Petit- The French word for small
Sugar- An ultra-sweet delightful name
Mini- The very definition of tiny
Chip- If your dog is as small as a choc chip
Sprout- For a tiny dog that is still growing
Toffee- A chewy and sweet candy treat
Baby- Name your French Bulldog after a very small human!
Pixie- A small mischievous fairy creature
Maple- Maple syrup is a sweet treat for everyone
Best French Bulldog Names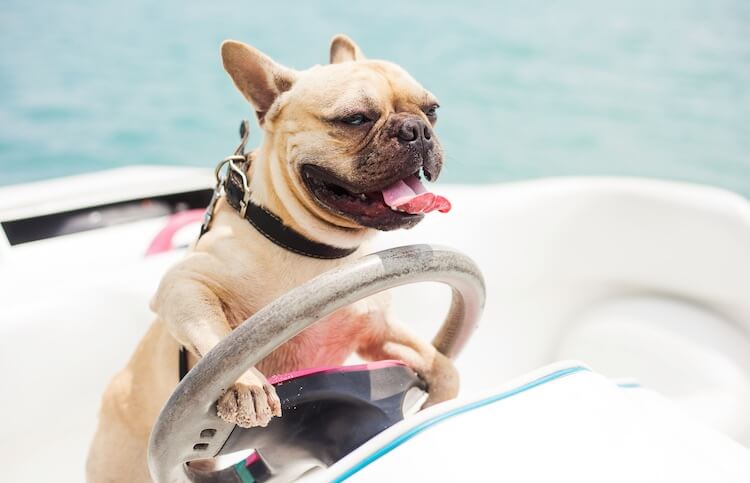 If you are really looking for the best French Bulldog name ever, then we have so many amazing suggestions for you!
Even though French Bulldogs are actually from England, why not use a name that is actually French name for dogs?
We also think it's a good idea to choose names of famous dogs, especially famous French Bulldogs!
Lastly, we suggest using names that reflect the French Bulldog's famously friendly personality and adorable nature. Use this list to find a name that is really perfect.
Fleur- This cute French name means 'flower'. We think it would make a perfect French Bulldog name.
Danielle- Feminine French name meaning 'God is the judge'
Oswin- Old English name meaning 'God's friend'
Sonny- The French Bulldog in Due Date
Connelly- Meaning 'love, friendship', of Irish origin
Berwin- Gorgeous English name meaning 'bright friend'
Amy- Meaning 'beloved', a name of French origin
Delphine- French name coming from the Greek word for 'dolphin'
Lucien- Meaning 'light', a name of French origin
Norvin- Gorgeous unique name meaning 'northern friend'
Manny- The name of an Instagram famous French Bulldog
Irving- A rare a beautiful French Bulldog name meaning 'sea friend'
Stella- The French Bulldog in Modern Family
Thibault- Bold French name meaning 'courageous'
Corentin- Handsome French name meaning 'friend'
Summary
French Bulldogs are a gorgeous and very popular dog, so it can be a challenge to try and name them.
Whether you go for a name from nature, or something really rare, we're sure you will find a name that will be perfect for you!
Let us know if you use any of the amazing French Bulldog Names we have listed in the article.
We also would love to hear any other name suggestions that we didn't think of, so make sure to leave us a comment!