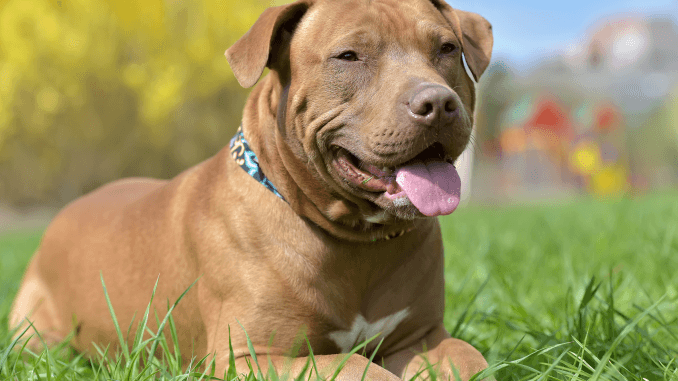 You may have heard of a red nosed reindeer but what about a Red Nose Pitbull?
The Red Nose Pitbull is a red furred and red nosed American Pitbull Terrier.
They are one of the most popular Pitbulls around and just like other Pitbulls they are very loyal and protective..
Contrary to popular belief this is not a vicious dog. Anyone who has spent any amount of time with this breed knows that they are actually one of the sweetest and most docile dogs around.
Do you think that a Red Nose Pitbull could be a great new addition to your home?
Keep reading to learn everything you need to know about this breed…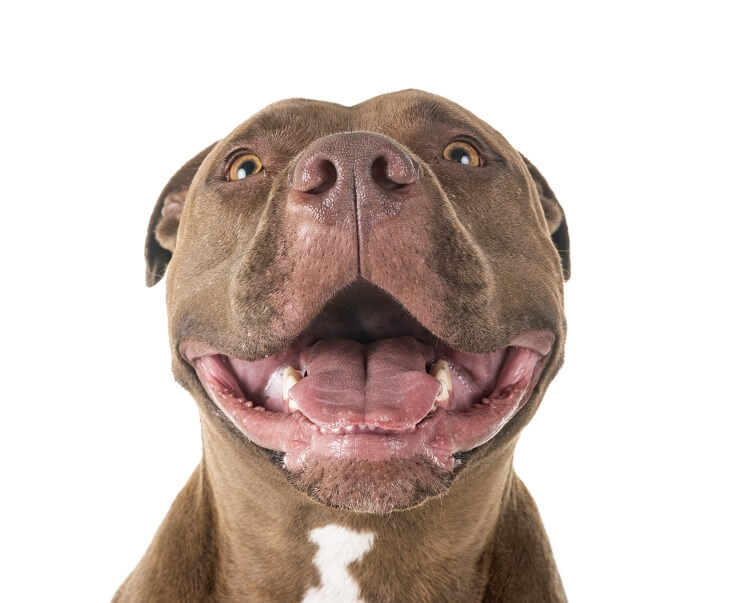 Red Nose Pitbull At A Glance
This Red Nose Pitbull is as sweet as sugar and loves to be surrounded by their family.
The Red Nose Pitbull is a reddish brown Pitbull dog with a red nose to match. While Pitbulls come in lots of different colors the Red Nose is one of the most popular. These dogs are not only known for their red nose but also for their big hearts and gentle souls.
Popularity: #3.
Speciality: Companion/Working.
Weight: 30-60 pounds.
Price: $450-$2000.
Personality: Courageous, charming and loyal.
Similar Breeds
American Bully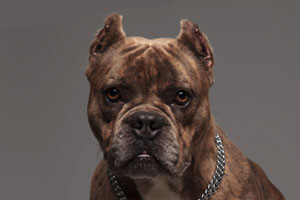 Price: $2000-$5000
Lifespan: 10-13 years
Family Friendly: Yes
Size: 30-150 pounds
Shed: Low
Activity: Medium/High
Staffordshire Bull Terrier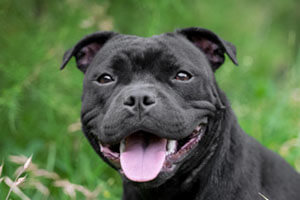 Price: $300-$2000
Lifespan: 12-14 years
Family Friendly: Yes
Size: 22-40 pounds
Shed: Low
Activity: Medium/High
Red Nose Pitbull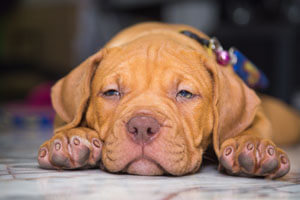 Price: $1000-$2000
Lifespan: 10-15 years
Family Friendly: Yes
Size: 30-60 pounds
Shed: Low
Activity: Medium/High
Red Nose Pitbull Overview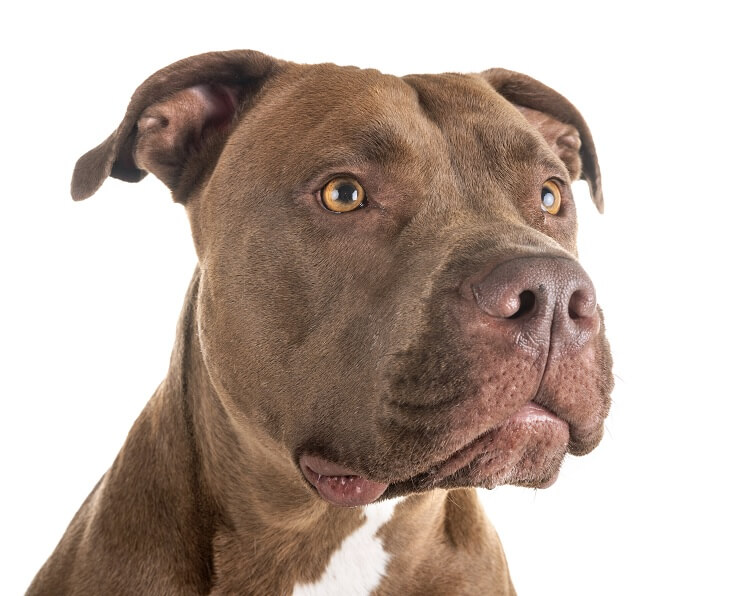 The popularity of the American Pitbull Terrier has given rise to a variety of different colors.
One of the most popular color varieties is the Red Nose Pitbull.
This pup is known for their beautiful reddish brown fur and cinnamon colored nose to match.
They have a very strong body and always carries themselves in a confident manner.
Sadly this dog breed has had a trouble past as they were originally bred for bull baiting and dogfighting. This only added weight to their reputation as aggressive dogs.
Fortunately after dogfighting was outlawed people began to see the true potential in these hardworking Terriers.
The reality is that this pooch is a lover, not a fighter.
This friendly and lovable goofball loves to act like a giant puppy.
Pros
Very affectionate and cuddly.
Can be trained to protect your home.
One of the easiest fur colors to find.
Excellent all-purpose working and family dog.
Cons
They are banned in certain jurisdictions.
Suffers from a poor reputation.
Needs lifelong socialization.
Does not get along with other breeds.
A Day In The Life Of This Breed
Your Red Nose Pitbull will be right at your bedside all night.
They will be waiting for the two of you to start the day together.
A good breakfast and a walk around the block are the best way to start any day.
Your pooch will need plenty of love and attention before you go out to work. Once they feel safe and sure of your return they will relax in their crate or another safe place in the house to wait for you.
When you come home from work at lunch your Pit will smother you in slobbery kisses.
They have been waiting all day for you to come home and have some fun.
Now it is time to play.
Take your dog to the park to play fetch or catch or to let them run wild with their four legged friends.
While playing with their friends your dog will make sure that you are part of the fun too. You will be having so much fun together that the rest of the afternoon will fly right by.
When you come home from the park it will be time for dinner.
After that your Rednose Pitbull Terriers will finally be ready to relax and unwind – watch TV together and have a cuddle session on the couch. An evening of rest and relaxation is much appreciated after such a long day of work and play.
At bedtime your red nose friend will join you at your bedside or even curl right up at the foot of your bed.
History And Origin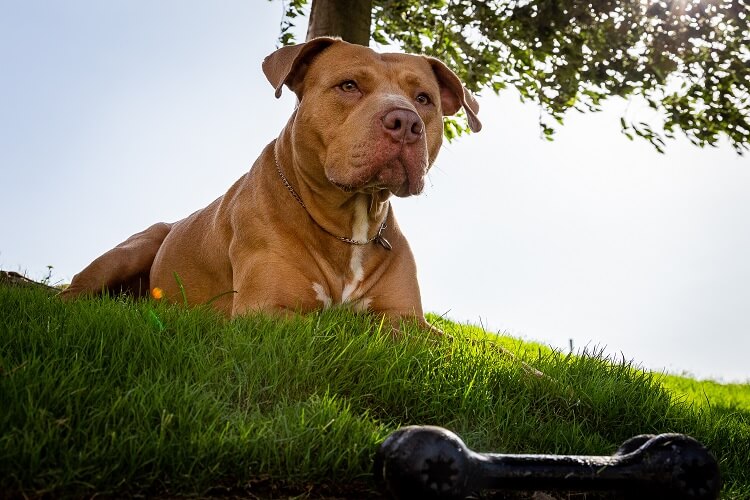 The American Pitbull Terrier breed was originally bred in England.
From here the Pitbull traveled to Ireland where the Red Nose Pitbull was bred for the first time.
The name Pitbull is a reference to their original role as a bull baiter. Packs of these dogs were placed in an arena with one bull and crowds watched as the dogs would attempt to take the bull down.
Only dogs bred for aggression could handle such a task so breeders would intentionally pair the most aggressive dogs together.
Dogs were also trained to be aggressive using harsh physical punishment and discipline.
When bull baiting was outlawed the focus shifted towards dogfighting.
Fortunately this horrid practice has now been outlawed but the Pitbull's reputation as a vicious fighter has remained.
As this breed's popularity soared in the States they were eventually given the name American Pitbull Terrier.
Sadly though this breed is still banned in many municipalities.
The breed is falsely pegged as a dangerous attack animal.
Work is being done to help this breed overcome its unfair reputation and breed specific legislation is becoming less common each year.
Hopefully in the years to come enough awareness is raised to show this breed's true nature.
6 Fun Facts
The Red Nose Pitbull actually comes from Ireland, not the United States.
Whilst their imposing appearance makes them a popular choice for a guard dog they are much more likely to befriend an intruder than to try to scare one away.
Pitbulls were once known as nanny dogs because of their love of children. Many owners even trusted their dogs with unofficial babysitting duty.
Unfortunately this breed is one of the most common targets of breed specific legislation. Several activist groups are dedicated to raising awareness of the Pitbull's true nature and end municipal bans on the breed.
The Red Nose is one of many unique colors that this breed can have – you can find this breed in just about any color (including blue and brindle).
Sadly this breed is not recognized by the American Kennel Club because of their troubled past.
Temperament And Behavior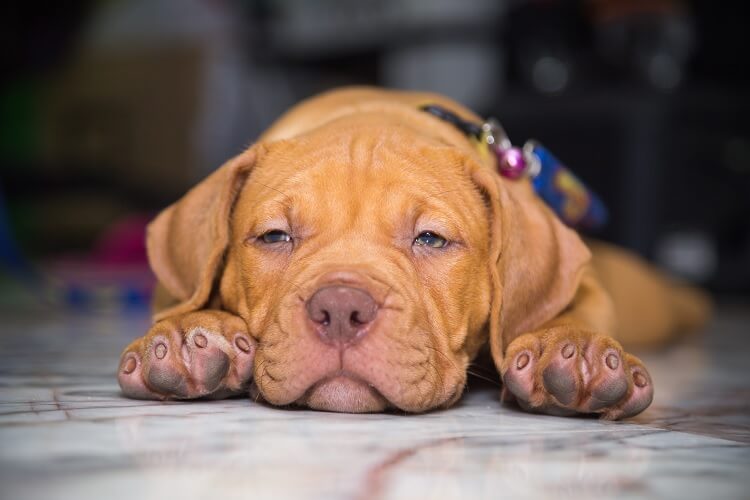 The Red Nose Pitbull is one of the sweetest dogs around.
They just love to spend time with their family and will enjoy being the center of attention.
Just like other working breeds though they are very active and need to be kept busy.
Whilst they do enjoy relaxing they will need to spend a long day at play before they are ready to curl up on the couch.
They enjoy classic doggie games like fetch but they also love agility and rally.
You should expect a bit of noise when this pooch is feeling excited or playful, or when something is amiss around the house.
However a well trained Pitbull should never bark at neighbors or other animals.
As for socialization you should start socializing them as a puppy.
Proper socialization with other people and dogs is vital to keep this pooch on their best behavior. A Pit is a very social dog that absolutely craves attention and friendship.
Just remember that this dog does not mix well and may chase after smaller dogs and cats.
Any Pitbull that displays aggression or pushes others around should be trained out of this behavior as soon as possible.
Young puppies play bite in order to test out their new teeth, while an older dog may bite if it is feeling scared or distressed.
The model Red Nose Pitbull is friendly, social and very smart.
They make a wonderful family dog and will enjoy having children around to play with. This breed is great for couples or for families with children over the age of 6 where they will be given plenty of love and attention throughout the day.
If you show this dog the love and respect that they deserve they will give you undying loyalty.
How Much Does A Red Nose Pitbull Cost?
As the Red Nose Pitbull is common they are cheaper than other colors.
You should expect to pay around $1000 for a puppy.
The starting price depends on where you find your new friend.
At a shelter you will pay around $350 for you Red Nose and the proceeds will go towards helping the shelter care for the other animals.
Since the color is so widely available they are the best bet for someone looking for a Pitbull on a budget.
| Age | Price |
| --- | --- |
| Puppy | $1000-$2000 |
| Adult | $600-$1000 |
| Adoption | $350-$450 |
Buyer's Tips
A Red Nose Pitbull is one of the most common Pitbull colors so they are usually the most reasonably priced Pitbull.
From a breeder you should expect to pay at least $1,000 for a Red Nose puppy.
If this is too expensive for you then consider getting one from a shelter – sadly this breed is one of the most common shelter pets in the country.
You will need to consider important supplies in your budget too. Items such as a harness, dog crate and toys can easily add another $250 onto the total cost.
This dog does not know their own strength will tear up plenty of toys. You should expect to spend at least $65 every few months to replace any toys that your Pit may have destroyed.
Red Nose Pitbull Appearance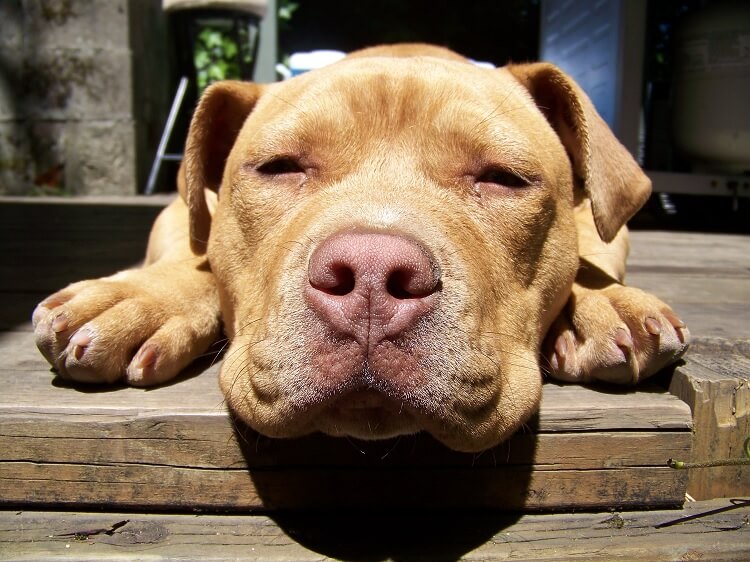 Surprisingly this dog has no official breed standard.
However you can expect a medium sized muscular dog.
They have a broad skull with a wide muzzle and a huge smile.
Their ears can stand erect or have a slight fold but they should never be cropped. Just like their name suggests they have a reddish brown nose and this can look faded depending on the season.
Overall this is a strong and confident dog to look at.
Size
You can expect a male Red Nose to stand between 18-21 inches tall and weigh between 35-60 pounds.
Females are only slightly smaller and stand between 17-20 inches and weigh between 30-50 pounds.
Particularly large sized Pitbulls may grow up to 70 pounds if they are male and 60 pounds if they are female.
Colors
This dog has a beautiful reddish brown coat.
They sometimes have a white belly and face too.
This dog has a short and stiff single coat that is very short. You can feel this dog's muscles underneath their coat as you pet them.
Fortunately as they have short fur they do not shed much.
Red Nose Pitbull Care Guide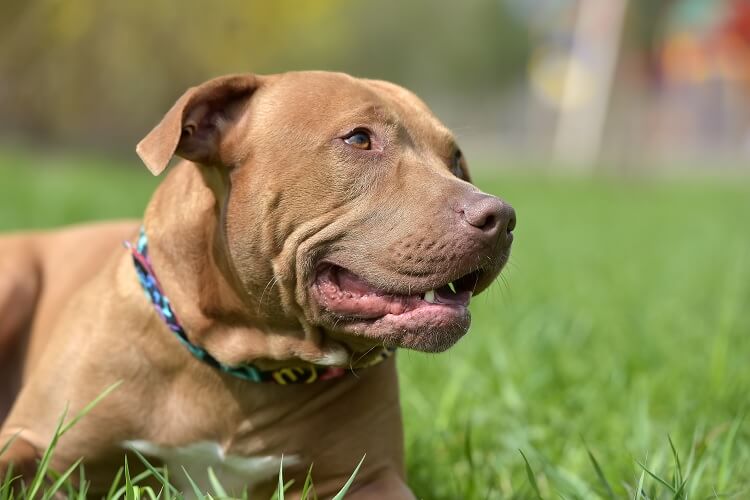 Whilst the Red Nose Pitbull is a special kind of dog they do not need much special care.
A loving and kind owner is all this dog needs to be happy and healthy.
This dog also needs an active owner that can run around and play right most of the day. They should never be left home alone for more than a few hours at a time, so absentee owners need not apply.
She makes a great introduction to the bully breeds and will just want to become your best friend.
Above all the owner of a Red Nose Pitbull must be fully committed to training and socialization through the dog's whole life.
Exercise
These dogs need at least an hour of exercise each day.
You can split this up between walks and running.
All bully breeds must be kept on their leash when they are out walking – off leash play should be done in a safe, secure area. You can walk them for 30 minutes a day and then add 30-40 minutes of play to complete your dog's day.
Running is one of their favorite ways to keep fit.
This breed will play almost anything including fetch, catch and tag. However they excel in rally which combines obedience and agility.
Total Daily Activity: 60 minutes.
Activity Level: 4/5.
Favorite Activity: Rally.
Grooming
This Red Pitbull's short and dense coat is very easy to groom.
To keep their beautiful red coat shining you will need to brush them once a week.
During the spring and fall you may notice a few more dropped hairs than usual. This is because your dog is preparing their season coat. During this time you will need to brush them 2-3 times a week instead.
Pitbulls need much more cleaning than brushing (especially on the face and ears). Bathe your pup every few month using a dog safe shampoo and conditioner.
If your dog has facial folds then it is very important to keep their face clean. Use gentle facial wipes or a dog friendly spa mask to keep dirt from collecting around the nose, eyes and muzzle. Trim their nails every 2 or 3 weeks and brush your dog's teeth once every week. It can be difficult to get your dog to appreciate the toothbrush so you can motivate them with tasty toothpaste or dental treats.
Nutrition
An active and muscular dog like this needs lots of protein.
In fact protein should be the first ingredient in their diet. Protein from real meat sources promotes healthy muscle condition and growth.
The Red Nose Pitbull will need up to 1000 calories a day of high protein kibble or raw meat.
You can split this across 2 meals (morning and evening). Your dog's lightest meal should be given when they begin to wind down at the end of the day. At dinnertime it is all right to give them half a cup rather than a full cup. Their biggest meal should come at breakfast.
Most of the dog's diet should be made up of protein and healthy fats that comes from natural sources rather than additives and byproducts.
Treats should only be given in small amounts.
Growth Chart:
Between 2 and 6 months old your puppy will have reached half of their adult weight. This should be 20-30 pounds for a male and 15-18 pounds for a female.
Your dog should reach their full size shortly after their first birthday. For a male this should be between 40-60 pounds (or up to 70 for exceptionally large Pitbulls). Females will weigh between 30-50 pounds.
Health Concerns
Whilst the Red Nose Pitbull is a robust breed there are still a handful of things you need to watch out for.
Patellar luxation is a joint disorder that mainly occurs in small dogs but it can affect medium sized dogs like the Pitbull. This occurs when the patella is unstable and easily dislocated. It causes pain and discomfort, mobility issues and eventual lameness. Treatment depends on what stage the condition is in but on extreme cases they will need surgery. At stage 1 and 2 the patella can be relocated manually. However at stage 3 or 4 patellar luxation almost always requires surgery to correct.
Degenerative myleopathy is one of the most severe conditions that this breed can develop. It usually occurs in dogs at least 9 years old. This condition causes the spinal cord to degrade and can lead to partial and eventual total paralysis. Early signs include dragging the limbs and a loss of balance and coordination. The joints may lock up from time to time as the condition progresses. Paralysis of the hind limbs and total loss of motion will eventually follow. Unfortunately the condition is 100 percent fatal.
How Long Does A Red Nose Pitbull Live?
A Red Nose Pitbull can live for anywhere between 10 and 15 years.
How To Train Rednose Pitbull Terriers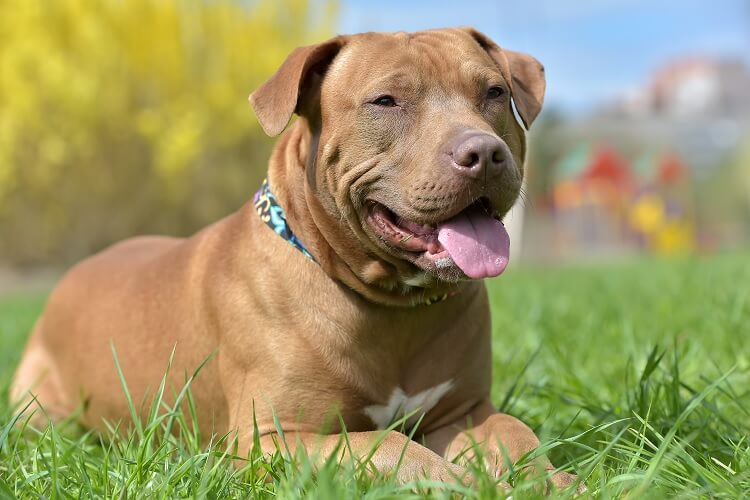 You should start training your Rednose Pitbull Terrier as soon as you bring your puppy home.
During training you should always be firm but fair.
Always treat your dog with the respect that it needs to foster that same respect for you.
This dog's natural desire to please others means that they responds very well to praise for good behavior. Bad behavior is best ignored as the pup is only trying to get your attention.
Red Nose Pitbulls are more motivated by love and praise than by treats.
So when they complete a command correctly praise them by giving them love and affection.
Socialization is absolutely vital for this breed. You must take your dog to places where it can safely interact with other people and dogs. A Pit friendly training class will be hard to find so most of the training will need to be done at home.
Your puppy should always have a safe and structured environment to socialize with other dogs of a similar size and personality.
Training is also a great way to keep them stimulated.
Boredom is a Pitbull's least favorite state of mind and almost always leads to destructive behavior.
Rope toss is a great game both for training and sharpening their mind. While you play you can practice commands like sit, stay, drop it and leave.
They will need to be kept mentally busy to prevent any destructive behavior.
Never underestimate the intelligent mind beyond those sweet little eyes.
As a larger Terrier breed they can be trained for different kinds of work.
They are most commonly employed as a watchdog or a guard dog. The breed is sometimes trained as a service dog or a police K-9 as well.
Summary
Do not let the Red Nose Pitbull's unfortunate history fool you.
This dog is as sweet as sugar and just wants to be loved.
Taking on this breed is a decade long commitment that not everybody is able to make.
Dedicated families with older children in the house will love this dog's gentle spirit. Single owners who bring one home will never have to feel lonely again. A Pitbull only ever wants to know how much you love them. If you treat your dog with the kindness they deserve they will love you right back in return.
The dog may be a big goofball but that does not mean they are not intelligent.
For this dog to be at their best they need to be kept active.
This means spending long days playing games and learning new tricks.
A Red Nose Pitbull is a lifelong friend that you will never forget. If you can make room in your heart for one it will fit in right in.
Let us know any of your questions about this Red Nose in the comments section below…