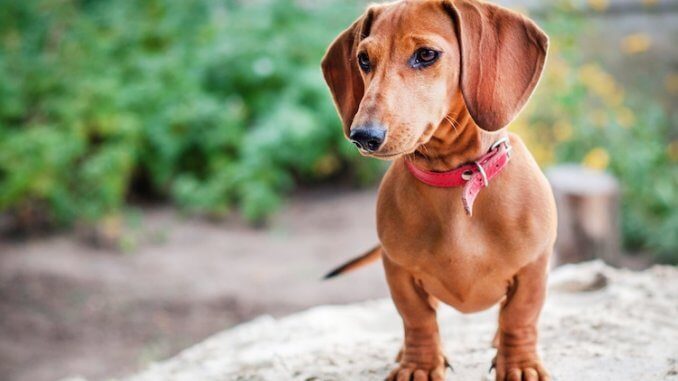 The Dachshund, also known as a sausage dog (or a Wiener dog), is famous for its long body and small legs that give it an adorable shape.
They come in a variety of gorgeous colors, and different hair length (i.e. short or long hair); so no two Dachshunds are completely alike.
So we have made a list with over 70 Dachshund names each one suitably unique and different from the next.
Are you bringing a Dachshund puppy home very soon?
If so, you're probably looking for the perfect name for your new little pet.
We have put together this list of 70+ Dachshund names to give you some inspiration.
Dachshund Names and Meanings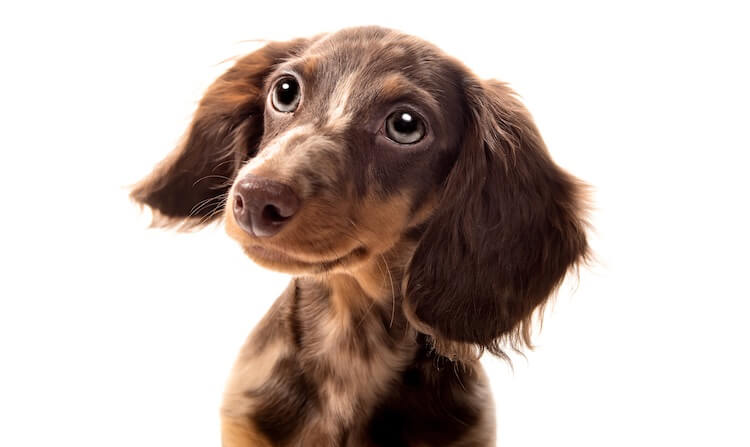 Amado
This Spanish Dachshund name is absolutely gorgeous. It is a soft and unique name that means 'loved', which is perfect for a precious pet.
Esme
This short and cute name is ideal for a short puppy! It has French origins and originally means 'esteemed, beloved', which your Dachshund surely is.
Paris
Location names are great for dogs, and Paris (the city of love) is a beautiful choice for your beloved Dachshund.
Jeb
This name, a shortened version of 'Jebediah', is a lovely Hebrew name that means 'beloved friend', great for a Wiener dog name.
Weenie
This comedic name is very popular name for a Dachshund dog. Not only does it relate to sausages, it is a cute and snappy name.
Henry
This short boys name is lovely, and it is German in origin just like the Dachshund. It means, ironically, 'ruler of the household'!
Wilbur
German in origin, this cute and rare Dachshund name is so great for your dog. It means 'resolute and brilliant', so this could be perfect for determined pups.
Bella
Twilight fans will already be smitten with this short and elegant name. It is an Italian name, meaning 'beautiful'.
April
This charming name is of Latin origin, and means 'to open'. If you like the name due to its link to spring, you could use this for a youthful and energetic pup.
Racer
This Dachshund boys name is truly unique and super cool. It is of course ideal for those Dachshunds that love to race around.
Buster
This is a classic dogs name, but is especially popular due to its use in Toy Story. Andy's dog Buster is a brown Dachshund, so this name is great for any Dachshund Disney lovers.
Queenie
We absolutely love this regal and unique name. If you have a Dachshund that thinks she is queen of the household, this name is great.
Schatzi
This great German name that means 'little treasure' is used for Kitty's pet Dachshund in the TV show That 70s Show.
Pearl
This precious name is ideal for those who love the sea. It is also a great name for white Dachshunds.
Astro
This silly but adorable name is so lovely for puppies that would love to blast off on an adventure.
Everest
Meaning 'courageous like a boar', this strong Dachshund name is more famous for being the tallest mountain above sea level.
Atom
This name, even though it means something very small, is great for a dog with a big heart. It is of Greek origin, and means 'indivisible'.
Pebble
Some Dachshunds can have distinct pebble-like markings in their fur. This name is also great for miniature Dachshunds.
Mina
This short name is great for Dracula lovers. In German this name means 'the pure love' which is very apt for your beloved dog.
Sebastian
We love this gorgeous name. It originally comes from the Latin for 'venerable, revered'.
Cedric
This heroic and handsome name might already be a popular choice with Harry Potter lovers. This Celtic name means 'bounty'.
Darwin
Scientists and history fans may find this name very appealing. It is derived from the Old English name 'Deorwine' which means 'gifted friend'.
Uniqua
This rare and lovely girls name is perfect for a dog that stands out from the crowd. It is of Latin origin and means 'only one'- very unique!
Basil
This fresh and herby name is great for chefs and nature lovers. It is of Greek origin, and means 'royal, kingly', perfect for a Dachshund that rules the home.
Darcy
As well as being a brilliant choice for Jane Austen fans, this unisex name meaning 'dark' is great for Dachshunds that are black or deep brown.
Jazz
We adore this musical name. It would be an ideal selection for those dogs that adore music and dancing around.
Scout
This short and sweet name is of Old French origin, and it means 'to listen'. If you have an attentive dog then this name may be perfect for you.
Sunshine
If your Dachshund is an absolute sunbeam then this beautiful name could be perfect.
Tulip
This floral and beautiful name is a great tribute to the bold and colorful flower. This Dachshund name could be perfect if you love nature.
Ruby
If your Dachshund is as precious as a gemstone, Dachshund names named after gemstones would be perfect.
Milo
This cute and playful name is derived from the Latin word for 'soldier'. Milo is also a great choice for Disney lovers as this name was used in the film Atlantis.
Hazel
Meaning simply 'the hazel tree', this Old English name is very elegant and a perfect choice for lighter brown Dachshunds.
Felicity
This joyous and bouncy name means 'fortunate and happy'. How fitting would it be to name a Dachshund after how much fun they bring!
Reva
This strong four-letter name is Hindi and it originally means 'rain'. This name is perfect for Dachshund puppies that love to splash in puddles.
Thor
As well as being popular with Marvel fans, this strong and masculine name is great for anyone who wants to call their pup something powerful. Thor is the Norse god of thunder.
Van
This short but cute name is Vietnamese, and it means 'cloud'. Nature Dachshund names like this would be great for white or grey-toned Dachshunds.
Cyril
We love this masculine name. It is derived from a Greek name, and it means 'lordly, masterful'.
Ezra
If you're interested in rare and cool sounding names, this could be a perfect choice for your Dachshund. This brilliant name is shared by actor Ezra Miller.
Biscuit
This funny and sweet name is so cute for dogs, especially Dachshunds that love to snack!
Nolan
Meaning 'champion', this very creative name is so sweet for dogs.
Valentine
If your Dachshund is total love bug, then why not name them after the Roman saint who made February 14th the day of love?
Angel
This celestial name is so perfect for dogs that are always on their best behavior. We also think this name is great for blonde Dachshunds.
Rocco
This very interesting and unique name was the name of a 14th century French saint. It means 'rest', which is great for sleepy pups.
Harper
After David and Victoria Beckham used this name, it gained a lot of popularity. It means 'harpist' and would make a lovely name for a Dachshund.
Axel
This name sounds very modern but it was actually very popular in the 1800s. It means 'father is peace', and it is so lovely for dogs.
Venice
If you want a location name for your pup, then why not name them after this beautiful canal city in Italy?
Honey
Perfect for blonde Dachshunds, this sugary name is very elegant and pretty. This name is also great for pups who like sweet treats.
Skip
We adore this English name because it is just so short and cute – just like a Dachshund! It means 'ship boss', which would be great for a confident pooch.
Opal
Gemstone names are always a great pick for Dachshund names, especially when they are as beautiful as the iridescent opal.
Karma
Meaning 'fate, destiny', this cool name is of Hindi and Sanskrit origin. Karma is the teaching of actions and causation in Buddhism.
Juno
Although many movie lovers will know this name from the film Juno, this name is actually of Latin origin, meaning 'queen of Heaven'.
Melvin
This Irish name is very cute and perfect for a Dachshund. In Gaelic it means 'polished chief'.
Dora
If your Dachshund is a precious present, why not name them after the Greek word for 'gift'? It is short and very cute, just like your dog!
Lucky
This modern but classic name for dogs is a great choice for your Dachshund. It means 'fortunate', and it is of English origin.
Venus
The Roman Goddess of love and beauty was called Venus, so why not name your lovely and beautiful pup after her?
Edwin
This vintage name means 'wealthy friend'. We love how cute its sounds, and you could even shorten it to 'Eddie'!
Sadie
If your pooch is a real royal girl, you could definitely use this vintage Hebrew name that means 'princess'. It is very cheerful and sweet.
Justice
Virtue names are becoming increasingly popular, so why not name your dog after fairness?
Carlo
Meaning 'free man', this adorable Spanish name would work perfectly for a Dachshund.
Romy
This gentle and cute name is actually a shortened version of the Latin name 'Rosemary'. This name means 'dew of the sea', so would work well for Dachshunds that love to swim.
Elva
If you have a white or light colored Dachshund then this Irish name meaning 'white, noble, bright' would be so apt!
Guss
This sweet boys name originates from Scandinavia. It means 'great and magnificent', which is brilliant if your dog is truly amazing!
Dot
The shortened form of Dorothy means 'gift of God'. It is a great short name, and is very adorable which is perfect for a pooch.
Ulric
We adore this German name meaning 'power of the wolf'. It is quite ironic for such a tiny dog, but it is just so cute!
Edie
This very soft and short Dachshund name means 'strife for wealth'. We love how melodic and gentle it sounds.
Matilda
If you are a Roald Dahl lover, then you probably already love this adorable girl's name. Matilda is also the patron saint of families.
Coral
Naming your dog after the wondrous coral reef is a great tribute to nature. It also relates to the gorgeous color of coral pink.
Lana
This short name is brilliant if you're looking for something simple yet elegant. It means 'little rock' in Gaelic.
Terra
Perfect for brown and tan Dachshunds, this unique name pays tribute to the earth! It is great for those who love nature.
Saffron
We really love this vibrant and creative name. The spice saffron is very bright yellow, so you could use this for a yellow or tan Dachshund.
List of Dachshund Names
List of Best Dachshund Names

Racer
Basil
Ezra
Melvin
matilda
Buster
Darcy
Biscuit
Dora
Coral
Queenie
Jazz
Nolan
Lucky
Lana
Schatzi
Scout
Valentine
Venus
Terra
Pearl
Sunshine
Angel
Edwin
Saffron
Astro
Tulip
Rocco
Saddie
Amado
Everest
Ruby
Harper
Justice
April
Atom
Milo
Axel
Carlo
Bella
Pebble
Hazel
Venice
Romy
Esme
Mina
Felicity
Honey
Elva
Henry
Sebastian
Reva
Skip
Guss
Jeb
Cedric
Thor
Opal
Dot
Paris
Darwin
Van
Karma
Ulric
Weenie
Uniqua
Cyril
Juno
Edie
Wilbur
Summary
There are so many adorable and unique names to choose from when it comes to these wiener dog names.
Naming the new little addition to your household should be fun and exciting!
Dachshunds are lively and clever, so whatever name you choose has to match their spritely personality!
Make sure to let us know if you used any of the Dachshund names listed in this article – we would also love to hear if you have any cool or creative name suggestions.