The Pomchi is a designer small dog that's the result of crossing a Pomeranian with a long-haired Chihuahua.
This Chihuahua mix stands between 6-9" in height, weighing in between 5-12lbs.
Pomchis, also known as Chiranians or Chihuahua Pomeranian Mixes, are a courageous, stubborn, and affectionate little dog.
Let's learn a little more about this mixed breed, their origin, and what it takes to look after a Pomchi on a day-to-day basis.
Pomchi Facts

Breed Type
Mixed breed and more

Purpose
Companion
Suitable For
Adults or families with older children; suited to apartment and city living

Size
6–9" in height
Weight
5–12 lbs

Lifespan
12–15 years
Color Variations
Blue & Tan, Black & Tan, Sable, Fawn, Cream and Chocolate
Temperament
Loving, Loyal, Obedient, Playful

Activity Levels
Stubborn, sassy, intelligent, independent, loving, loyal and inquisitive
Daily Food Consumption
Approximately 40 calories per lb in body weight per day

Known Health Issues
Legg Calve Perthes disease, Progressive Retinal Atrophy, Cataracts, Hypothyroidism, Epilepsy, and Oral health issues

What Is a Pomchi? Breed Overview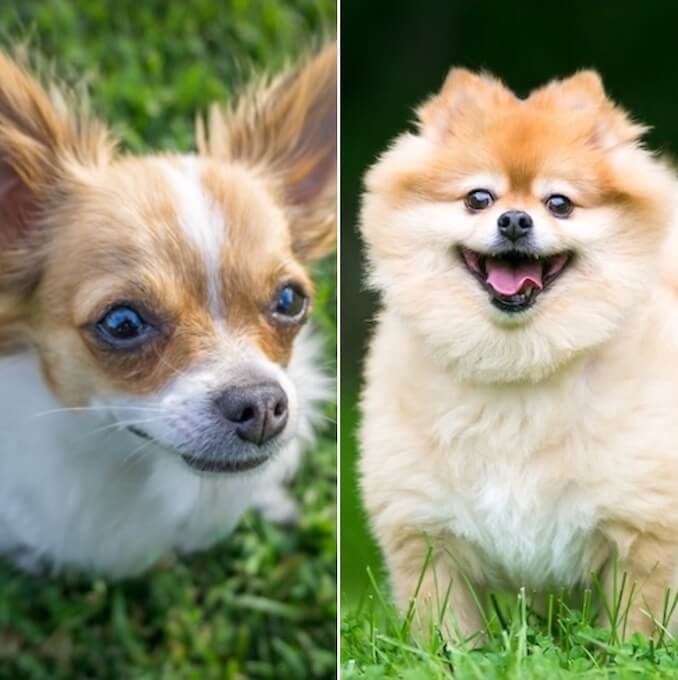 The Pomchi is the result of mating a Chihuahua with a Pomeranian; two purebred dog breeds.
Due to the similar small dog size of the breeds, the dam and the sire are interchangeable.
A First generation Pomeranian Chihuahua mix is 50% Pomeranian and 50% Chihuahua offspring dogs. As the generations move on, dog breeders may breed a full Pomeranian or full Chihuahua with a Pomchi, or they may breed two Pomchis. The idea of breeding two Pomchis is to have a better idea of their potential temperament, as we have done with purebred dogs.
Top-Tip
With a mixed breed you can never be entirely sure of the dog you will end up with. You may end up with a little dog that's more Pom than Chi or more Chi than Pom.
Origins of the Pomchi
This designer Pomeranian Chihuahua mix is not a purebred dog with a pedigree so they aren't recognized by any major Kennel Club. They are a designer crossbreed of a Pomeranian and Chihuahua.
Recognized by the American Canine Hybrid Registry as a Chiranian and also by the Designer Canine Registry as a Pomchi this affectionate and independent mix breed has received steady interest over the last decade.
Due to their popularity, a pomchi puppy price tag can be around the $950 mark, but, on average prices range between $350 – $1,200 USD.
As with all dog breeds as their popularity increases, more and more Pomchis are finding themselves in shelters, so adopting a dog is also an option.
Pomchi Breed's Parents: The Pomeranian and Chihuahua
Chihuahua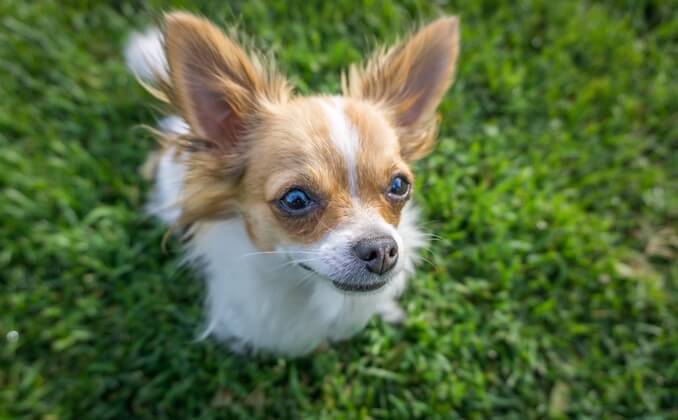 The Chihuahua is a high-spirited, intelligent, and alert little dog. Their small size completely deceives their larger-than-life personality.
Dating back to the Aztecs, it is thought the Techichi was the Toltec's dog of choice – when the Aztecs conquered the Toltecs, they refined the Techichi to what we now know as the Chihuahua.
They lived on after the Toltec era and a large number of them were found by the Americans in the State of Chihuahua; which is where the dog got its name from.
Described by All Things Dogs as a sassy dog, you needn't say much more. The Chi is stubborn, charming, and loyal. A huge character in a small body with the small dog feistiness to match any terrier!
Pomeranian

Described by the American Kennel Club as inquisitive, bold, and lively the Pomeranian breed is a distant relative of the Arctic Spitz dogs (sled dogs).
The dog breed can thank Queen Victoria, from England, for its popularity as during a visit to Italy, she fell in love with them and swiftly brought them home to Britain. Queen Victoria went on to show her Poms at Crufts, creating a regal bearing.
Poms have been loyal companions of Thomas Edison, Mozart, and Michelangelo.
Alert and intelligent, these feisty small dogs are super watchdogs. Energetic and lively, they enjoy being active, but they don't need endless miles of walks.
So we cross the bold, alert, and intelligent Pom breed with the sassy, stubborn, and feisty Chi breed and what do we get? A Pomchi with character to boot. The Pomchi breed of small dogs will certainly keep you active and entertained.
Pomchi Temperament and Personality
Standoffish is probably the best word to describe this Pomeranian Chihuahua mix with strangers. The Pomchi is alert, inquisitive and will certainly let you know if something is out of place. Some owners struggle with their barking tendencies and describe them as excessive.
Not only does the Pomchi bark at noises, knocks, or the pipe creaking, but Pomchis will also bark if left alone for long periods of time. Due to their affectionate nature, the breed doesn't cope with being alone:
The Pomchi breed is

prone to suffering from separation anxiety.

Pomchis will chew, scratch, bark, dig, urinate and defaecate when stressed.
Top-Tip
Avoid leaving a Pomchi for long periods by asking friends or family to pop in or seek out a dog walker.
When with their family, Pomchis are a very affectionate dog breed, like their Pomeranian breed parent.
Pomchis tolerate adults much better than children though. This designer toy mixed breed is best suited to adult-only homes or families with older children because of their small toy size. We've mentioned their love of curling up on the sofa – to be honest, this is where you will find the Pomchi most of the time.
Despite their lively and inquisitive nature, the Pomchi breed doesn't need hours of exercise. They are quite happy running around the house or in the yard. Walks of around 30 minutes are ample for such small dogs, however, their stubborn nature can leave their recall less than desirable – keep your Pomchi on a leash when out walking.
If socialized from a young age, the mixed breed Pomchi tends to get on well with other animals, yet due to their feisty nature, it would be advisable to supervise interactions. Watch your dog's body language to predict any potential problems.
How to Care for a Pomeranian Chihuahua Mix
Pomchi breed's independent nature, which craves attention, throws up some things to be mindful of when caring for this loving little dog.
Like other Chihuahua mix dogs, this mixed breed is best suited to adult-only homes, or those families with older children.
How to Feed a Pomchi
Both Pomeranians and Chihuahuas are known to be fussy eaters; it is possible that your Pomchi has inherited this quality.
It may take you a while to find a food that suits your Pomchi breed pooch, speak with your veterinarian or find a dietician to help if you are struggling.
Ensure the food you are feeding meets your small dog's daily nutritional requirements, the Pomchi will need:
1.6 grams of fat per kilo of body weight
2.62 grams of protein per kilo of body weight
Check the labels of your Pomchi's food match these requirements. A Pomchi will eat on average 40 calories per lb of body weight per day, so if your dog weighs in at 8 lbs, he will need:
320 calories per day
5.8 grams of fat per day
9.5 grams of protein per day
It is incredibly easy for any dog breed to put on weight, smaller dogs are no exception. You can use the Pomchi puppy growth chart below to manage their weight:
| | |
| --- | --- |
| Weight at 8 weeks old | Adult size |
| 11 oz | 2lbs |
| 13 oz | 2.5lbs |
| 1lb | 3lbs |
| 1.18 lbs | 3.5lbs |
| 1.34 lbs | 4lbs |
| 1.51lbs | 4.5lbs |
| 1.68lbs | 5lbs |
| 2.06lbs | 6lbs |
| 2.44lbs | 7lbs |
Try to avoid feeding table scraps as it is more difficult to monitor how much your Pomchi puppy is eating. If you do want to include healthy human foods in their diet, use some healthy fruits, and swap out some of your Pomchi's daily allowance to accommodate.
Exercising A Dog
As we've mentioned, these small dogs fall pretty low on the exercise requirements.
Pomchis are more than happy running around the house or the yard, but, are partial to a walk around the block. 30 minutes would be ample, so, for this reason, the breed is perfectly suited to apartment and city living.
The Pomchi breed's stubborn nature leads most owners to keep them on their leash; their recall leaves a lot to be desired.
A Pomchi mix is most happy spending time with you, whether this is pottering around the house, sitting in the yard, or catching up with your TV shows!
How to Train a Pomchi
Like all dogs, this breed responds best to reward-based training (i.e. positive reinforcement).
When your Pomchi is behaving as you want him to, praise and reward him. Food and toy treats are perfect. If he responds better to food rewards, swap out some of his daily food allowances to accommodate. You can also try playing and praise as rewards.
Your dog will learn that when he behaves a certain way, something good happens. He's then more likely to repeat that behavior; this is known as operant behavior it's how dog breeds learn.
Due to the stubborn nature of the Pomchi's parent breeds, especially the Chihuahua, the Pomchi breed can be difficult to train difficult; patience is key!
It is well established that aversive training methods can create and exacerbate problematic behaviors in dogs, so avoid using punishments.
As we mentioned earlier, barking can become problematic in this mixed breed. We have some handy tips to manage your Pomchi's excessive barking:
Don't yell at your dog – it just becomes a contest of who can yell louder usually.
Understand what causes the barking. If he's barking at people walking by, don't allow

your Pomchi

outside unsupervised.

outside unsupervised. If he barks at a particular window, move

your dog

to another room or close the blinds/curtains.

Ignore the barking and reward him as soon as he stops. This is the behavior you want your Pomchi to repeat.
Teach the "go to bed" command. Throw treats on to

your Pomchi's

bed with the command "bed" or "go to bed," if he barks at guests or mailmen, you can use this command to remove

your Pomchi from the situation.

Keep

your Pomchi

stimulated – a bored or frustrated dog is more likely to bark.

You also stand a better chance at avoiding excessive barking if

your dog is

socialized from a young age. Keep socialization sessions short and upbeat, only introduce a couple of new experiences at a time.
Known Health Problems
Just like their parents, a Pomchi dog is prone to certain health problems including:
Progressive Retinal Atrophy – this is when there is progressive deterioration in the retina which causes vision loss and ultimately blindness

in dogs

.

Cataracts – a cataract is an opacity in the lens of the

dog's

eye which causes loss of vision and can lead to blindness in dogs.

Hypothyroidism – here the

dog's

thyroid gland fails to produce enough hormones. The most common symptoms are loss of hair, excess shedding, reduced activity, weight gain and dull coat. It can often be treated with medication.
Epilepsy – common in Chihuahua's due to their low body weight, this designer

dog

breed has been known to suffer from seizures.

Oral health issues – common in toy breeds,

Pomchi puppies

don't always lose their puppy teeth. Their adult teeth still push through and results in dental overcrowding. Due to the extra teeth in the

dog's

mouth, they all rub against each other, wearing the enamel away.
If you have any concerns with your dog's general health and wellbeing, speak with your veterinarian.
Breed Appearance: Coat, Color, and Grooming
Often described as fox-like in appearance, the Pomchi can look more Pomeranian than Chihuahua or more Chihuahua than Pomeranian – you never truly know what you will end up within a mixed breed.
They come in a range of colors including black and tan, sable, fawn, chocolate, and blue and tan; however, we haven't yet seen a pure black pomchi. The most common colors are fawn and sable.
Small in size, between 5 – 12lbs in weight, and standing up to 9" in height, Pomchi breed males are generally larger than females. They tend to have pointy, erect ears with the very typical fox-like snout.
Coat type varies, a Pomchi can have long, short, dense, thin, double, or single coats, with pomchis shedding isn't a big issue. However, both of its parent breeds have two seasonal blowouts; so expect this from your designer mixed breed too.
Regular brushing will keep the Pomchi coat knot and matt free. Check their ears and eyes over when grooming as we know that Pomchis do suffer with their eyes.
Pomchi FAQs
How much is a Pomchi worth?
The price of a Pomchi is not much less than its purebred parents as it's such a lovable and desirable pet. In general, a Pomchi puppy can cost anywhere between $150 to $950. The average cost of a Pomchi pup is $500, however, well-bred puppies cost roughly $1,400 to $5,500.
Do Pomchi dogs bark a lot?
Smaller dogs like Pomchis do tend to become quite vocal when left alone and do often suffer from separation anxiety if those periods are more than just a few hours. Pomchis can be yappy. While they make great watchdogs, it's important to start training them early to curb unwanted barking behaviors.
Does a Pomchi shed?
The male Pomchi will shed once every year while the female Pomchi will shed when on heat or after delivery. This may be interpreted as the female dog sheds less and is more predictable. If you buy a long-haired Pomchi, you will have to do extra work of grooming.
How long do Pomchis live?
Pomchis can live on average anywhere from 12 to 18 years, which is well above the average 11 to 13 years expected for most dog breeds. Barring accidents and health problems, of which Pomchis see very few, you're looking forward to more than a decade with your new best friend.
Summary
Tempted with this alert, intelligent and sassy small dog? This Pomeranian Chihuahua mix will certainly keep you attentive and alert. Not being excessively active, a Pomchi will happily run around the house and yard, with a short walk around the block.
As small dogs, the Pomchi breed is perfectly suited to apartment and city living; in an adult-only home or a family with older children who understand that dogs need their own space too.
An impressive watchdog, Pomchis are known for their barking, especially if left alone. They can be standoffish with strangers, but once a Pomchi has accepted you, this mixed breed will be your lap dog for life.
When socialized from a young age as Pomchi puppies, they cope well with other animals; just remember the Pomchi's bold and independent nature and watch for any potential disasters when meeting other animals and dogs.
A feisty companion, the Pomchi may be 50% Pom and 50% Chi but this dog breed is 100% loyal and loving! Let us know what you think in the comment area below.
Other Pomeranian and Chihuahua Mixes
If you're interested in learning about other Pomeranian mixes or Chihuahua mixes, check out the hybrid dog breeds below.
Pomeranian Mixes
Chihuahua Mixes