Is the Bichon Poodle the right dog breed for you? A breathtaking, curly-haired teddy bear-like breed standing at a mere 15 inches and weighing up to 18 pounds.
The perfect mix of intelligence and affection, don't be fooled by the Bichpoo's (yes, this is a real nickname), "toy-breed" appearance.
This designer breed is not your ordinary toy-breed and will be a friendly addition to your home.
Intrigued? We convinced you at "teddy-bear" didn't we?
Continue reading as we guide you through the need-to-know facts covering the Bichon Frise and Poodle Mix including how to care for them and their temperament and appearance.
After this guide, I'm sure you will find no hesitation with finding your very own Bichpoo.
Bichon Poo Fact Table
Breed Type
Mixes and more
Purpose
Toy Lap Dog / Designer Dog
Suitable For
Individuals, Couples or Families
Size
9 to 15" (both male and female)
Weight
6 to 18 pounds (both male and female)
Lifespan
12 to 15 years
Color Variations
Brown, apricot, white and anything in-between
Temperament
Intelligent, loving, playful and extremely affectionate
Daily Exercise
Low to Medium – 30 minutes of exercise per day
Activity Levels
Moderate – Low physical activity and high mental activity
Daily Food Consumption
560 calories per day – try split feedings into two or three different meals
Known Health Issues
Progressive Retinal Atrophy and Patella Luxation
What is a Bichon Poodle? Breed Overview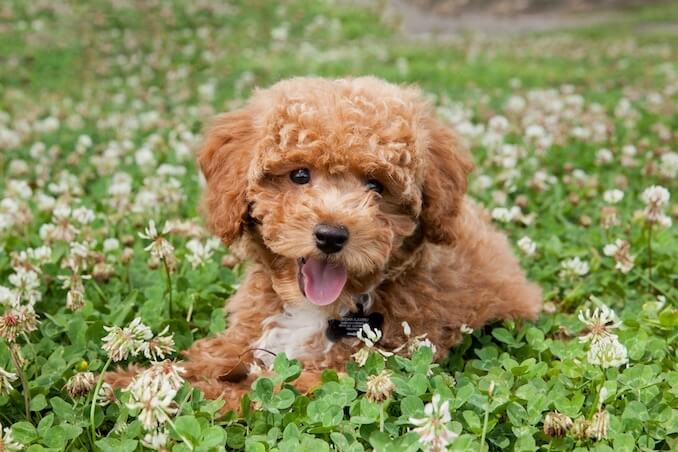 Renowned for their intelligence, the Poodle mates with the ever-so loving Bichon Frise to bring you a small designer dog known as the Bichon Poodle, or otherwise know as:
Bichpoo
Bichon Poo
Poochon
Bichon Frise Poodle
When the two purebred parents mate, the resulting puppy's temperament and appearance cannot be predicted. Due to two different parents, the litters vary from colour to colour.
There is just no telling if your little pup will resemble a teddy-bear or maybe even a unique curly-haired polar bear!
Origin of the Breed
As with any designer dog breed, they were originally bred to create a loveable pooch whilst removing health concerns which may be present in the purebred parent breeds.
Over the past decade, this little pooch has increased in popularity in the United States, and even world-wide.
Frequently Asked Questions
What is the Bichon Poodle Lifespan?
You can be sure that this adorable breed will be by your side for quite some time. They have a life expectancy of approximately 12 to 15 years.
How big does this breed get?
| | Weight | Height |
| --- | --- | --- |
| Female | 6 to 12 lbs | 9 to 11 inches |
| Male | 10 to 18 lbs | 11 to 15 inches |
As you can see, this is toy dog breed and therefore you shouldn't expect it to get too big at all.
How much does this breed cost?
Your Bichpoo will cost around $1,000 USD.
Bichon Poodle Temperament
| Characteristic | Rating |
| --- | --- |
| Friendliness | |
| Ease of Care | |
| Trainability | |
| Exercise Requirements | |
| Social Tendencies | |
Who doesn't want to come home to a cuddly, curly little precious canine?
This breed is truly one of the most loving and affectionate breeds. Born to love, born to cuddle and born to please, this breed will provide you with all the care in the world. All it needs in return? A cuddle, a bit of training and a brush.
The Bichpoo is a small dog and although active, it doesn't require a large amount of exercise and doesn't even require a massive yard. A little bit of playtime is enough to burn off the little energy they can fit in their small body.
This breed makes a great addition to any family. Taking after its Poodle parent, this breed is highly intelligent which makes training a breeze.
Taking after its Bichon Frise parent, this breed provides both your children and you with a playful and adorable personality.
The Bichon Poodle mix has also been known to be a hit with the elderly due to its loyal persona, and the large amount of fondness that they have for their owners.
Super cuddly and super soft. Not to mention the fact that this dog cannot say no to love and affection. Perfect right?
How to Care for the Bichon Frise and Poodle Mix
The Bichon Poodle is a joy to care for. You can't help but shower your pup with affection and therefore caring for your pup should be no hassle at all.
How Much Does a Bichon Poodle Eat?
It is recommended that on average, a healthy and active dog weighing up to 16 lbs requires 560 calories per day. This includes all of their tasty snacks too!
Of course, these requirements may change due factors such as sex, age and activity levels. However, as these dogs are not the biggest, then of course they do not require much to fill their small tummies.
To not overwhelm your Bichpoo puppy with food and spread out meals through-out the day. Three meals should suffice in smaller portion sizes. Try breakfast, lunch and dinner?
In terms of what to feed your Bichon Poodle, we recommend a high quality dry kibbled diet specifically made for toy dog breeds.
This will ensure that not only are your dog's caloric requirements met daily, but also their protein and fat requirements.
Exercise Requirements
Exercising and training your toy breed is a great way to build a strong bond.
Half an hour of exercise a day is what it takes to meet your Bochpoo's exercise requirements. Remember that they are only a small dog and shouldn't be over exercised; especially during their first six months of age.
Not only will those thirty minutes of exercise a day help your pooch keep fit, but they will also do wonders for your health and well-being.
Dog walking is always a great excuse to get physical and a far more enjoyable option as opposed to a long and repetitive solo run.
Exercise includes play time too. So don't be afraid to let your children run around with your Bichpoo; they will both love it.
Bichpoo's are perfect with children due to their playful nature.
Training a Bichon Poodle Mix
The Bichpoo is a keen and fast learner, and may even impress you with just how fast they will learn.
The real key is positive reinforcement with training any dog. Just relax, be patient, and have fun during training. Reward and reinforce positive behaviour with food, praise or toys.
This will also keep your dog interested as your Poochon will love to please you.
Why not take the extra step and provide your pup with a treat as they demonstrate good behavior with a tasty snack on a hot summers day.
Socialization Requirements
Socialization is always important in any canine. And it just so happens that this curly-haired breed just loves attention. Making this the perfect dog to keep your children entertained.
The Bichpoo thrives off the love and interaction of other humans, and dogs. Proper socialisation is essential so that your dog never experiences stress in changing or populated environments.
If socialised from an early age then they may also befriend all sorts of opposing species (yes, even the canines number one enemy, the feline). So if you have a cat, then have no fear! They love making new friends.
Mental Stimulation

Mental stimulating your Poochon should definitely occur on a regular basis, without the necessary amount of mental stimulation then your Bichon Poodle may become bored and somewhat of a nuisance.
Providing your pup with the right amount of mental stimulation is very easy and all it actually requires is introducing your pup to new environments or through interactive games.
When it comes to interactive games, leave it to the kids or join in, the choice is yours. A simple game of fetch will do. Or, why not mix it up a little and try a more mentally demanding game such as "Mix The Cup".
How to Play "Mix The Cup":
Line up three to four cups in a row
Place a treat under one of the cups (allow your dog to witness this)
Mix the cups
Ask your dog to tap on which cup has the treat
Give the treat to your dog!
Note: This game may require some training, but once your pup has this game under lock-and-key then let the games begin!
Known Health Problems
Although the goal of this toy breed was to eliminate health problems, unfortunately health issues may still arise.
Progressive Retinal Atrophy is a degenerative eye disease which may even cause blindness in dogs. Unfortunately, the Bichpoo's parent breed, the Poodle, is predisposed to this disease.
Patella Luxation is when your poor dog's kneecap dislocates from the normal position. This is often a genetic malformation. This will also be very painful for your pup and may cause them to sit with their hind leg lifted up. If left untreated, surgery may be needed, therefore it is very important to take your pup to the Veterinarian if any lameness is noticed.
Even if they are rare, it is your responsibility as a dog owner to have a good understanding of your dog's potential health issues.
Bichon Poodle Appearance: Coat, Color and Grooming
You no longer need to convince your dog groomers that your pup deserves a beautiful perm. The Bichon Poo is a natural curly-head which even you will be envious about.
With a little button nose, love-me eyes and a body full of short to medium gorgeous curly hair, the only thing that sets this breed apart from being a teddy-bear is their long fluffy ears which reside at the side of their head.
The Bichpoos coat barely sheds and takes after both of its parents with its hypoallergenic coat.
This hypoallergenic coat may come in a variety of different colors, from apricot, to brown, to anywhere in-between.
Grooming Requirements
It is best to brush your pup's coat daily, with a recommendation to begin all grooming from an early age so that your pup becomes accustomed to it, and may even come to enjoy pamper time.
Hair trimmings should take place every two months or so.
Last, but not least. Dental care.
Dental care is important for all canines. Try brushing your pup's teeth (daily if possible), as this is known to be the best form of dental disease prevention. You could also try dental treats.
Summary
If you are looking for a family friendly, highly affectionate and intelligent dog breed which doesn't take up too much room, then call a breeder because this dog might just be right for you.
Easy to care for, highly trainable and sociable this designer dog has all the qualities to meet you and your family's needs or an elderly couples.
Do you know anyone with a Bichon Poodle? If so, comment below, we would love to hear all about it.