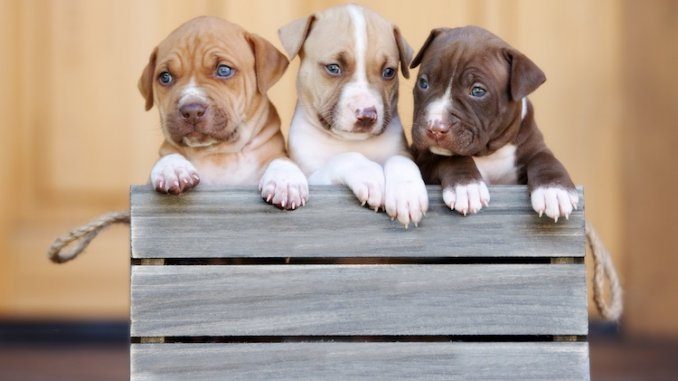 So, you've just bought home your beautiful Pitbull puppy and you want to find the perfect Pitbull name?
Our complete list of over 250 Pitbull names will be sure to suit your pup whatever their gender or personality.
Despite their reputation in the media, these wonderful family dogs are sweethearts and were previously named "Nanny Dogs" for their temperament and loving nature with children.
Whatever your Pitbull's temperament, appearance, gender or color this popular list will give you the top Pitbull names.
Let's have a look, did your pups name make the list?
Female Pitbull Names
Ladies first! Female Pitbull names in our opinion, should be independent, strong yet precious and beautiful.
Some are named after famous woman throughout history and others just sound too gorgeous to pass up.
Pitbulls aren't as scary as some of them may look, so why not even try a softer sounding name? We've gathered some of our favorites below.
Adira – This one is Hebrew strong and powerful. Perhaps perfect for your American Staffordshire Terrier?
Alaska
Athena – from Greek mythology. Named after the Greek Goddess. Athena was a goddess of wisdom, courage and inspiration. Perfect for your strong and fearless canine
Aura
Aurora
Becs
Betsy – We see this name suiting a bouncy Pitbull Boxer Mix
Blair
Chlo
Cleopatra – The last active female ruler of Ptolemaic Kingdom of Egypt. Known for her beautiful looks and getting whatever she wants, maybe like those cuddles you just can't stop giving?
Dixie
Donna – Named after Donna Paulsen from Suits. Definitely a strong female character
Elle
Ellie
Fawn
Fortuna
Helena
Hera
Iris
Ivy
Jade
Katniss – Hunger Games
Khaleesi – Named after the Game of Thrones character. The Queen of Dragons. Perhaps, the Queen of your heart?
Lara (Lara Croft)
Latitha – Queen of Sass
Lexi
Moana
Mulan
Nova
Phoebe
Piper
Prada
Raina
Roma
Roxy
Ruby – perfect for your beautiful red-nosed Pitbull, named after a Ruby – the precious and traditional gem stone
Sass
Selena
Suri
Taya
Vada
Venus
Xena – The Warrior Pupcess!
Zara
Male Pitbull Names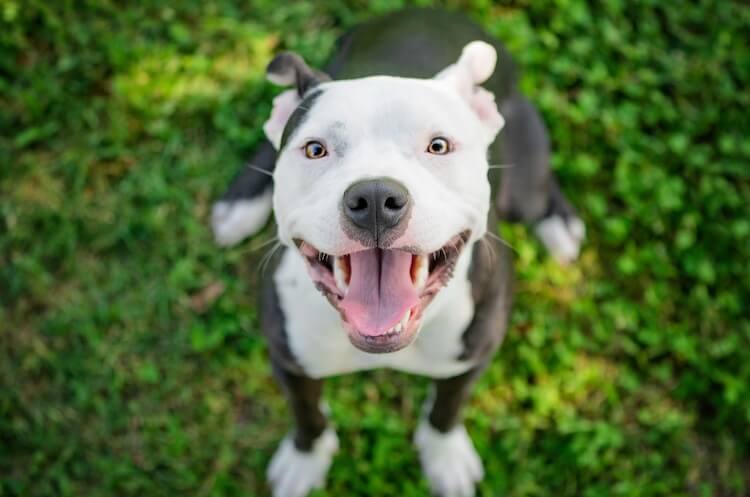 Now for the males, for a male you definitely want Pitbull names which sounds "ruff" and tough.
Like female names, male Pitbull names can also be based on heroic characters and strong, powerful men. Or, they may even be based on villains (if your pup has a naughty side).
Whichever you choose, we hope you like them…
Ali – After Muhammad Ali, a professional American boxer, nicknamed the Greatest due to his immaculate fighting skills
Archer
Archie
Axel
Boxer
Brawler
Bruce
Bruno
Brutus
Buddy
Chip
Chomp
Chopper
Cole
Dash
Ezra
Hank
Heath
Hercules – Named after the Roman hero and god. A bold and confident puppy will suit this name, maybe your American Pitbull Terrier?
Hulk
Hunter
Jax
Jet
Joe or Joey
Joker
Kai
Kane – a name built to suit the more relaxed dog (maybe an older dog) you recently got from the shelter?
Knox
Kobe – Named after Kobe Bryant, a famous American NBA player. If your puppy loves to chase balls then maybe this name is perfect
Kong
Leo
Loki
Mason
Maximus (Max for short)
Nixon
Obi
Otto
Ranger
Rover
Ryder
Zack
Zane
Zeus – The King of the Greek Gods. Zeus was the god of the sky and thunder. Let's hope your puppy is a little more socialized and is used to the thunder
Badass Pitbull Names
Pitbulls do have a bad name for themselves (no pun intended!), even though this fact is very flawed, maybe you still want your dog to appear bad to the bone?
These badass Pitbull names will fit the bill.
Alpha
Ammo – Short for ammunition. Definitely a badass name for your pup, and something a little different.
Aragorn
Beast
Blaze
James Bond. You cannot get more badass than that
Boomer
Caesar
Chino
Comet
Dozer
Drizzy
Duke
Foxy
Hannibal – Named after Dr. Hannibal Lecter, a cannibal character made famous in a series of novels and movies
Killer
Kingston
Nitro
Onyx
Rambo
Razor
Riker
Sarge
Sauron
Simba
Smith
Snape
Sniper
Snoop
Sparky
Spartacus
Spike
Thor
Titan
Titus
Traz – Short for Alcatraz. Alcatraz is an island which was world famous for their military and federal prisons which housed many of the world's most notorious criminals
Tui
Tupac
Turbo
Venom
Viper
Vixen – A bad ass name for a bad ass female pup
Cool Pitbull Names
A Pitbull is definitely a cool breed. So why not get a name to match?
In this section, we have chosen some of our favorite sounding Pitbull names which we believe will definitely suit any Pittie.
Ace
Amir – Amir means powerful in Hebrew. A very exotic twist but very cool sounding no doubt
Apollo – Named after Apollo 13. A near disaster for NASA
Bandit
Baxter – Try Bax for short
Blue
Bolt
Carter
Cash
Ceeloo
Cooper
Dash
Diesel
Dolce – As in Dolce and Gabbana. Perfect for your little tough madam
Eli
Elvis
Gabbana
Harley
Harper
Harvey
Ice
Levi
Lexus
Mowgli
Ozzy (Osbourne)
Phoenix – A cool, tough and beautiful name
Prince
Queen Bee – After Beyonce, who has millions and millions of fans so obviously pretty cool
Rebel
Richie – Named after Richie McCaw, a world famous New Zealand Rugby Player. Richie McCaw actually rejected knighthood by the Queen herself because he did not think he deserved it
Riva
Rocco
Romeo
Sage – Named after Sage the Gemini who literally has a song called "Red Nose" so we think this would only be fitting for a Red Nose Pitbull
Slick
Trixie
Usher
Van
Xander
Zelda
Zen
Cute Pitbull Names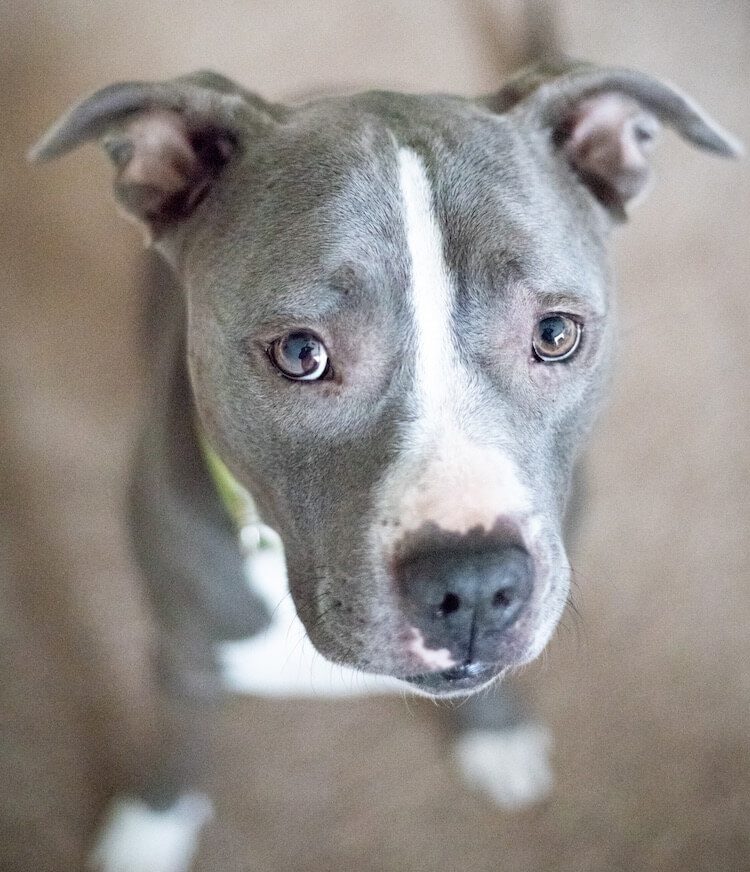 Pitbulls don't always have to sound so tough!
Perhaps your Pitbull is hard on the outside but a big softy on the inside? If that's the case, these cute Pitbull names will be perfect.
Try one of these cute and sweeter sounding names:
Alexa
Amos
Angel
Ava – A short and sweet name which is actually a variation of Eve meaning "bird".
Bailey
Bear – Why? Because bears are cute
Bella
Boe – Perfect for a little male Pitbull puppy who has stolen your heart
Bonbon
Bonnie
Bree – (Brie) too cheesy?
Bubba
Buffy
Cece
Coco
Estella
Eva
Fefe – Say it aloud. You know it's cute
Gabby
Gia
Gigi – Named after Gigi Hadid
Honey
Indie
Ivory – Perfect for a white Pitbull
Kiki – Do you love me? Made famous by Drake but this name is very cute nonetheless
Lily – Named after the flower. A delicate and sweet name is always very cute
Lulu
Mika
Molly (Mol)
Nala – Yes, from the lion king. A cute name for your gorgeous wee girl
Opal – Well suited for a blue nosed Pitty
Pogo
Pongo
Rosie
Sprout
Stella
Stitch – Named after Disney's Stitch from Lilo and Stitch. Perfect for a blue nosed Pitbull
Tara
Tiara
Toby
Toto – Named after Toto from the Wizard of Oz. A small dog so obviously very cute but who said Pitbull's couldn't be just as cute?
Vienna
Viola
Yogi – Named after Yogi Bear
Zara
Zola
Zuzu
Best Pitbull Names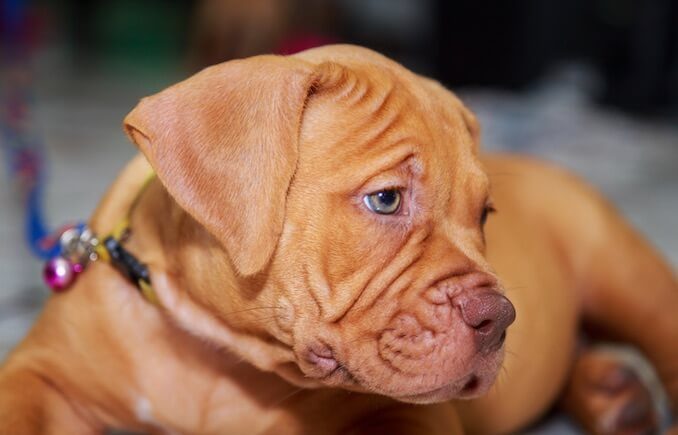 We know that narrowing down names for a Pitbull can be hard!
The best and most popular Pitbull names stick to originality.
This list has inspiration sourced from the most common dog names and are 100% guaranteed to impress due to their popularity.
Aether – The Greek God of Light, definitely suitable for a wee Pitty who makes your smile shine
Alastor
Alias
Angelica
Aprhodite
Ares – Named after The Greek God of War
Arnie
Ash
Asher
Atticus – A dominant name for your dominant pup.
Attila
Axl
Bec
Becks
Bella
Bones
Boris
Brawn
Brisk
Bruiser
Brun
Bud – Dogs are loyal and have been known as Man's best friend for years!
Burt
Butch
Buzz
Cartel – A little bit of inspiration from the Mafia on this one
Chop
Cig
Coleson – Cole for short!
Damien
Damon
Doze
Ember
Enzo
Ernie
Ezio
Gage
Gator
Griff
Grimm
Gunner
Hooch – Hooch is one hell of a pooch
Hutch
Israel – Izzy for short
Jess – A beautiful female name which just rolls off the tongue making it perfect for training
Jezebel
Justice
Kala
Lucifer – Pitbulls are so loveable but all pups can be a little naughty!
Mack – A slick name for your gorgeous male canine.
Mathius
Mischa
Ness
Nicko
Nyx
Odin
Oregon
Pepper
Pepsi
Pero
Pistol
Pumice
Regs
Rex – A classic name, definitely can't go wrong here
Rizzo
Rocky
Sensa
Spade
Stark
Starsky – Starsky and Hutch are the best duo
Stone – Well-fitting for a Pitbull with beautiful gray fur
Sumo
Tank – With their robust and staunch bodies, this name is perfect
Tex
Tobi – Cuter spelling of Toby
Tori
Troop
Vic
Zed
Zee
Five Facts About Pitbulls
Lastly, for those of you still struggling to find the perfect Pitbull name, as a little treat, we have put together five interesting facts about the Pitbull dog.
This will help to give you an insight into this spectacular and misunderstood dog.
1. The Pitbull Is a Type of Dog (Not a Specific Breed)
The term Pitbull technically covers a range of dog breeds:
Staffordshire Bull Terrier
American Pitbull Terrier
American Bulldog
American Staffordshire Terrier
Pitbulls are descendants from Terriers and the Bulldog.
The term Pitbull may refer to a range of different pedigree breeds (listed above), even some mixes, and the list just goes on…
2. They Were Initially Bred To Be Fighting Dogs
Luckily, the use of dogs for fighting has been outlawed.
The Terrier (a breed which is known to fear absolutely nothing) was bred with the English Bulldog (a breed renowned for their impressive strength) to give the Pitbull.
This actually gave the Pitbull a lot of negative stigma which still remains today
3. Pitbull's Were Known Nanny Dogs
The tables may have turned at some point in history, when the Pitbull was known to be a nanny dog and was used widely as the perfect babysitter for children.
4. They Are Escape Artists
Although they appear a little stocky, they are a highly athletic breed and they are actually amazing fence climbers.
This is definitely an important fact for any soon-to-be Pitbull owners in case they try and escape, you might want to look at strong dog crates.
5. Pitbull's Do Not Actually Have "Locking Jaws"
Contrary to several claims, there is no physical locking ability in the Pitbull's jaw.
They do however have really strong jaws, but, not really any stronger than your average puppy.
Conclusion
There you have it. Our favorite Pitbull names to suit your misunderstood yet beautiful companion.
Notorious for being a bully breed, we know this isn't true and these Pitbull names are here to either set the record straight or simply just emphasis their personality.
Did you choose a female or male name?
Was it cool, badass or just plain cute? Let us know below! We would love to hear your favorite