Cuddly, curly-haired, and adorable, Poodles are a great and popular choice for those bringing a dog into the family.
Poodles are a beloved breed all over the world, but they are especially beloved in the US – where they rank as the seventh most popular breed.
If you are bringing a pet Poodle home soon, then you are probably thinking about Poodle names!
Which name would make a perfect choice?
Read through our extensive lists of the most popular, best, and cutest names for a toy, miniature and standard Poodles below…
Toy Poodle Names
Toy Poodles are good-natured, loving, and very small!
If you are bringing a Toy Poodle home soon, there are plenty of places to find inspiration to choose the perfect Poodle name for him.
We like the idea of using popular and modern names for children that also work as puppy names.
Why not use names from your favorite storybooks and fables?
Use this list to find something truly creative and perfect:
Alice
Amelia
Arden
Ariel
Aroha
Ava
Baker
Belle
Charlotte
Cinderella
Dakari
Dakota
Damica
Dorothy
Eddie
Emma
Ensley
Evelyn
Freddie
Gage
Genesis
Gretel
Hansel
Harper
Heber
Hermione
Irving
Isabella
Izzie
Jaxtyn
Jedda
Kahlil
Karsyn
Katniss
Keily
Kenzo
Kylo
Lauge
Lior
Logan
Lucas
Luna
Maeghan
Maeve
Mason
Merida
Mia
Milo
Neveah
Noah
Novah
Oaklynn
Oliver
Olivia
Peter
Pocahontas
Posie
Rapunzel
Rei
Rowena
Sadik
Saint
Samira
Sena
Tinkerbell
Walkten
Watson
Yara
Miniature Poodle Names
Miniature Poodles are adorable, small, and very popular with people looking for a great dog.
We think there are lots of creative ways to name your Miniature Poodle.
Why not use water-themed names, as Miniature Poodles are fond of swimming?
We also love the idea of using celebrity names, or fashion-themed names, due to the fact that Miniature Poodles are so popular and fashionable.
You could use a name with a friendly and fashionable meaning, to match your Miniature Poodle's appearance. Use this list to find a name that is truly perfect for a Miniature Poodle.
Name

Adrian
Dior
Ocean
Amaya
Dover
Prada
Aruba
Dune
Rain
Aukai
Elle
Reef
Bay
Fisher
Ripple
Bayou
Foam
River
Beck
Ford
Riviera
Bondi
Gaultier
Scale
Brooke
Gucci
Shelly
Burberry
Haute
Squirt
Cascade
Hermes
Stream
Caspian
Isla
Tallulah
Chic
Lagoon
Tidal
Clifford
Lake
Valentino
Como
Loire
Varuna
Conch
Makara
Versace
Cordelia
Marlowe
Vogue
Couture
Mazu
Water
Daria
Mermaid
Waterfall
Delta
Nerida
Zale
Destan
Nixie
Yarn
French Poodle Names
Poodles are the national dog of France, so it is no surprise that many people French dog names for their pet.
You could choose a classic French name with a great meaning.
Why not name your pooch after your favorite French food or French city?
We also love the idea of naming your Poodle after a famous French celebrity, to match the Poodle's superstar image and beautiful looks. Take a look at this list to find some inspiration for your Poodle's name:
Adelyn
Adore
Aime
Alain
Aubin
Bechet
Bernadin
Bernard
Bisous
Blaise
Bleu
Bordeaux
Brie
Brigitte
Brioche
Camembert
Camille
Camus
Chanel
Chien
Courentin
Croissant
Cyrille
Éclair
Eiffel
Elise
Esmé
Geoffroi
Guillaumine
Hilaire
Janine
Jeanne
Joie
Jolie
Jourdain
Jules
Juste
Justis
Kiki
Lac
Lafayette
Landry
Laurent
Leon
Lilou
Louis
Lyon
Macaron
Mael
Maison
Manon
Marguerite
Marseille
Marshall
Mathilde
Maxime
Merle
Mimi
Mireille
Monet
Nanou
Nathalie
Nicaise
Nice
Nichele
Nicole
Nina
Noel
Noir
Nougat
Oceane
Pain-Au-Chocolate
Paris
Pascal
Petite
Pomme
Quiche
Raclette
Ratatouille
Rififi
Rose
Rouge
Serge
Simone
Vert
Vincent
Cute Poodle Names
If there's one thing all types of Poodle have in common, it is that they're completely adorable!
If you want to name your Poodle something really cute, then we think there are plenty of innovative choices:
Why not name your Poodle after something from nature, or even outer space?
We love the idea of naming a Poodle a food name; this is a cute and comedic choice that is increasingly popular for all dog breeds.
Poodles are known for their beautiful soft coat, so we also love the idea of naming them something soft and gentle.
We have plenty of cute names to look at, we're sure you'll be inspired:
Name

Almond
Fauna
Neptune
Apollo
Feather
Nettle
Apple
Flapjack
Nova
Aries
Flora
Onion
Astro
Fulffy
Pluto
Atlas
Fudge
Porky
Bellatrix
Furry
Porridge
Blankie
Galaxy
Portia
Blossom
Gemini
Queso
Bracken
Granola
Rhea
Bun
Gummy
River
Burrito
Hazelnut
Salami
Butter
Heather
Saturn
Butterscotch
Io
Sausage
Cashmere
Irish
Scorpio
Cassiopeia
Jammy
Seren
Celeste
Jello
Shortcake
Cherry
Juniper
Sirius
Cinnamon
Jupiter
Softie
Cliff
Larissa
Solaris
Coffee
Leaf
Spaghetti
Comet
Leah
Star
Compote
Lemon
Strawberry
Cookie
Leo
Taco
Cosmo
Lyra
Taurus
Cressida
Mars
Thistle
Crumble
Marzipan
Vanilla
Cumin
Mercury
Vega
Cupcake
Miranda
Velvet
Curly
Moon
Venus
Estella
Mozzarella
Wooly
Standard Poodle Names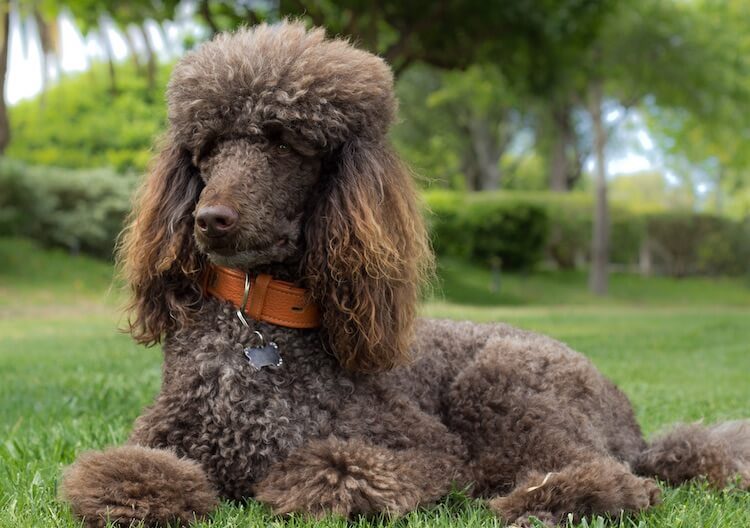 The Standard Poodle is a cute and popular breed of dog and they are what most people think of when people think of Poodles.
There are plenty of creative choices when it comes to naming a Standard Poodle.
The Poodle can be apricot orange, jet black, pure white, and many other colors. Why not look at the different colors this breed can be, and base the name on this?
We also think strong and happy names will work well to compliment the Poodle's vibrant personality.
We have compiled this list of Poodle names that would all be great choices:
Abigail
Ada
Aida
Alani
Alaska
Alba
Amber
Aoife
Apricot
Asher
Auburn
Autumn
Beatrice
Beetle
Blanca
Bliss
Blythe
Brick
Bruno
Bruno
Carmine
Carrot
Cheeto
Clara
Clementine
Cloud
Coal
Coconut
Copper
Coral
Daisy
Dove
Dream
Ebony
Fawn
Felicia
Felicity
Flynn
Gale
Gannon
Garfield
Gigi
Ginger
Goldie
Gwyn
Hana
Igloo
Ivory
Jet
Jolly
Jovie
Keiko
Kiki
Lava
Luana
Magma
Melanite
Melon
Meringue
Merry
Midnight
Moonflower
Ollie
Onyx
Opal
Panther
Papaya
Pearl
Peel
Penny
Peonie
Persimmon
Popcorn
Pumpkin
Rafa
Raven
Ray
Saffron
Snow
Snowflake
Sooty
Stormy
Tangerine
Tawny
Tiger
Tourmaline
Trixie
Vermilion
Teacup Poodle Names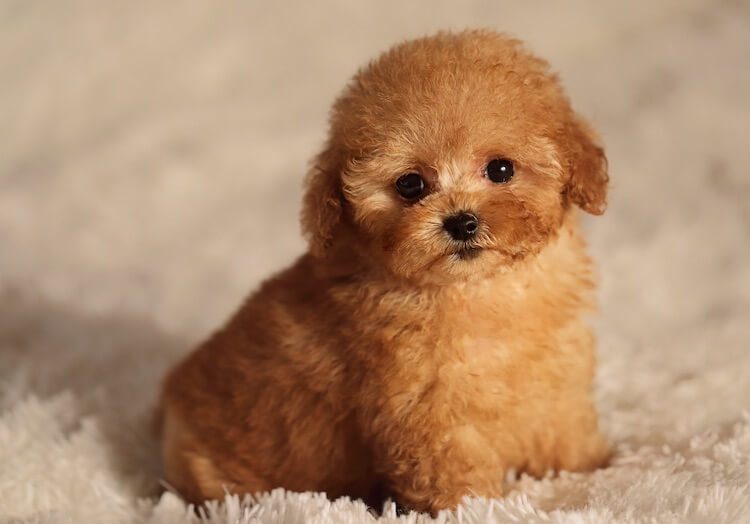 Teacup Poodles are absolutely tiny and completely adorable!
They are called 'teacup' Poodles due to their teeny size and the fact that they can comfortably fit in a teacup.
If you are looking to bring home a Teacup Poodle, there are many creative places to look for naming inspiration.
We like the idea of naming a Toy Poodle after sweet and small things, to reflect their size and their adorable nature.
Why not choose a name with an adorable meaning?
We also think vintage names work really well for these puppies, as they are charming and quirky. Take a look at our Teacup Poodle names list to find some naming inspiration.
| | | |
| --- | --- | --- |
| Arabella | Georgia | Phoebe |
| Atom | Gimo | Pip |
| Bean | Grace | Pixie |
| Beatrix | Gumdrop | Pop |
| Beth | Harriet | Powell |
| Bubble | Hattie | Pudding |
| Bunny | Hiccup | Pup |
| Button | Honey | Red |
| Candy | Hope | Rufus |
| Caramel | Ingrid | Sassy |
| Chica | Jacqueline | Sebastian |
| Chick | Jasper | Sonny |
| Cog | Jamima | Sugar |
| Cutie | Katherine | Sweetie |
| Darling | Kip | Syrup |
| Dee-Dee | Kit | Teddy |
| Diddy | Lulu | Teeny |
| Dinah | Maple | Timothy |
| Doodle | May | Tiny |
| Duckling | Micro | Toffee |
| Dumpling | Mina | Treacle |
| Dwarf | Mini | Twinkle |
| Elspeth | Muffy | Tyler |
| Fairy | Nano | Victoria |
| Flicker | Ophelia | Wanda |
| Francisco | Orla | Wiggle |
| Gadget | Pecan | Zach |
| Gem | Philip | Zap |
Tips for Naming a Poodle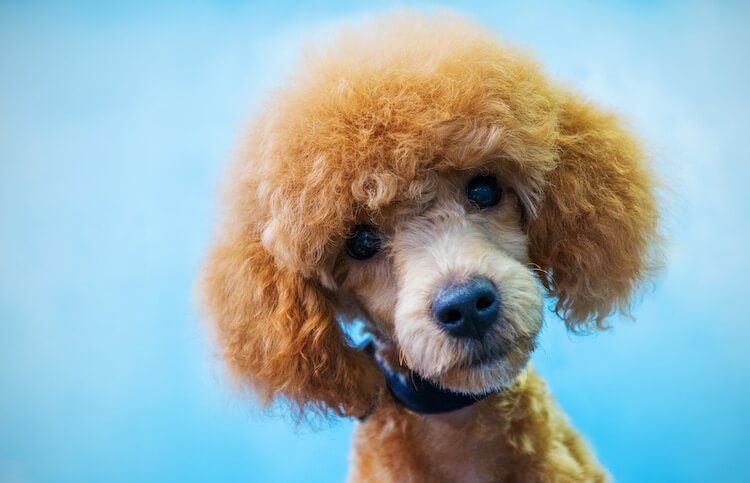 If the challenge of naming your Poodle is very daunting, it might help to have some guidance. Take a look through our five speedy tips to help with naming your Poodle:
Poodles originate from France, and are the national dog of France! This is a great start to naming your dog, as it might be a good idea to use French culture as inspiration.
Poodles are a popular choice of star in films and TV shows with dog characters. This means there are plenty of famous Poodles with names that might fit yours perfectly!
We have a wealth of great lists of dog names that are sure to spark some inspiration when naming your Poodle. The Internet is full of creative choices.
Personality is Everything
Poodles are known for their strong and brilliant personalities, so it would be ridiculous not to use this as a springboard when looking for the perfect name.
Bringing home a Poodle is a big deal, so it would be a good idea to ask friends and family for some help in the hunt for a good name. Just make sure you always follow your own instincts!
Summary
The Poodle is a bright and beautiful pet and a loving dog.
So you have to pick the perfect name for them.
You can use their amazing personality as inspiration, or look to the natural world and beyond!
Whether you choose a cute, funny, or beautiful Poodle name, we're sure you'll find something absolutely amazing.
Do let us know if you choose one of our names on our list. We would also love to hear if you have any ideas for other perfect Poodle names, so leave a comment.