Making the decision to bring a new dog into your family's life is a big decision. Your family's life will change; to what extent will largely depend on your lifestyle and the breed you choose to be a part of it.
There are some important questions to consider when looking for a family dog:
What is your family's lifestyle? Are you already busy looking after the kids?
What's your idea of a great day off? Hiking in the woods, having friends around or curling up with a book?
What are your working hours like? Do you work away?
How big is your family? Are your kids just finding their feet and easily knocked over?
The truth is, all of these questions will help you decide which breed will suit you and your family best. This means he will adapt well and you will be able to meet his needs.
Searching for the "best" breed can feel overwhelming, especially for first-time owners, but we have collected our top 22 family-friendly dogs, specifically for first-time owners who don't have lots of spare time.
22. Brussels Griffon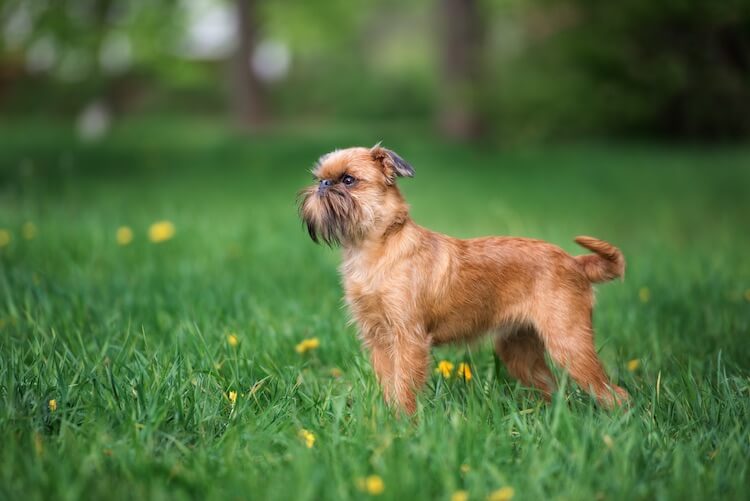 Known for their big hearts and playful nature, the Brussels Griffon is a small canine who will take up a huge part of your heart!
They are bold and active, and so will suit busy families but are also more than happy spending time on your lap.
Their appearance can be a favorite with kids, and their cheeky and mischievousness temperament makes them very compatible with teens for trick training.
21. Chug
The Chihuahua x Pug mix is super-sociable and confident family dog!
They are generally tolerant of most humans but can get irritated with very small toddlers who don't understand their space. For that reason, they may be better suited to homes with kids older than five.
The feisty Chihuahua in them will certainly keep families entertained. But, when all is said and done, they can actually be quite lazy and would much rather be chilling on the sofa with kids after their daily walks are done!
20. Bassett Hound
This laid-back breed is a great addition to any family.
They will tolerate young and unruly children, but are equally relaxed on the sofa with grumpy teenagers!
Super-relaxed, nothing fazes this breed, they have a very stable temperament.
He loves his daily walk, but is much happier keeping his nose to the ground and explore every inch rather than run miles ahead. The only issue is if he does pick up a scent, always teach the kids to walk him on a leash!
Some Beagle's are notoriously head-strong, however, if they are kept busy – it is nothing a family can't manage.
Like Bassett Hounds, Beagles love to have their nose to the ground and will follow a scent wherever it leads. For this reason, you're best asking the kids to keep him on a long line when you head out for walks.
Beagles are even-tempered and sociable, they love having friends of all shapes and sizes (including small children)!
They are intelligent and active, ideal for those young and busy families who love hikes and adventures.
18. Beagador
Not surprisingly, if both the Labrador and Beagle make our list, then the Beagador is going to!
Combining the kind and playful nature of Labradors with the sociable Beagador will produce a mix who is fun-loving and kind spirited!
Loving both humans and dogs, they suit families with a larger home and a secure yard to romp! The bonus with this mix is the food-loving Labrador may overcome that stubborn streak in the Beagle!
17. Goldador
Maintaining the friendly, sweet and loving nature of both a Golden Retriever and Labrador, this mix is a favorite with American families!
They may have a short coated Lab coat, or the long-coated Golden Retriever coat – you can't be certain with first generation puppies.
Whatever the coat, this dog loves children and is at their happiest when playing with them.
Unfortunately, both breeds can suffer from hip and elbow dysplasia, so sourcing reputable breeders and managing exercise with the kids when they are puppies is essential!
With the friendliness of the Labrador and the brains of the Poodle, this dog is a great addition for any family with kids both big and small!
Because of their excellent compatibility with families and beautiful appearance, these designer mixes carry a very expensive price tag of between $1,000 to $3,000 USD.
They are friendly and affectionate with young children. Just make sure you start his training and socialization early and continue throughout his life!
If the Labradoodle has made our list of best family dogs, then the Goldendoodle will too!
This breed is a mix of the Golden Retriever and Poodle.
When bred from healthy bloodlines, these dogs are more likely to be hypoallergenic, so are great for children with allergies.
They can grow up to 100 pounds, so these dogs are better suited to larger homes.
With both breeds being active canines, they thrive in very busy and active homes where they have a human playmate to romp in the garden with!
14. Cockerpoo
The Cocker Spaniel x Poodle Mix is a well-loved addition in many families.
Combining the energy of the Spaniel, and the intelligence of the Poodle, this family dog will certainly keep your family happy and entertained. He thrives in busy homes, but is not fussy about young or old kids; he loves small and big kids alike!
He loves being outdoors and as both parents are working dogs, he doesn't bode well being idle for long periods of time.
Another family breed deemed hypoallergenic; they are a good match for young children with allergies.
An adorable bundle of fluff, this dog is a great addition to smaller family homes.
Relatively low maintenance, they can thrive in quieter homes.
Friendly, playful and affectionate they love nothing more than curling up on the sofa with kids!
They can be fragile when puppies, so perhaps they are not suited to homes with young children who may accidentally manhandle the puppy. The ideal companion if teenagers are spending less and less time at home and it feels quiet without them!
If you would rather have a smaller-pooch wandering around your family home, then the Chorkie is a firm contender only growing to around 6-9" in height.
They are known barkers so are not ideal if you live in an apartment block!
Confident and feisty, he's outgoing and enthusiastic – his love of life is contagious. They are low maintenance and will be happy with two 20-minute walks per day. After walks, this family dog will happily curl up on the sofa next to you – a great companion if you work from home when the kids are at school!
They tolerate older kids very well, but can be irritated by toddlers who don't understand their space.
11. Whoodle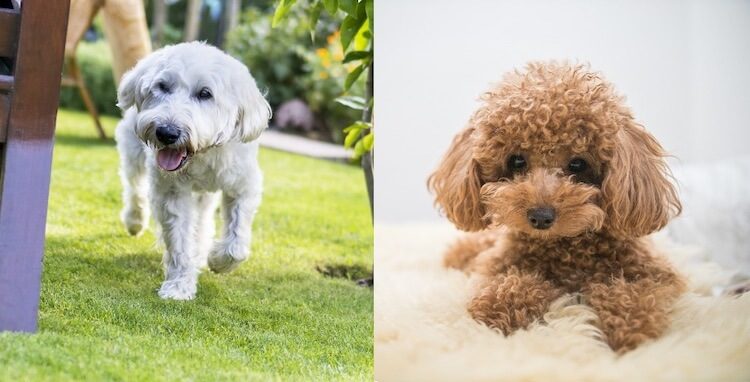 The Wheaten Terrier x Poodle mix is often recognized for looking like a teddy bear. Medium in size, they have a soft, curly coat which many kids love!
Smart and well-natured this makes them easy-to-train for first-time families and their people-orientated nature makes them adapt well to most families.
They are incredibly sociable and love humans and dogs of all shapes and sizes, just ensure you tackle their socialization as early as possible!
If you are looking for a smaller breed, the Shih Poo could be perfect for your family.
As they are a Poodle mix, they are hypoallergenic and very intelligent. This means they are less likely to cause a reaction and are very gentle with kids (helpful if you have sensitive children).
The Shih Poo is playful, affectionate and sweet-natured.
They really can't get into much trouble for a first-time owner and are fun-loving and energetic, so perfect for a busy family!
As they have the lap dog Shih Tzu parent in their blood, they are ideal for smaller homes and curling up on the sofa with kids.
9. Havapoo
The friendly and charming dog is the result of mating a Havanese with a Poodle. Again, super trainable thanks to the Poodle parent, this dog adapts well to most family lifestyles.
He is small in size which means he can thrive in smaller homes, but he would appreciate a secure yard to explore and sniff!
Energetic and playful, he still needs his daily walks, but his gentle nature means it's easy to get the kids involved in his exercise routine and training.
8. Italian Greyhound
Loving and playful, these small pets are perfect if space is an issue!
They are actually incredibly lazy dogs, after they've had their 20-minute dash around the park!
Because they are super-friendly, and even-tempered, they are great additions to families with children of all ages.
Owner-orientated and eager-to-please, Italian Greyhounds are super-intelligent and love being trained by the kids!
Due to their short coat, they are low on grooming requirements, making them great for busy families. They also don't eat that much due to their small size!
A true family dog, they just don't bode well being left alone.
Standing no more than 13" in height, the Cavalier King Charles Spaniel x Bichon mix is becoming a firm favorite in many American families.
With both parents being sociable and gentle, they tolerate kids of all ages.
Charming and intelligent, they are super easy to train for busy families who haven't owned dogs before.
Known for being patient and mellow, they will forgive a lot from young kids.
Who doesn't want a family dog who looks like a teddy bear?!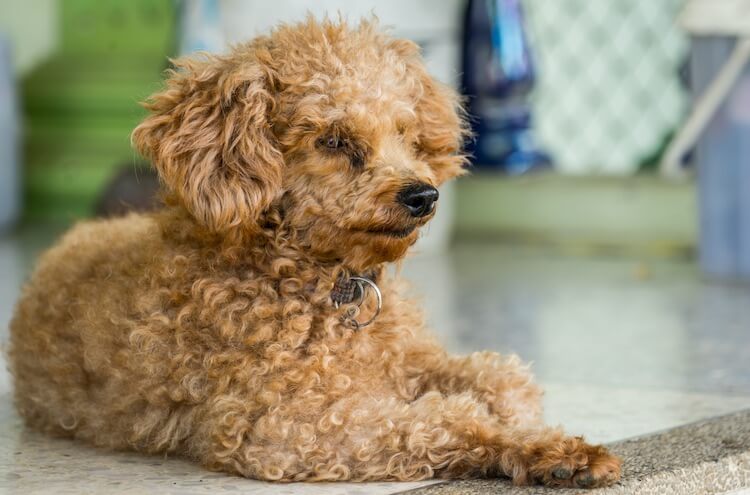 The Corgi x Poodle mix is a loveable, active and affectionate family member.
Small in size, they are great with younger children or homes limited in space. Sweet-natured, they haven't got a bad bone in their body and make great friends for young kids.
Bright and outgoing, you shouldn't have any issues tackling the important training commands with this guy!
Whilst energetic, he is very happy once he's had his daily walk.
5. Puggle
The Pug x Beagle mix is less likely to suffer the many health issues of its Pug parent as they often take the longer muzzle from their beagle parent.
Both breeds are stubborn, so your family will need to understand what they value more (food, toys or praise)… usually it is a sort of food.
Intelligent and curious, there will never be a dull moment with this family dog and kids!
Small in size, but not in character, they are perfect for smaller apartments and tolerate kids of all shapes and sizes.
The adorable mix of the Bichon and Poodle creates a teddy-bear like family breed, who is lovable, playful and affectionate.
They tolerate humans and pets of all shapes and sizes when socialized correctly.
Thanks to their intelligence, they are pretty easy to train, but can be in high on grooming requirements like all doodles (regular trips to the salon will be essential).
Ranking 3rd for popularity in the US, this friendly, playful breed is adored by millions of families.
They are very active, and so make the perfect dog for families who love the outdoors and are busy.
He can hike, swim and run (when fully grown), so he really can come along to everything with your family!
Golden Retrievers love everyone, so the biggest issue you'll have is dragging him away from people and kids on your daily walk!
They can be boisterous in their younger years, so be mindful if you have very young kids who are easy to knock over. Once that is out of his system, your kids will never find a more loyal pooch!
2. Labrador Retriever
You are not surprised the Labrador made this list are you?
They top Kennel Club registrations year-on-year thanks to their friendly and playful nature. These family pets are eager to please, and very food orientated. Those two qualities make them a dream to train!
You will find them in yellow, chocolate and black with dense coats!
They shed quite a bit, so they aren't great for kids with allergies, but if that isn't an issue, the Labrador suits most families.
You will notice a difference in appearance across working and show-line Labradors, so when you find a breeder, explain that you want a show-line.
With the charming nature of the Cavalier King Charles Spaniel and the intelligence of the Poodle, the Cavapoo is a sociable dog that suits many families.
They're energetic when they need to be, which suits active and young families, but they also love nothing better than curling up on the sofa to watch a film!
They really can do it all.
The downside though, is that the Cavalier King Charles Spaniel is getting more and more unhealthy as a breed, so make sure to find a reputable breeder for your family dog.
Which Is The Best?
Our list of the best 22 family dogs, perfect for first-time owners who have busy family lives.
Sit down and make a list of answers to our questions in the introduction and make a shortlist of breeds in this list.
Which dog would fit in well? Consider how much time you have available to exercise and meet his needs, especially those training and socialization ones.
Did you adopt one of these dogs? Let us know below.